Five artistic gymnasts set to fly for Team Canada at Tokyo 2020
Canada will be represented by one of its brightest artistic gymnastics teams at Tokyo 2020.
The veteran leader is Ellie Black, whose credentials make her Canada's most successful female artistic gymnast ever. After finishing a Canadian Olympic best-ever fifth in the all-around at Rio 2016, she made history at the 2017 World Championships when she won silver to become Canada's first ever all-around medallist at the worlds. She came close to another medal at the 2019 World Championships, ultimately finishing fourth in the all-around final.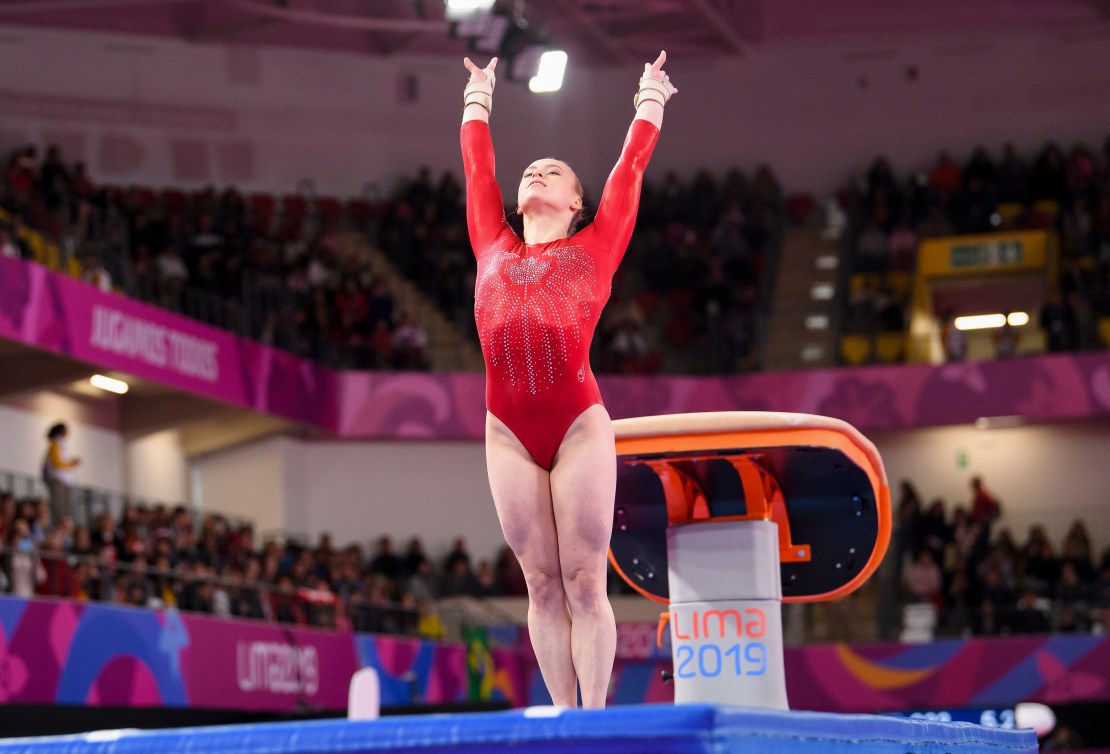 Black is set to become just the second Canadian woman to compete in artistic gymnastics at three Olympic Games. In her Olympic debut at London 2012, she helped Canada earn a best-ever fifth-place finish in the team event.
That's the mark Black and her teammates – Brooklyn Moors, Shallon Olsen, and Ava Stewart – will be looking to beat in Tokyo. Over the last few years, Canada has become one of the stronger nations in women's artistic gymnastics. Canada finished fourth in the team final at the 2018 World Championships.
Olsen and Moors were both members of that squad.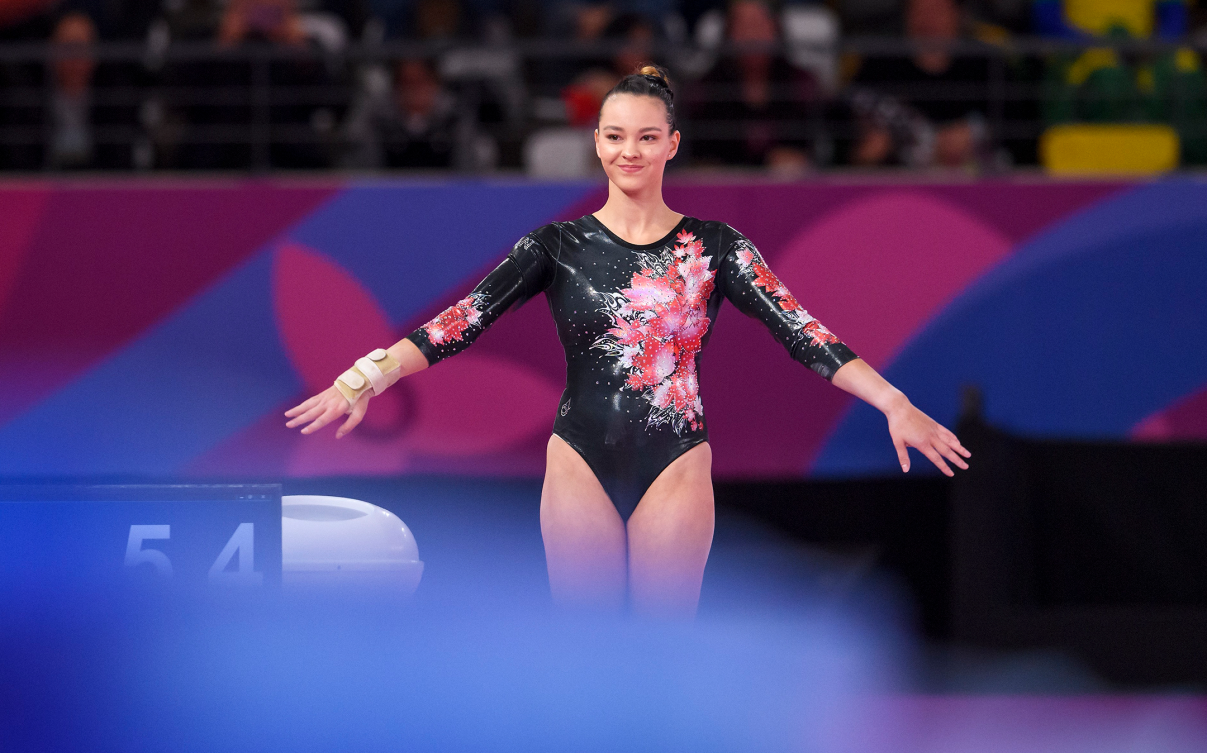 Olsen has become a standout competitor on the vault. In her Olympic debut at Rio 2016 where she was the youngest athlete on all of Team Canada, she qualified for the eight-woman apparatus final. She was also an apparatus finalist at her first worlds in 2017 before winning vault silver at the 2018 World Championships, the first medal for Canada in the women's event. She proved her consistency with a fourth-place finish at the 2019 World Championships.
Moors has made a name for herself with her elegant choreography and classic execution in her floor exercise routines. At the 2017 World Championships, she finished a Canadian best-ever fifth on the apparatus. She also qualified for the floor final at the 2018 and 2019 World Championships. In between, she won floor exercise gold at the 2019 Pan American Games in Lima.
Moors has recently been Canada's number two all-arounder, finishing 14th at the 2019 Worlds. She'll become the second Olympian in her family, joining older sister Victoria who was a teammate of Black's at London 2012.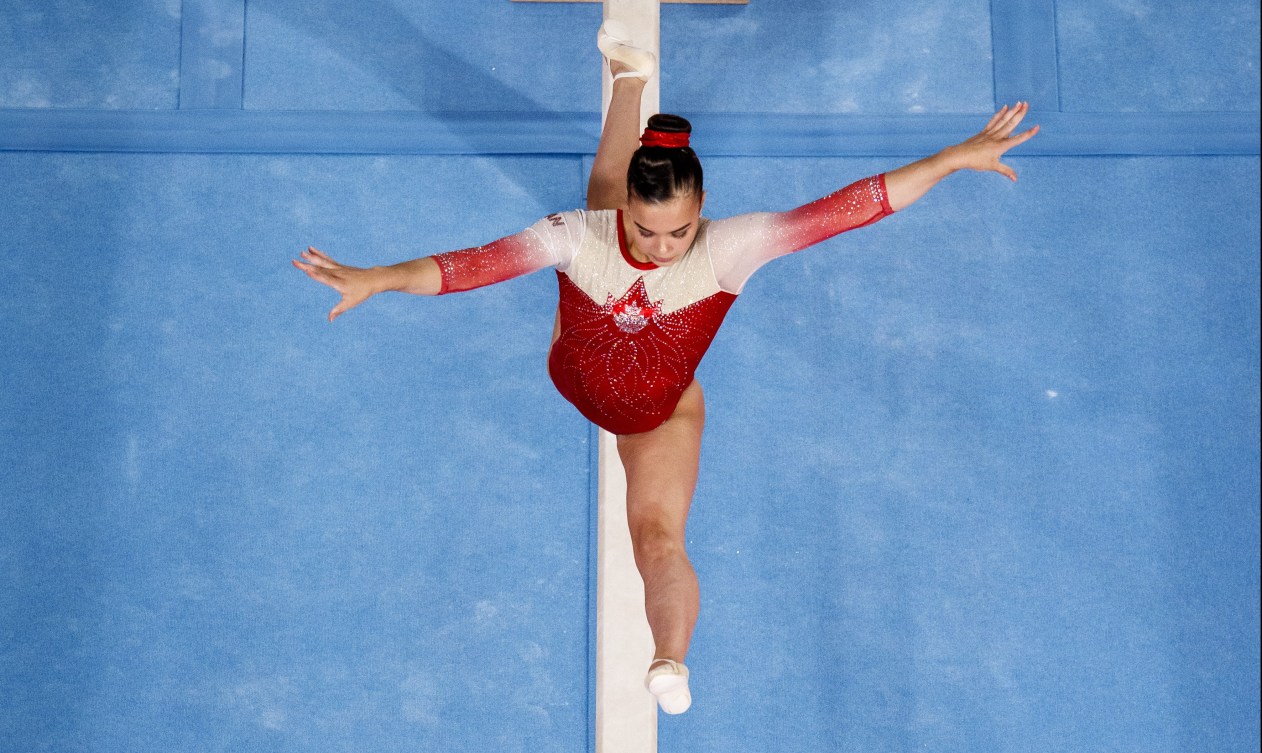 Stewart is the newcomer. In fact, she only became age-eligible to compete at Tokyo 2020 due to the one-year postponement. Stewart will turn 16 in September, making 2021 the first year she could enter senior competition. She was certainly impressive in her first three events, finishing second to Black in the all-around at the virtual Elite Canada meet and at two Canadian Technical Trials.
Rose Woo will be the travelling alternate.
The team event has a new format for Tokyo 2020. Each team is now composed of four athletes (instead of the usual five). In the qualification round, all four compete on all apparatus with the top three scores counting towards determining the top eight teams for the final where only three athletes compete on each apparatus, with all scores counting. That makes it very important to have multiple strong all-arounders.
Canada's lone competitor in the men's events will be René Cournoyer, who earned the spot with his all-around result at the 2019 World Championships through a quota re-allocation process.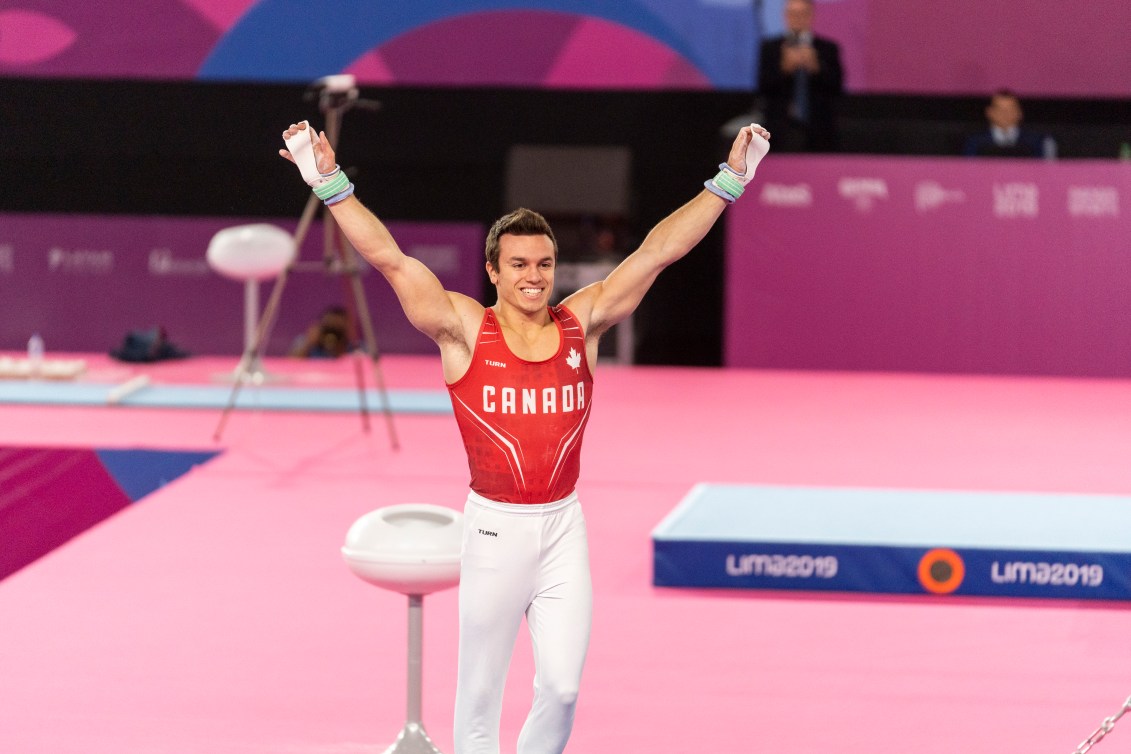 Artistic gymnastics begins with the men's qualification round on July 24, followed by the women's qualification round on July 25. The women's team final is on July 27, with the men's and women's all-around finals on July 28 and 29, respectively. The apparatus finals take place over three days, August 1-3. Entries in all finals will be based on what happens in the qualification rounds.
Canada's sole Olympic artistic gymnastics medal came at Athens 2004, when Kyle Shewfelt won the gold medal in floor exercise.
Canada's Olympic trampoline team will be announced at a later date.
Team Canada Artistic Gymnasts at Tokyo 2020:
Ellie Black (Halifax, NS)
René Cournoyer (Repentigny, QC)
Brooklyn Moors (Cambridge, ON)
Shallon Olsen (Surrey, BC)
Ava Stewart (Bowmanville, ON)