Team Canada's women's basketball squad ready to shoot for Olympic podium
The 12 women who will suit up for Team Canada in basketball at Tokyo 2020 have been revealed.
The roster includes six returning Olympians and six players who will become Olympians for the first time. Natalie Achonwa, Miranda Ayim and Kim Gaucher will be making their third Olympic appearances after debuting at London 2012 while Kia Nurse, Nayo-Raincock Ekunwe, and Nirra Fields are all back from the Rio 2016 team.
The Olympic newcomers include Kayla Alexander, Laeticia Amihere, Bridget Carleton, Shay Colley, Aaliyah Edwards, and Shaina Pellington.
READ: Team Canada leaves FIBA Olympic qualifiers with a spot in Tokyo and a perfect record
Canada is currently ranked an all-time high of fourth in the FIBA World Rankings. Tokyo 2020 will mark the third consecutive Olympic Games for Canada in women's basketball, after reaching the quarterfinals in Rio and London. They booked their ticket to Tokyo after going undefeated at the FIBA Women's Olympic Qualifying Tournament in Ostend, Belgium in February 2020.
The headliner is Kia Nurse, who is currently playing with the WNBA's Phoenix Mercury and averaging 10.3 points and 3.5 rebounds per game this season.
Nurse has been representing Canada internationally for a decade since making her national team debut in 2011. As a member of the 2015 Pan American Games team, she won gold on home court in Toronto and was Canada's Closing Ceremony flag bearer. She's also won two FIBA AmeriCup titles in 2015 and 2017. At Rio 2016, she led Canada in scoring with 66 total points, averaging 11 points per game. During the 2018 FIBA World Cup, she ranked third in the tournament with 18.2 points per game.
Achonwa and Carleton will be coming from the WNBA's Minnesota Lynx to join the Olympic team.
Achonwa has been a member of the national team program for over a decade after making history as the youngest player ever selected at age 16. Since then, she's won four FIBA AmeriCup medals, including one gold, one silver and two bronze. She also won Pan Am Games gold at Toronto 2015. Most recently, Achonwa represented Canada at the FIBA Olympic Qualifying Tournament, where she averaged 13.3 points per game and was selected to the tournament's All-Star Five as Canada locked up the Olympic berth.
"There has been no greater honour for me than representing my country on the world stage this past decade. With the pandemic, the last year and a half has felt like forever, so I can't wait to join the team in Tokyo and put back on a Canada jersey," said Achonwa. "I can't believe that I will be going to my third Olympics this summer. We're focused on bringing a medal back to Canada and they say "third times the charm" so hopefully this is the summer our dreams come to fruition."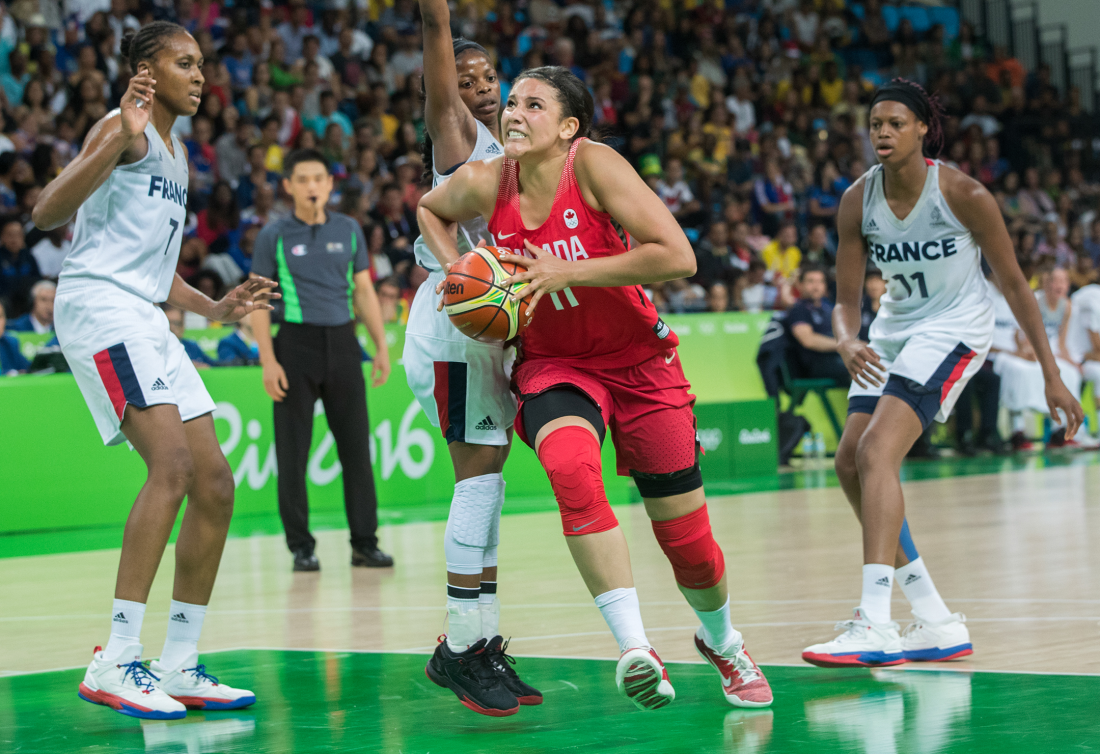 Carleton first represented Canada in 2013 at the U16 FIBA Americas. She was part of the gold medal team at the 2017 FIBA AmeriCup and won silver at the 2019 FIBA AmeriCup, where she averaged 27.9 minutes per game. She averaged 5.3 points per game at the FIBA Olympic Qualifying Tournament.
Amihere, Colley, Edwards and Pellington have all been recent standouts in the NCAA.
As a rookie, Edwards was named the Big East Sixth Woman of the Year in 2021 after averaging 10.7 points per game. Pellington recently reached the March Madness finals with the Arizona Wildcats for the first time in program history.
Ayim will bid farewell to basketball after Tokyo 2020. She announced in March that she would be retiring following the Games, having represented Canada since she was a junior in 2005. She's appeared in more than 145 games with the senior national team since her debut in 2010.
The women's national team competed most recently at the 2021 FIBA AmeriCup where Canada finished fourth. Amihere led Canada with 13.0 points per game and 46 rebounds.
Currently, the women are centralized at the Toronto Raptors' temporary training facilities in Tampa, Florida. Prior to their first game of the Olympic tournament, the team will travel to Kariya City, Japan for a final pre-Olympic training camp.
Women's basketball will take place July 26 to August 8 at the Saitama Super Arena. Canada will compete in Group A, where they will face South Korea, Serbia, and Spain.
Team Canada Women's Basketball Athletes at Tokyo 2020:
Natalie Achonwa (Guelph, ON)
Kayla Alexander (Milton, ON)
Laeticia Amihere (Mississauga, ON)
Miranda Ayim (London, ON)
Bridget Carleton (Chatham, ON)
Shay Colley (Brampton, ON)
Aaliyah Edwards (Kingston, ON)
Nirra Fields (Montreal, QC)
Kim Gaucher (Mission, B.C.)
Kia Nurse (Hamilton, ON)
Shaina Pellington (Pickering, ON)
Nayo Raincock-Ekunwe (Toronto, ON)