Team Canada at Tokyo 2020: Day 5
Penny Oleksiak swims into the Canadian Olympic history books, three boats set Canadian records to earn their way into medal races at the Olympic rowing regatta, Michelle Li moves on from badminton group play, and Tammara Thibeault is off to the quarterfinals in boxing.
Those were just a few of the Team Canada athletes in action on Day 5 at Tokyo 2020.
You can check out the official schedule of Canadians who competed today at the bottom of this page and read on for the details of what happened in each sport.
Tokyo 2020 Olympic Competition Schedule and Results
GET THE TEAM CANADA APP
Swimming
Penny Oleksiak won bronze in the women's 200m freestyle for her sixth career Olympic medal, making her stand alone as Canada's all-time most decorated summer Olympian and tying her for the most by a Canadian athlete in any sport. She adds to the silver she won in the 4x100m freestyle relay earlier in these Games, as well as the four medals she won at Rio 2016.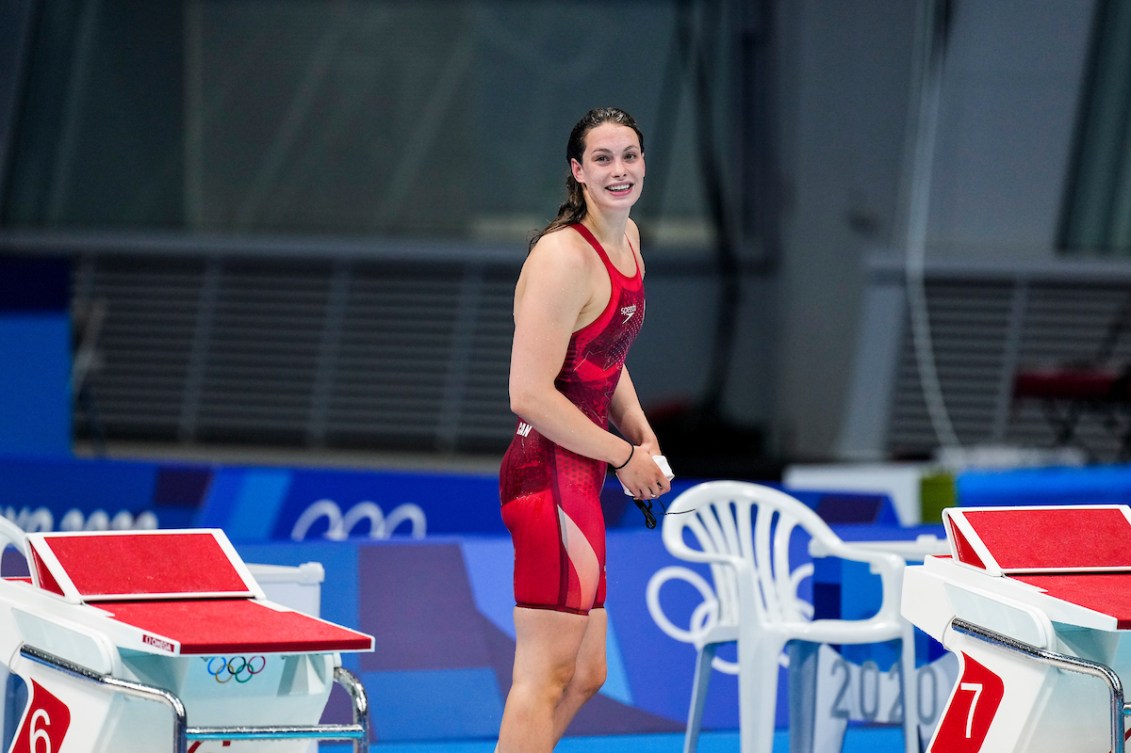 READ: Oleksiak becomes Canada's all-time most decorated summer Olympian
READ: Oleksiak sets herself apart, but she's not done yet in Tokyo
Sydney Pickrem was racing in the final of the women's 200m individual medley. The reigning world bronze medallist in the event finished sixth. Yuri Kisil and Joshua Liendo competed in the semifinals of the men's 100m freestyle but did not advance to the final.
Oleksiak was back in action during the night session in the heats of the 100m freestyle in which she is the reigning co-Olympic champion. She and her silver medal-winning teammate from the 4x100m freestyle relay, Kayla Sanchez, both advanced to the semifinals. Markus Thormeyer raced in the heats of the 200m backstroke and finished 16th overall, which was enough to advance him into the semifinals. He was a finalist in that event at the 2019 World Championships.
Kelsey Wog competed in the heats of the 200m breaststroke and took the last spot for the semifinals, finishing 16th overall. Finlay Knox made his Olympic debut in the heats of the men's 200m individual medley but missed qualifying for the semifinals by one spot. The night ended with Canada racing in the heats of the women's 4x200m freestyle relay. The quartet of Katerine Savard, Rebecca Smith, Mary-Sophie Harvey, and Pickrem finished second in their heat and fourth overall to qualify for the final.
Rowing
The first medals were awarded at the Sea Forest Waterway but Gabrielle Smith and Jessica Sevick could not lay their hands on one as they finished sixth in the A final of the women's double sculls.
There were three Canadian records set by a trio of boats which advanced to A finals where they will take their shot at the podium. Caileigh Filmer & Hillary Janssens finished third in their semi of the women's pair. Conlin McCabe & Kai Langerfeld were also third in their semi of the men's pair. The women's eight were in a repechage and finished second to move on.
Canadian rowers Kai Langerfeld and Conlin McCabe compete in the Men's Pair semi-finals during the Tokyo 2020 Olympic Games on Wednesday, July 28, 2021. Photo by Darren Calabrese/COC *MANDATORY CREDIT*

Canadian rowers Caileigh Filmer and Hillary Janssens compete in the Women's Pair semi-finals during the Tokyo 2020 Olympic Games on Wednesday, July 28, 2021. Photo by Darren Calabrese/COC *MANDATORY CREDIT*

Canadian rowers Lisa Roman, Kasia Gruchalla-Wesierski, Christine Roper, Andrea Proske, Susanne Grainger, Madison Mailey, Sydney Payne, Avalon Wasteneys and Kirsten Kit compete in the Women's Eight rowing during the Tokyo 2020 Olympic Games on Wednesday, July 28, 2021. Photo by Darren Calabrese/COC *MANDATORY CREDIT*
Jennifer Casson & Jill Moffatt were sixth in their semifinal of the lightweight women's double sculls so will next race in the B final. Patrick Keane & Maxwell Lattimer will also be in the B final of the men's lightweight double sculls after finishing fifth in their semifinal.
The men's four finished second in their B final to place eighth overall. The women's four was fourth in their B final to place 10th overall.
Tennis
Gaby Dabrowski and Felix Auger-Aliassime played in the first round of mixed doubles against second seeds Maria Sakkari and Stefanos Tsitsipas of Greece. They were unfortunately eliminated in straight sets, 6-3, 6-4.
Canoe/Kayak Slalom
Haley Daniels competed in the Olympic debut of women's canoe slalom but could not advance to the semifinal, finishing 21st. Michael Tayler started in men's kayak slalom for the third straight Games and also did not advance to the semifinal as he finished 24th.
Road Cycling
The women's and men's individual time trials took place at the Fuji International Speedway. Leah Kirchmann and Karol-Ann Canuel finished 12th and 13th, respectively in the 22.1km women's race. Hugo Houle was Canada's entry for the men's 44.2km course and finished 13th.
Badminton
Canada's two singles players continued their group play action. Michelle Li defeated Martine Respiska of Slovakia 2-0 (21-18, 21-16) to sit atop Group F at 2-0 and qualify for the Round of 16. Brian Yang put up a good fight against second seed Chou Tien-Chen of Chinese Taipei, but ended up losing 2-1 (21-18, 16-21, 22-20) and will not advance.
Boxing
Two Canadian women were in the ring. World bronze medallist Tammara Thibeault started her campaign in the 75kg event with a 4-1 victory in the Round of 16 over Nadezhda Ryabets of Kazakhstan. She is the last Canadian boxer standing after Caroline Veyre was defeated 5-0 in her quarterfinal by Irma Testa of Italy.
Equestrian
Brittany Fraser-Beaulieu and All In just set a Canadian Olympic Dressage Grand Prix Freestyle record with a score of 76.404%, beating coach Ashley Holzer's score of 71.450% from Beijing 2008.
Sailing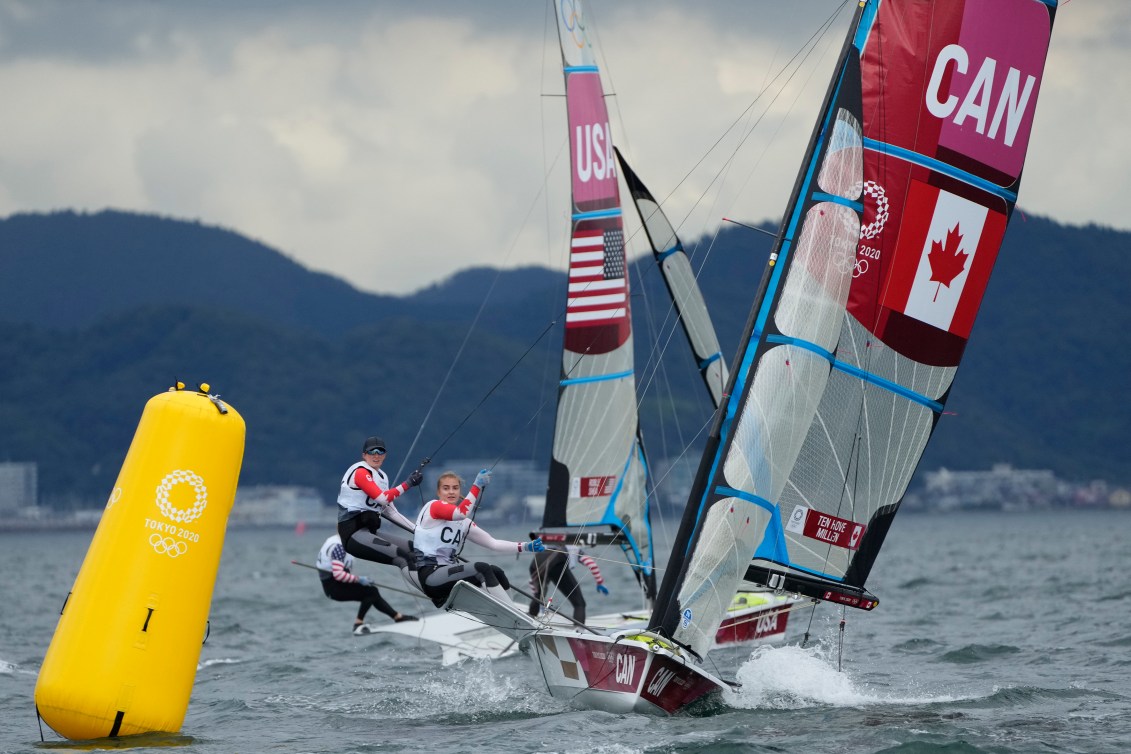 Five Canadian boats were on the water, all of them competing in multiple races. Seeing their first action in the men's 470 were Jacob Saunders and Oliver Bone, who sit 16th overall after two races. 49er duo William Jones and Evan DePaul are in 19th place after four races. 49er FX crew Ali ten Hove and Mariah Millen are in 17th place overall after six races. Tom Ramshaw is in 14th place after four races of the Finn class and Nikola Girke is in 24th overall after nine races of the women's RS:X.
Rugby
Facing off against the United States in the first match of the placement round of men's rugby sevens, Canada's men's rugby team kept it close against the United States.
Falling 21-14 against the United States, Canada closed out their Tokyo 2020 tournament against Australia, losing 26-7 to finish in eighth place in their Olympic debut.
Volleyball
Team Canada, led by captain Gordan Perrin, put together their most complete game of Tokyo 2020, winning in straight sets to earn their first win of the tournament against Iran. They will continue preliminary play against Venezuela on Day 7.

READ: Quick start, strong defence gives Canadian volleyball team straight sets victory
Water Polo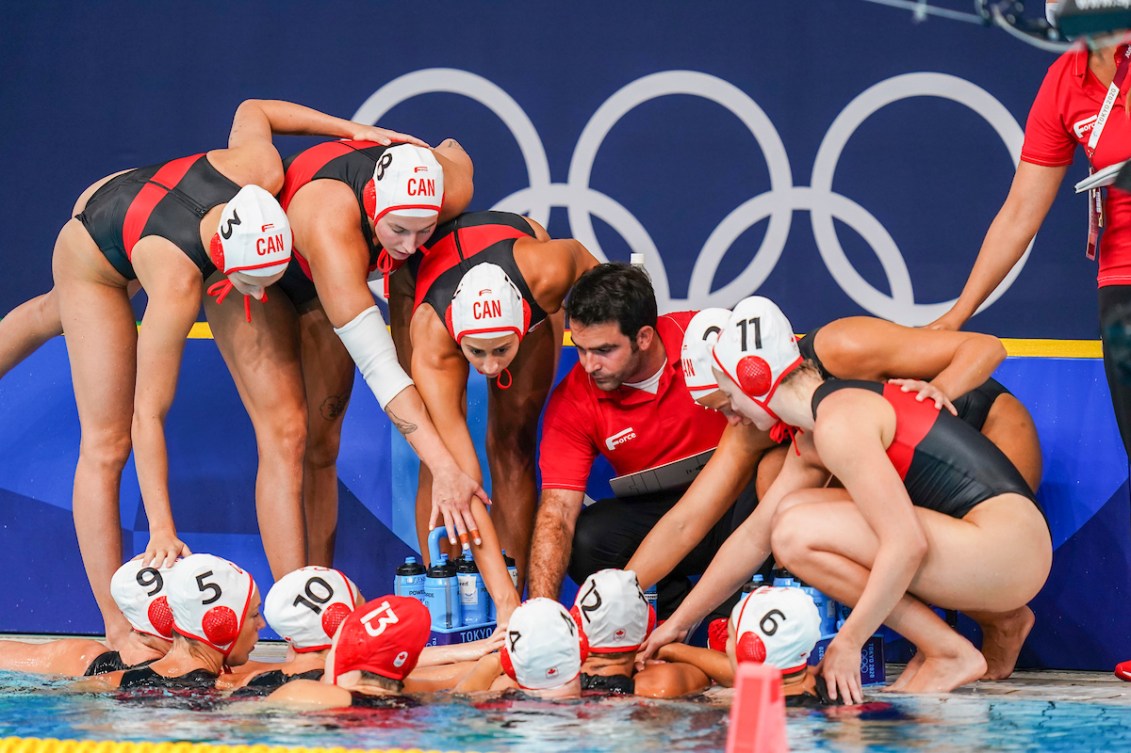 Gurpreet Sohi scored four goals in a dominant 21-1 win for Team Canada over South Africa. The Canadians led 9-1 at halftime and added another 12 goals in the second half. The victory improves Canada's record to 1-2-0 at Tokyo 2020. Their final game of preliminary round action is Sunday against the Netherlands.
READ: Team Canada gets first women's water polo win of Tokyo 2020