COC/Stephen Hosier
Fourteen sports podcasts to add to your Team Canada rotation
Do you need some Team Canada content to hold you over in between Tokyo 2020 and Beijing 2022? Whether it's athletes interviewing other athletes or fans reminiscing over their favourite Olympic moments, we have you covered with a list of 14 podcasts.
Player's Own Voice Podcast
The Player's Own Voice Podcast, hosted on CBC Sports, features one-on-one interviews with Team Canada athletes. The show is hosted by two-time Olympic speed skater Anastasia Bucsis, who goes beyond in depth in her discussions with athletes about how they deal with the pressures of competing at the highest level.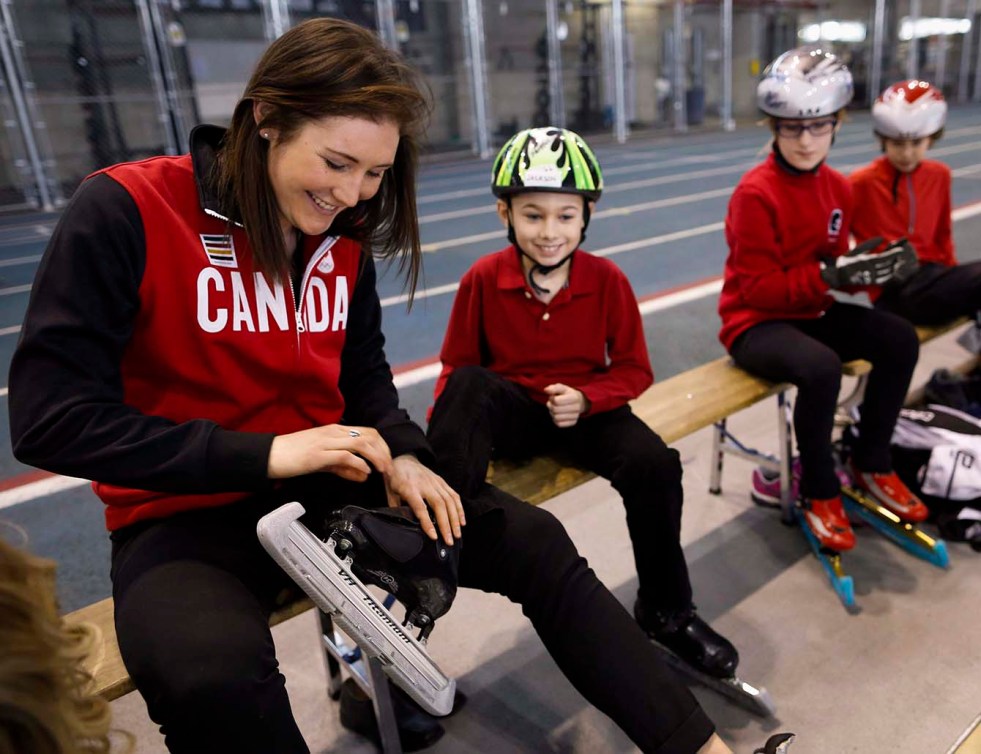 Dropping In With Mercedes Nicoll
Four-time Olympic snowboarder Mercedes Nicoll has been active both on and off the halfpipe during her illustrious career. She's been featured on a reality TV show following the Canadian Snowboard team, spoken at TEDx, and hosted the World Ski and Snowboard Festival. In 2020, she began the Dropping In Podcast. The podcast combines her own unique take on life, sports and competition, with a series of guests who tell stories from their perspective.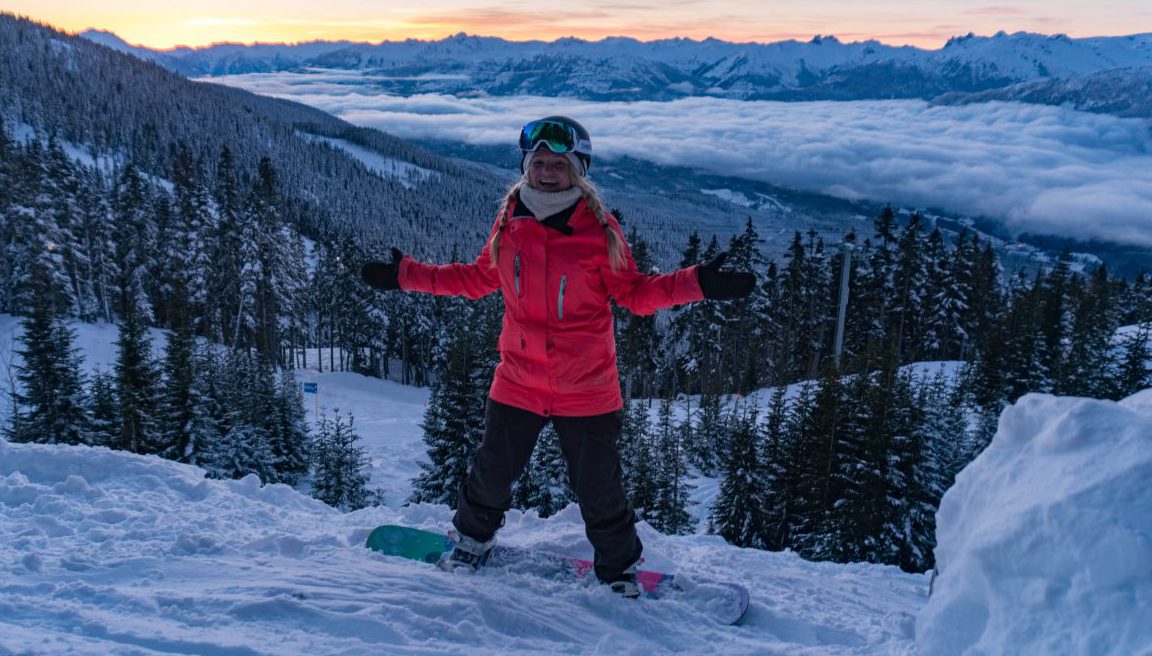 The Shakeout Podcast
The Shakeout Podcast is a weekly show that covers everything in the world of running, hosted by Team Canada's Kate Van Buskirk, and Madeleine Kelly. The pair double as Canadian Running staffers and Olympic athletes, bringing a truly unique voice at the intersection of media and sports. Whether it's recapping a week of Athletics Canada events or interviewing other athletes, these two have a pulse on the Canadian running scene like no other.
Canada's Kate Van Buskirk, left, New Zealand's Lucy Van Dalen and England's Laura Weightman, left to right, run the women's 1500 metre event at Hampden Park at the Commonwealth Games in Glasgow, Scotland on Monday, July 28, 2014. Van Buskirk qualified for the final. THE CANADIAN PRESS/Andrew Vaughan

Madeleine Kelly (8), of Toronto, leads Lindsey Butterworth (4) and Melissa Bishop-Nriagu (5) across the finish line to win the Women's 800m final at the Canadian Track and Field Championships in Montreal, Saturday, July 27, 2019. THE CANADIAN PRESS/Ryan Remiorz
The Athletes Podcast
On The Athletes Podcast, host David Stark interviews current and former athletes, nutritionists, and health experts to dive into their takes on health and wellness. Stark has hosted Team Canada athletes such as Bailey Andison and Alexandra Landry.
Off the Podium Podcast
The Off the Podium podcast brands itself as three men who dream of Olympic glory, with none of the athletic prowess to back it up. Nonetheless, in the podcast world they've produced over 150 episodes regarding the Olympics with an emphasis on Canadian and Australian team coverage.
Hosts Ben Waterworth, Jarrod Loobeek, and Colin Hilding have hosted a number Team Canada athletes such as Alanna Goldie and Eric Radford. They've also provided daily coverage of the Olympics for the last three Games and are showing no signs of stopping.
Streamline Athletes
Streamline Athletes is an online sports recruiting platform that launched a podcast in 2021 to talk to some Team Canada athletes about the path towards their Olympic dreams. They've hosted episodes talking to Andre De Grasse and Aaron Brown about their journey to the University of California, or chatting with Alysha Newman, Christabel Nettey, and Liz Gleadle about their experiences as student-athletes. If you're interested in the story leading up to the glory, give this one a shot.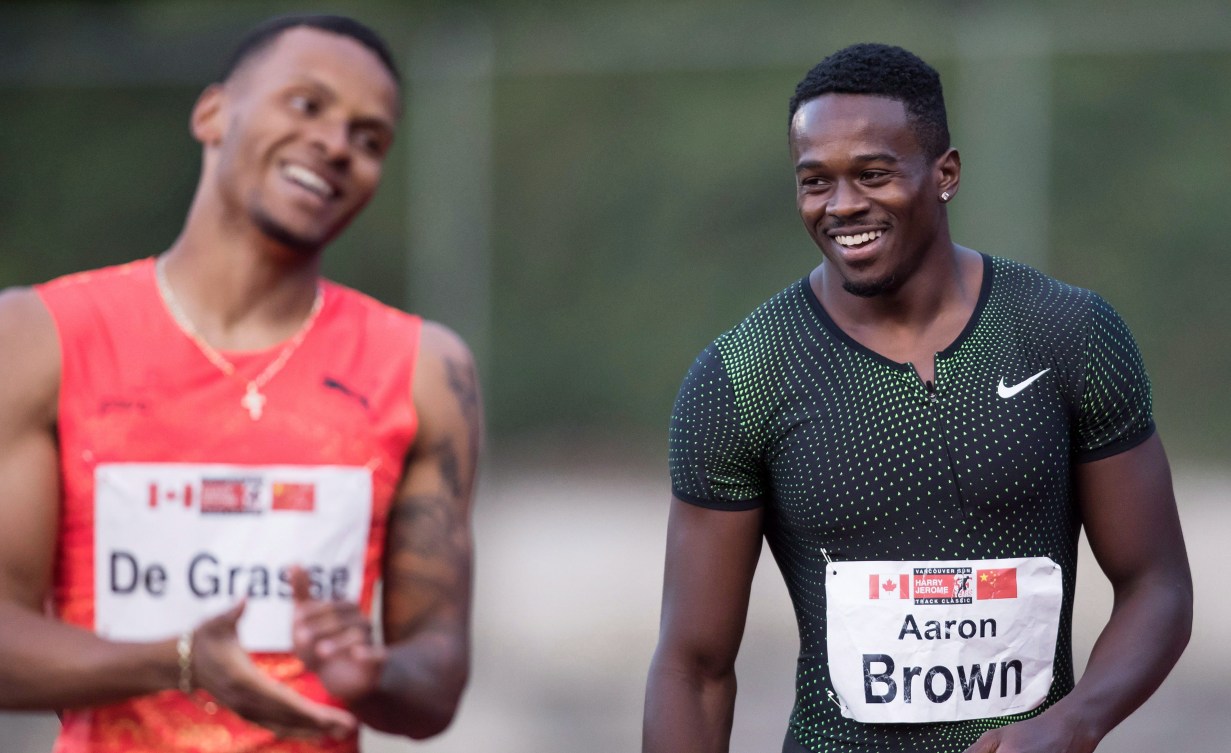 Five Rings to Rule Them All
Outsports is an LGBTQ+ sports publication that hosts the Five Rings to Rule Them All Podcast. The podcast tells the stories of LGBTQ+ people in and around the Olympic and Paralympic Games. They highlight the courage it takes to compete as an LGBTQ+ athlete, such as with Barcelona 1992 gold medallist Mark Tewksbury, who appeared on a 2021 episode to talk about how he became a champion for change in sport and society.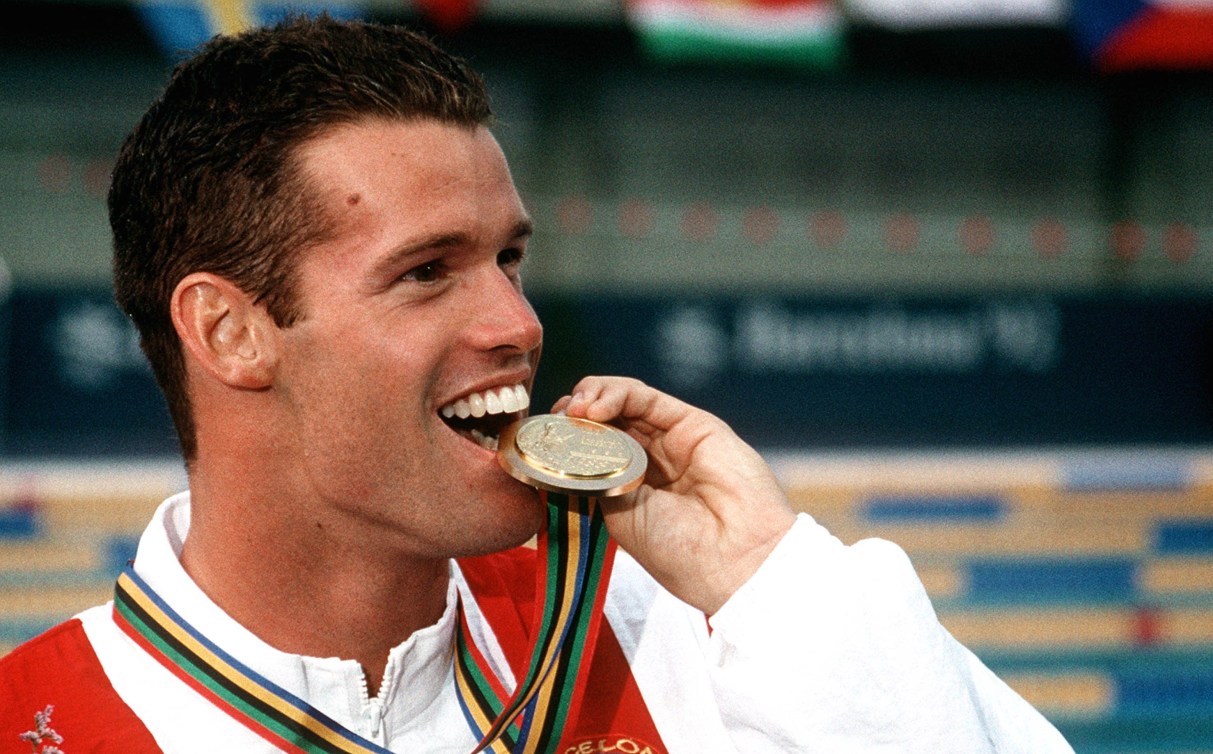 Off the Blocks Swimming Podcast
The Off the Blocks Swimming Podcast focuses on interviewing swimming superstars at every level. As we know, Team Canada swimmers aren't short on star power. Off the Blocks features episodes pertaining to Penny Oleksiak's sudden rise to superstardom and Sydney Pickrem's Olympic journey and international career.
People Behind the Performances
During the summer of 2020, Olympian Micha Powell hosted six episodes for this podcast series that amplifies the voices of Athletics Canada athletes and shares the personal experiences that shaped their outlook on life. Guests on the podcast include Mohammed Ahmed, Christabel Nettey, and Bolade Ajomale, among others.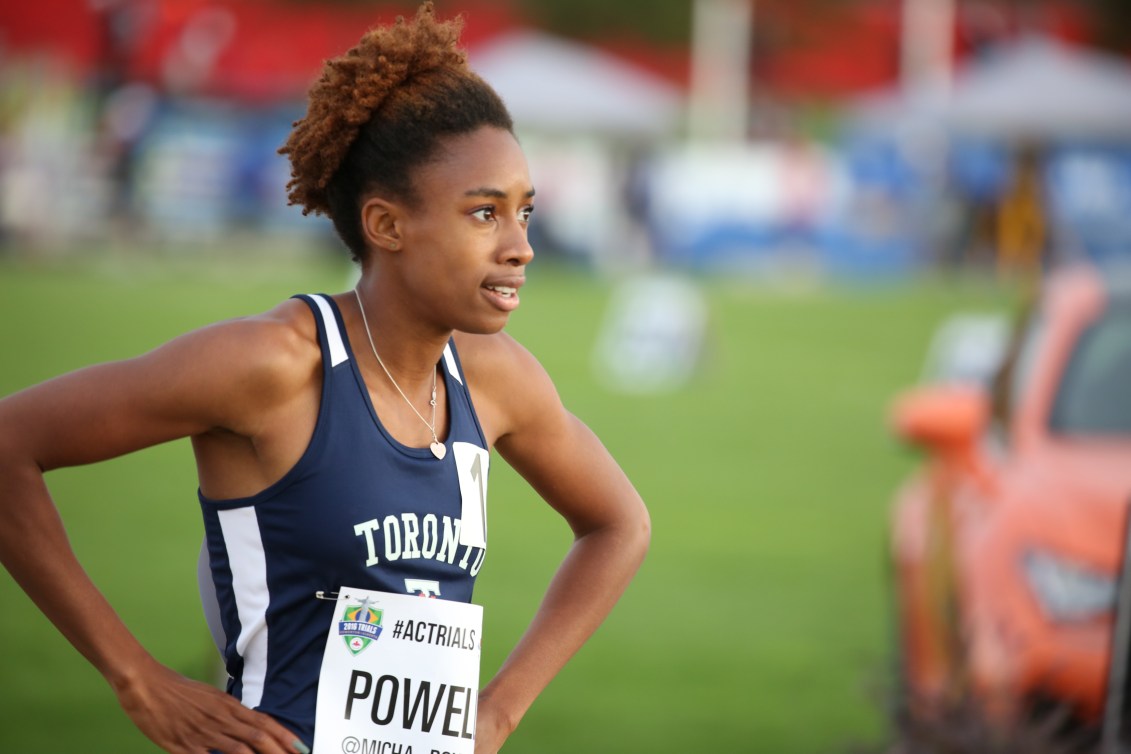 Inside Curling with Kevin Martin & Warren Hansen
Two of the most connected people in Canadian curling — Olympic champion Kevin Martin and Hall of Famer Warren Hansen — bring you curling expertise on this podcast hosted by Sportsnet. The two hosts combine for 12 decades of curling experience and industry knowledge to deliver thorough insight about curling's past, present and future.
Skate Canada Alumni Podcast
Skate Canada's Alumni Committee hosted a podcast interviewing the athletes, coaches, officials, and hall of fame members who are part of Canada's incredible figure skating tradition. The podcast series hasn't released an episode since late 2020, but features more than 25 episodes with some of Canada's figure skating legends. Each episode revisits stories that will be familiar to fans, but will also reveal behind-the-scenes details never heard before.
Canada Hoops
Longtime Canada basketball supporter Matty Ireland hosts a podcast that covers men's hoops from coast to coast. Guests include former and active players such as Kaza Kajami-Keane or media members such as Dan Shulman. Ireland also provides coverage of Canada's international performances and updates on Canada's NBA talent. The podcast, which debuted in October 2020, continues to release episodes on a regular basis.
Coffee Chatter
Two Olympians from the world of BMX racing are also some of the busiest podcast hosts. Tory Nyhaug and James Palmer host Coffee Chatter – a podcast dedicated to talking shop with each other and various BMX guests over a cup of coffee. The show has logged well over 100 episodes and is still going strong.
Match Point Canada
Match Point Canada is Tennis Canada's official podcast, hosted by Canadian tennis reporter Mike McIntyre and Sportsnet 590 the FAN radio broadcaster Ben Lewis. The podcast provides in-depth coverage of Canada's tennis athletes and their performances on the ATP and WTA tours. Not only is the podcast a great resource, but their social media coverage never misses a beat on Canada's tennis news. Follow them on @matchpointcanada on Instagram, and @MatchPointCAN on Twitter.