(AP Photo/Gregory Bull)
A few Canadians to watch at the World Athletics Championships
Canada is sending a strong contingent of 53 athletes (24 men and 29 women) to the World Athletics Championships, taking place August 19-27 in Budapest, Hungary.
Team Canada had a successful showing at last year's Worlds, with four medals won, including gold by the men's 4x100m relay team, silver by Pierce LePage in the decathlon, silver by Camryn Rogers in the women's hammer throw, and bronze by Marco Arop in the men's 800m. All of these athletes are returning for this year's edition of the global meet, with their eyes set on moving up in the medal rankings.
There are also several athletes who finished just out of the medals last year (Sarah Mitton missed shot put bronze in a tiebreaker!) who are headed to Budapest hungry to step on the podium.
Here are some key athletes to watch:
Throws Events:
Camryn Rogers – Hammer throw
Rogers is headed to Worlds after a strong season, including a new Canadian record of 78.62m set in late May. She's surpassed the 77-metre mark six times this year, including at the Canadian Track & Field Championships in late July. As the silver medallist in the hammer throw from the 2022 World Athletics Championships in Eugene, Oregon, Rogers is ready to go for gold in Budapest.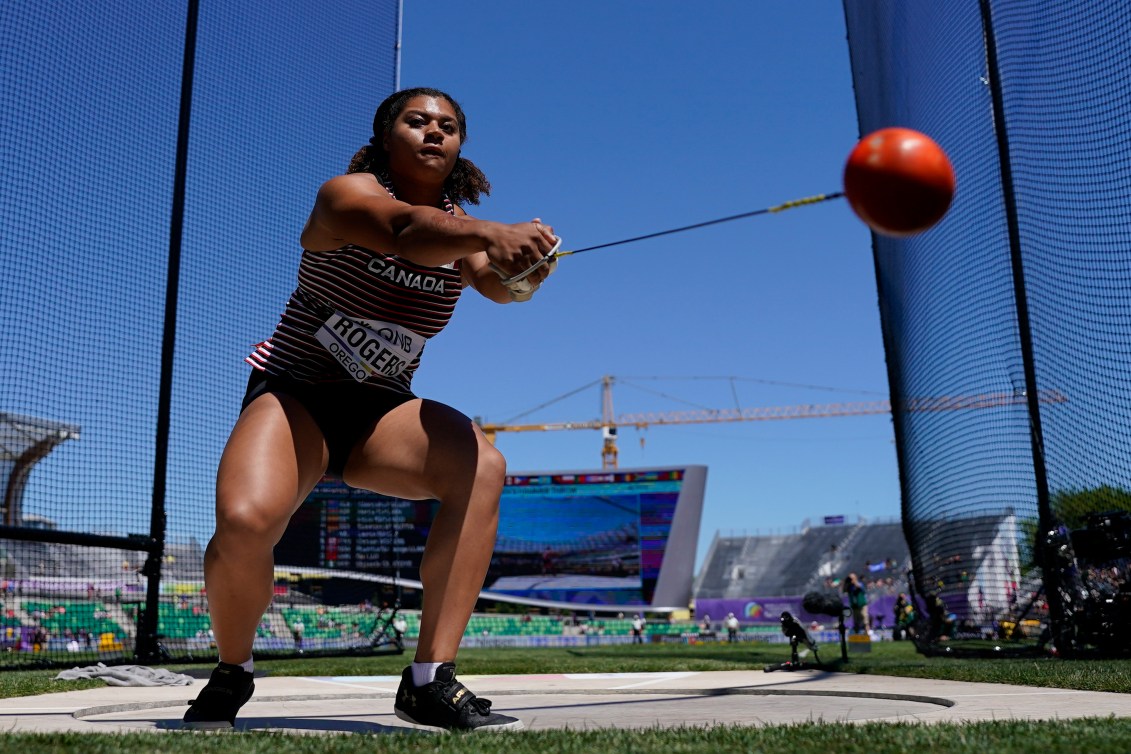 "I am definitely hoping to keep building the momentum, get in there and do better than last year," Rogers said. "Last year, being able to medal was so amazing and such a privilege. I can't wait to go back and show off everything we've been doing this year and leaving it all on the field when it counts."
Also keep an eye out for last year's fifth-place finisher, Jillian Weir, and a rising star in men's hammer throw, Ethan Katzberg. The 21-year-old is headed to Budapest as number three in the world rankings after a breakout year.
Sarah Mitton – Shot Put 
Mitton has also had a stellar season, including notching her first Diamond League win at the Oslo Bislett Games in Norway in June.
After missing the podium on a tiebreaker last year, Mitton is in fighting shape to step onto it in Budapest. And she's been heating up at the right time, throwing her two best distances of the season in late July, hitting 19.83m at the Harry Jerome Classic and then 19.69m to defend her national title. That puts her among the world leaders heading into the Worlds.
Road Events:
Evan Dunfee – Race Walks 
Veteran race walker Evan Dunfee will lend experience to Team Canada at Worlds. Dunfee won bronze at Tokyo 2020, as well as the 2019 World Championships, and was fourth at Rio 2016. These notable results were at the 50km distance, which has since been eliminated from the international program. At last year's Worlds, Dunfee placed sixth in the new 35km race.
In Budapest, Dunfee will race in his first 20km championship in seven years, along with the 35km race. The 20km race walk is the very first event of the competition.
Natasha Wodak – Marathon
Natasha Wodak is another member of Team Canada with significant international experience under her belt, spanning from the 2015 Pan Am Games to Tokyo 2020. At 41 years old, Wodak is a role model for longevity in the sport.
First competing in the 10,000m at Rio 2016, Wodak moved up to the marathon distance at Tokyo 2020, placing 13th. This result came under hot conditions in Sapporo, Japan – an experience that will hopefully come in handy in what is likely to be a hot race in Budapest.
Wodak set the Canadian women's marathon record at the Berlin Marathon in September 2022, running 2:23:12.
Sprint Events:
Jerome Blake, Aaron Brown, Andre De Grasse and Brendon Rodney – 4x100m Relay, 100m, 200m
The defending world champions in the 4x100m relay, Jerome Blake, Aaron Brown, Andre De Grasse and Brendon Rodney will seek to retain their title in Budapest. The team ran a national record 37.48 seconds to claim gold in Eugene.
The quartet is also coming off of a boost after receiving their upgraded Tokyo 2020 medals at the Canadian Championships in July. Having originally received bronze, the Canadian team was subsequently upgraded to silver after a member of Great Britain's team had a doping violation.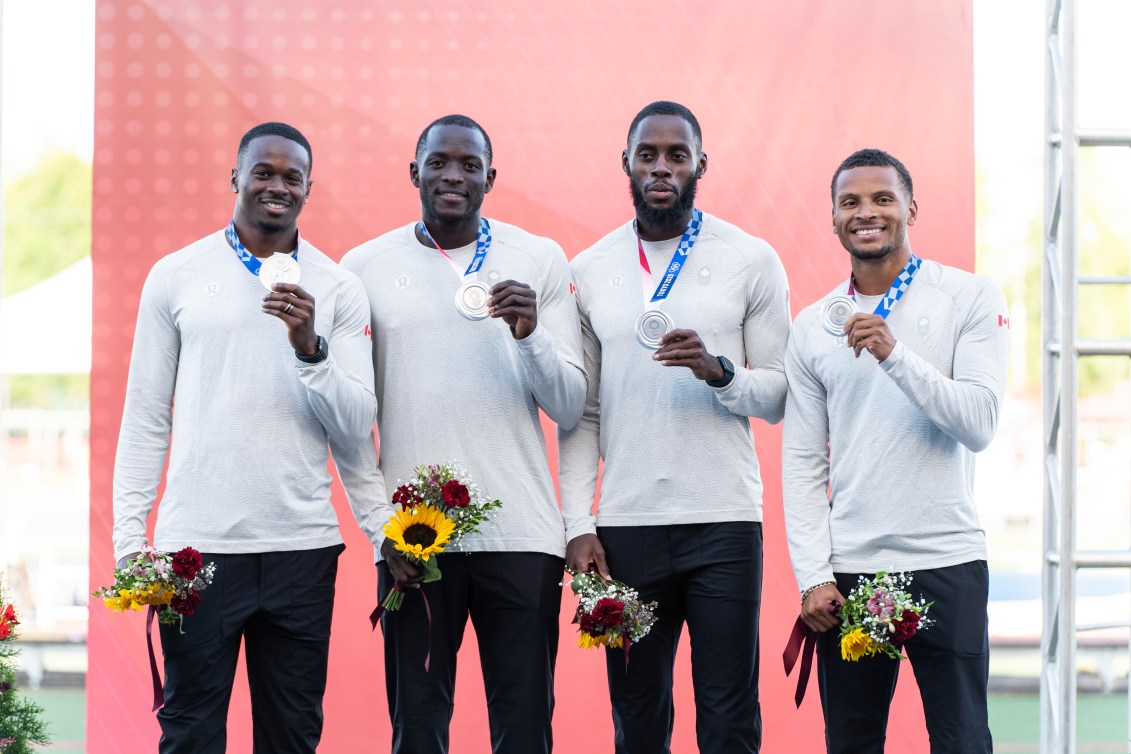 Each of the four athletes will compete individually as well: Brown, De Grasse, and Rodney will also race the 200m. Rodney and Blake will also compete in the 100m.
"We know what we need to do now, and we've just got to get ready for the rest of the world," Rodney said. Brown agrees: "We just have to fine-tune some things. We're pushing each other to get better, so we know where we're weak and where we're strong. We're just going to work on our flaws and get ready for Budapest."
Middle Distance Events:
Marco Arop – 800m
Arop is headed to Budapest as a man to beat, having spent most of this season at number one in the 800m world rankings. Arop has a personal best of 1:43.26 and an international reputation for front-running, taking the field out hard from the gun.
The 2022 World Championships bronze medallist is fresh from defending his 800m title at the Canadian Championships. He was on the podium twice in Diamond League competition this season.
Long Distance Events:
Mohammed Ahmed – 5000m, 10,000m
You can't talk about Canadian distance running without talking about Moh Ahmed. The three-time Olympian is the first Canadian to medal in the 5000m at both the World Championships (where he won bronze in 2019) and the Olympics (where he won silver at Tokyo 2020). Ahmed was held off the podium at last year's World Championships, finishing fifth in the 5000m and sixth in the 10,000m. He plans to double at this year's meet as well, competing in both events.
Ahmed is the owner of every Canadian record in the distances from 3000m to 10,000m. He'll be joined in the 5000m by Canada's national record holder in 5km road racing, Ben Flanagan, who set that mark in April 2023.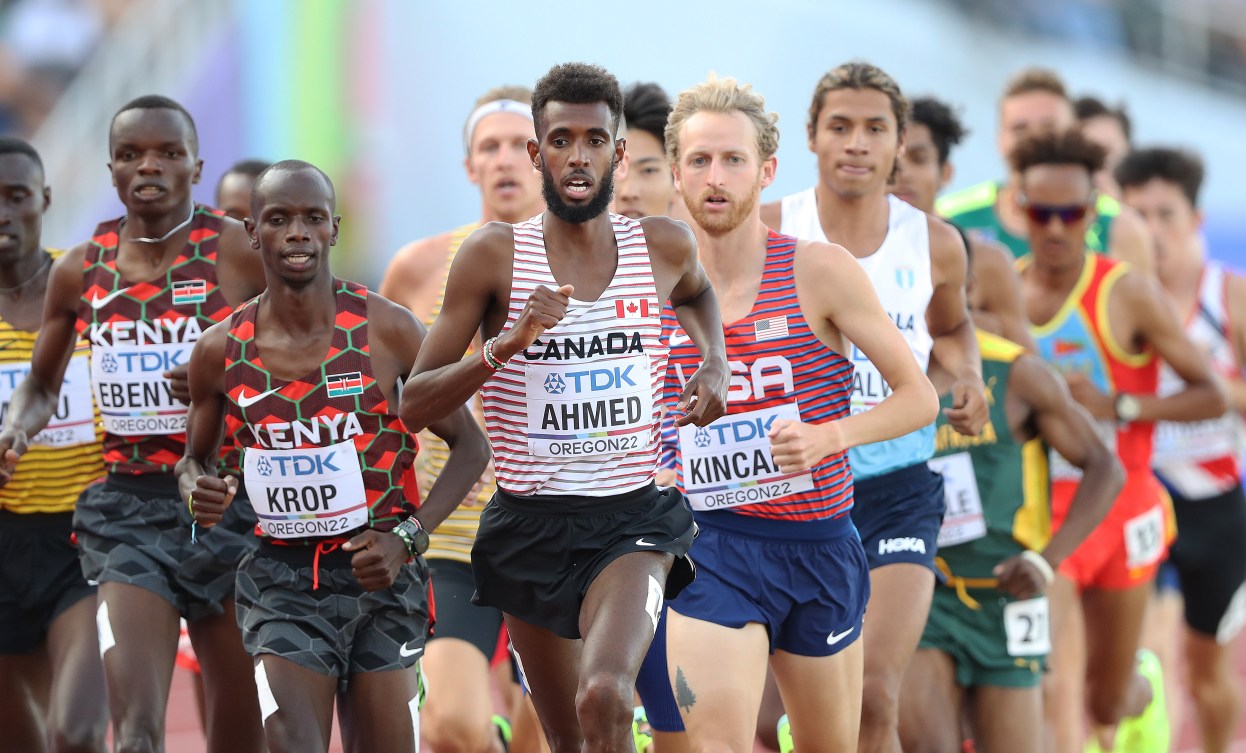 Multi Events:
Damian Warner – Decathlon
Damian Warner knows how to win decathlon medals at major international meets. Over his career he has collected world championship silver in 2015, bronzes in 2013 and 2019, in addition to his Olympic gold at Tokyo 2020 and bronze at Rio 2016.
Warner's international success has raised the profile of the multi events in Canada. As he noted after the most recent Canadian Championships, when he first competed at that meet, there were only four decathletes competing; at the 2023 edition, there were 51!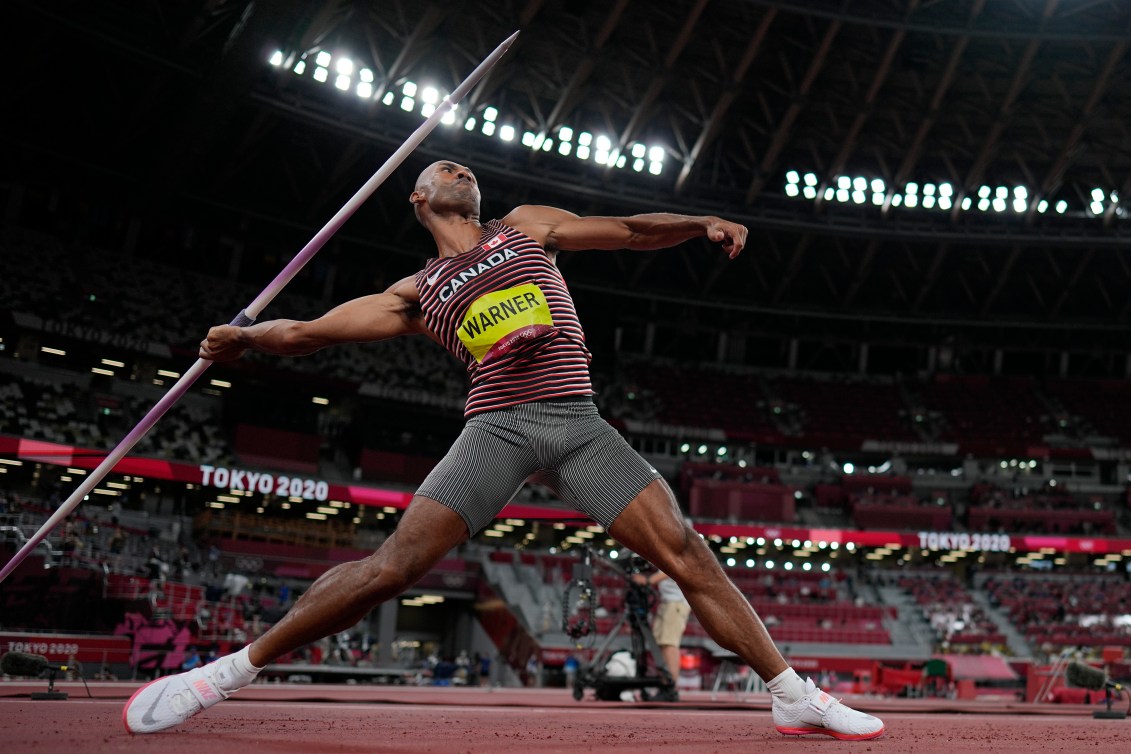 Pierce LePage – Decathlon
Warner is not Canada's only decathlon star. LePage is one of Canada's returning World Championship medallists and will seek to step on the podium once again in Budapest. The 2023 season has been a strong one for LePage. In May, he set personal bests in the 100m and javelin en route to the gold medal at the prestigious Hypo-Meeting in Götzis, Austria where Warner finished second.
Both Canadian men are among the top five scorers in the decathlon this year, with LePage's 8700 points (one shy of his personal best) at number two. Warner's season best of 8619 points has him at number five, but that is well off his national and Olympic record 9018 points earned at Tokyo 2020.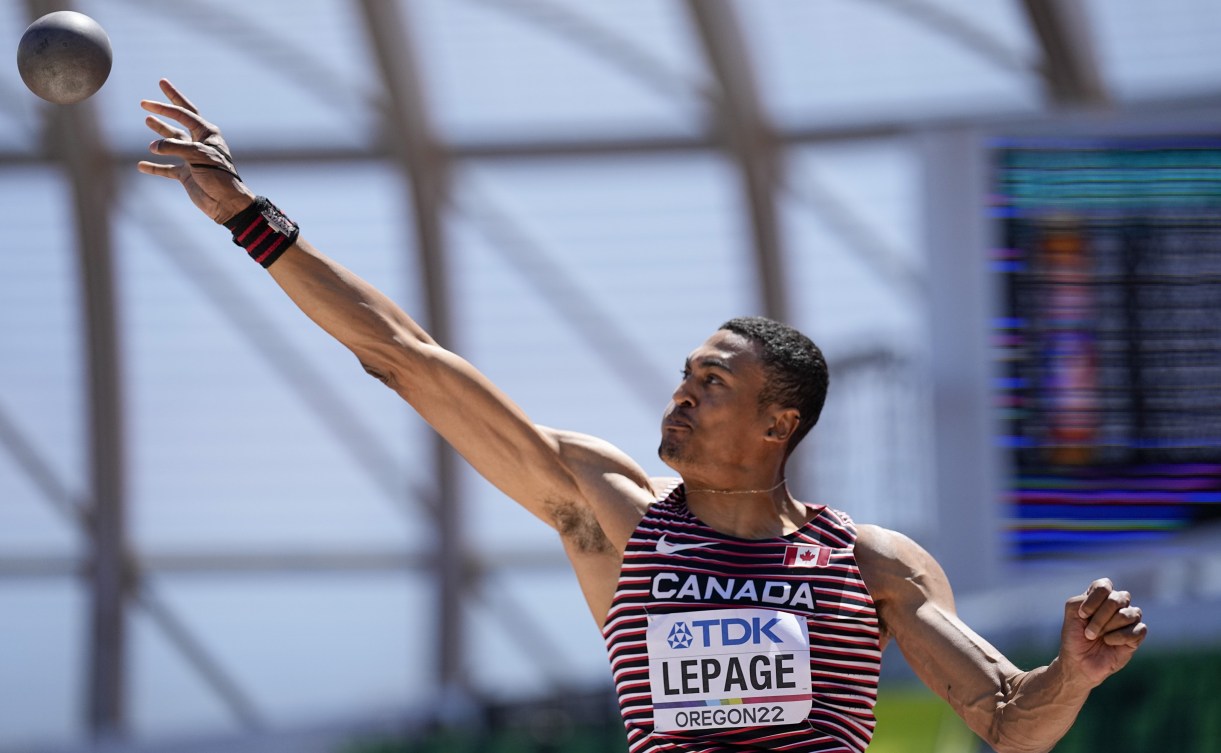 You can livestream the competition through CBC Sports.