THE CANADIAN PRESS/Frank Gunn
Liendo and Masse set Canadian records on opening day of Olympic Swimming Trials
The Olympic Swimming Trials, presented by Bell, have historically provided some of the biggest coming out parties in Canadian sport. This year's edition certainly seems to be following that trend.
In one of Saturday's first preliminary races, 18-year-old Joshua Liendo set a Canadian record in the men's 100m butterfly with a time of 51.40s. That pace was good enough to beat the Olympic qualifying time of 51.96s.
Liendo finished first in the final with another impressive time of 51.72s, qualifying himself for nomination to the Olympic team at Tokyo 2020.
Star swimmer Margaret Mac Neil also made some noise in the women's 100m butterfly prelim, finishing first with a time of 56.70s – less than a second off her Canadian record time set in 2019. She went on to win the final as well, posting an impressive time of 56.19s.
Mac Neil had already received early nomination for Tokyo 2020 based on her performance at the 2019 FINA Worlds.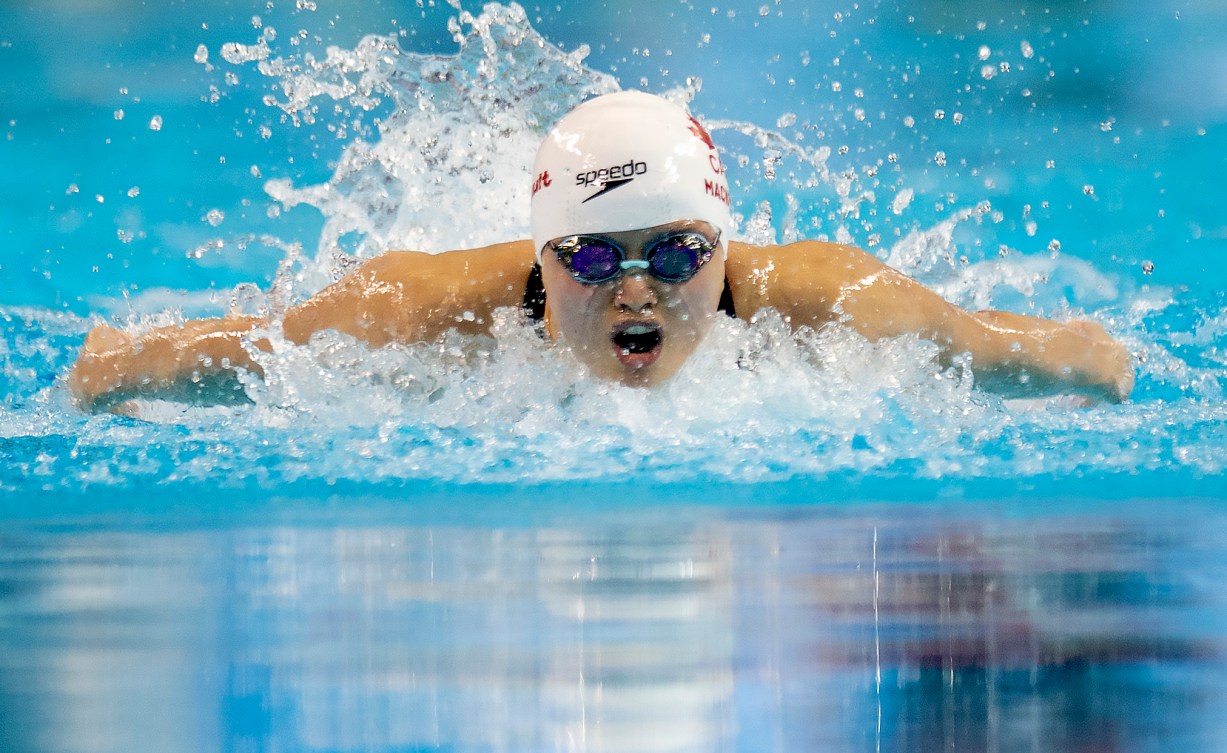 Katerine Savard followed close behind Mac Neil in second at 57.86s, under the Olympic qualifying time of 57.92s.
Meanwhile Kylie Masse came out strong in the women's 100m backstroke with a time of 58.13s, just 0.03s off her Canadian record from 2017. Masse was even better in the final, finishing first while setting a new record time of 57.70s.
Already qualified for Tokyo, the two-time reigning world champion in the 100m backstroke will look to add another medal to her collection after earning a bronze at Rio 2016.
Taylor Ruck took second in the women's 100m backstroke at 59.60s, good enough to beat the Olympic qualifying time.
In the men's 100m backstroke, two Canadians earned qualifications for Tokyo as Markus Thormeyer finished first (53.40s) while Cole Pratt placed second (53.54s).
FOLLOW: Tokyo 2020 Team Canada Qualification Tracker
The women's 400m freestyle gave us another great story as Alyson Ackman came out of retirement to take first and set a personal best time of 4:10.92. However, her time was not quite good enough to meet the Olympic qualifying mark.
In the final race of the day Peter Brothers took first in the men's 400m freestyle, clocking in at 3:49.35 – just shy of the Olympic qualifying time.
The Olympic trials will continue through Wednesday as Canadian swimmers look to earn more qualifications to Tokyo.