THE CANADIAN PRESS/Frank Gunn
5 Team Canada swimming stories to watch at 2023 World Aquatics Championships
The 2023 World Aquatics Championships will soon be underway in Fukuoka, Japan. The packed program includes five Olympic aquatics disciplines — swimming, artistic swimming, open water swimming, water polo, and diving — as well as high diving.
Between them all, there are 75 world titles up for grabs.
Among the first to see action will be Canada's six open water swimmers, whose competition begins on July 15. Canada's 28 pool swimmers will begin racing on July 23 as their events dominate the second week of the world championships.
At the 2022 World Aquatics Championships, Canadian swimmers won 11 medals in the pool — the most the country had ever won. The pool team travelling to Fukuoka includes 20 returning athletes from last year and 10 new faces making their Worlds debuts.
One big name you won't see is Penny Oleksiak. Canada's most decorated Olympian has withdrawn from the meet due to injury. Oleksiak was originally sidelined with a torn meniscus, which she had surgery in August 2022. She has since developed a shoulder injury while trying to compensate for her knee. The 22-year-old is targeting a return to competition in time for the Paris 2024 Olympic Games.
The World Aquatics Championships are an important step on the road to Paris 2024, especially for the relay events. The top three countries in each Olympic-program relay event will book Olympic spots in those events. Meanwhile, the qualification period for swimmers to achieve their individual entry standard times opened on March 1, 2023 and will continue until June 23, 2024.
2023 World Aquatics Championships Schedule
You can stream the entire competition on CBCSports.ca. And while you're watching, here are five key Team Canada swimming stories to keep an eye out for during the meet:
The summer of Summer
Summer McIntosh has been a fan favourite since Tokyo 2020 where, at only 14 years old, she was the youngest member of Team Canada at the Games. She finished fourth in the 400m freestyle in her Olympic debut.
At her first senior World Aquatics Championships in Budapest last summer, McIntosh won gold in the 200m butterfly and 400m individual medley, becoming the youngest world champion swimmer in more than a decade. She also earned silver in the 400m freestyle and was part of the Canadian 4 x 200m freestyle relay that took home bronze.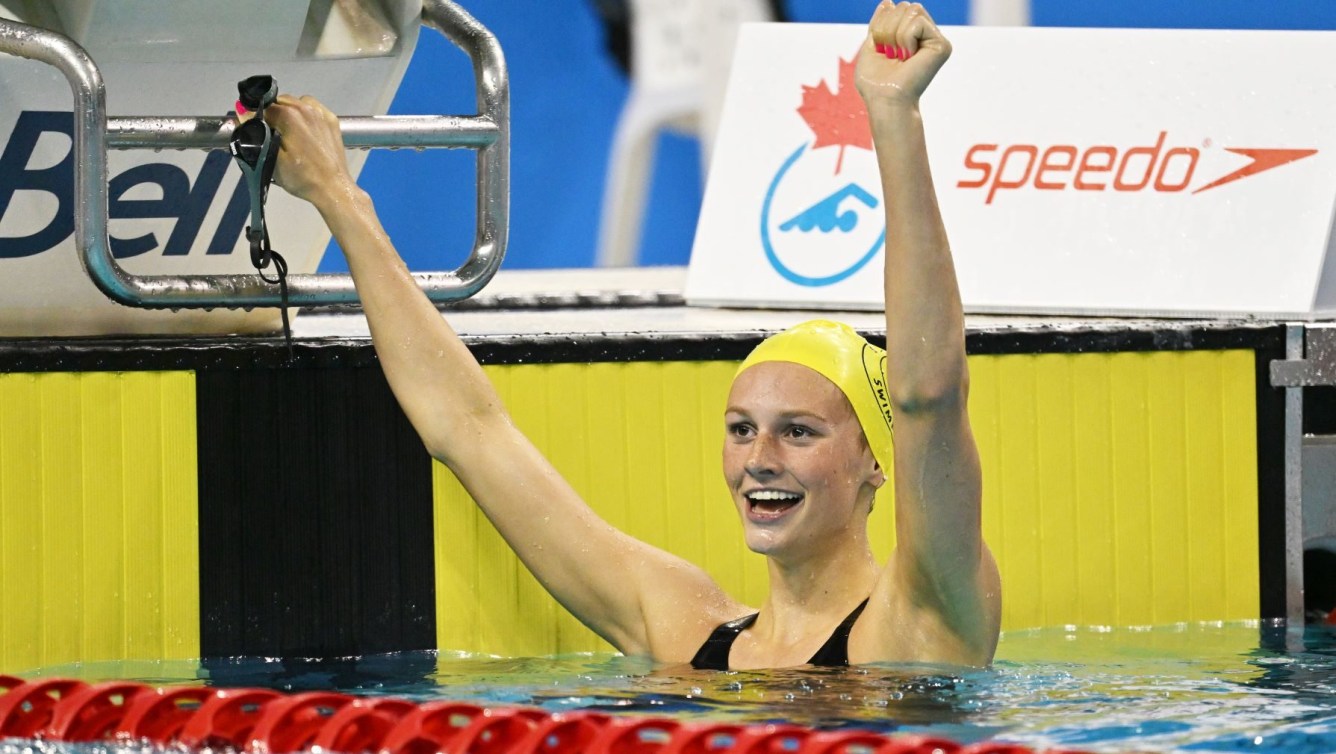 At the Canadian Swimming Trials this April, McIntosh wowed the swimming world with not one, but two world records. She took 0.32 off the women's 400m freestyle record and then a few days later knocked nearly half a second off the previous mark in the 400m individual medley.
McIntosh's 400m freestyle record replaces that of Australian Ariarne Titmus. Prior to Titmus, the record belonged to American Katie Ledecky. Those three swimmers are expected to face each other at the Worlds.
Titmus recently made comments to the press that are certain to stoke the fire for a showdown in Fukuoka. She suggested that while talented, McIntosh has yet to prove herself under pressure.
"On paper, I'd say I'm still Olympic champ going in. I feel like Katie, Summer and I are quite even going in, to be honest. But I feel like with the experience that Katie has had, and with what I have had, we have had more experience than Summer racing with the pressure. I feel like Summer hasn't really had that experience yet, racing on the international stage with the big pressure, so it will be interesting to see how she goes."
It will be interesting indeed. The women's 400m freestyle is one of the finals on the first night of swimming.
Veterans Mac Neil, Masse, Savard flying to Fukuoka
Maggie Mac Neil is no stranger to success at the world championships. At the 2019 edition of the event, Mac Neil swam to gold in the 100m butterfly in what was her first major senior international competition. She also contributed to bronze medals and national records in the women's 4x100m freestyle and 4x100m medley relays.
In her Olympic debut two years later, Mac Neil was a triple medallist, winning gold in her specialty, the 100m butterfly, plus a silver and a bronze in those same relays. For the 2022 Worlds, Mac Neil opted to compete only in relay events to prioritize her mental health. She returned to individual swimming at the 2022 Commonwealth Games, winning five medals, including gold in the 100m butterfly.
Mac Neil finished off her collegiate career in stellar fashion this spring, swimming to gold with an NCAA record in the 50 free, silver in the 100 fly, and bronze in the 100 free while representing Louisiana State University. She then proved she can perform no matter the circumstances. At her last meet before Worlds, the Mel Zajac International Swim Meet in Vancouver, Mac Neil dealt with numerous flight delays resulting in her missing an entire session of competition. But she still rallied to win the 100m fly, 50m backstroke and 50m freestyle.
That and other warm up meets, such as the Mare Nostrum Swim Tour, have given Mac Neil the chance to experiment as she goes for gold in her signature event and seeks to help put Team Canada on multiple relay podiums.
Backstroker Kylie Masse is also no stranger to major international podiums, having medalled at the last three World Aquatics Championships and last two Olympic Games.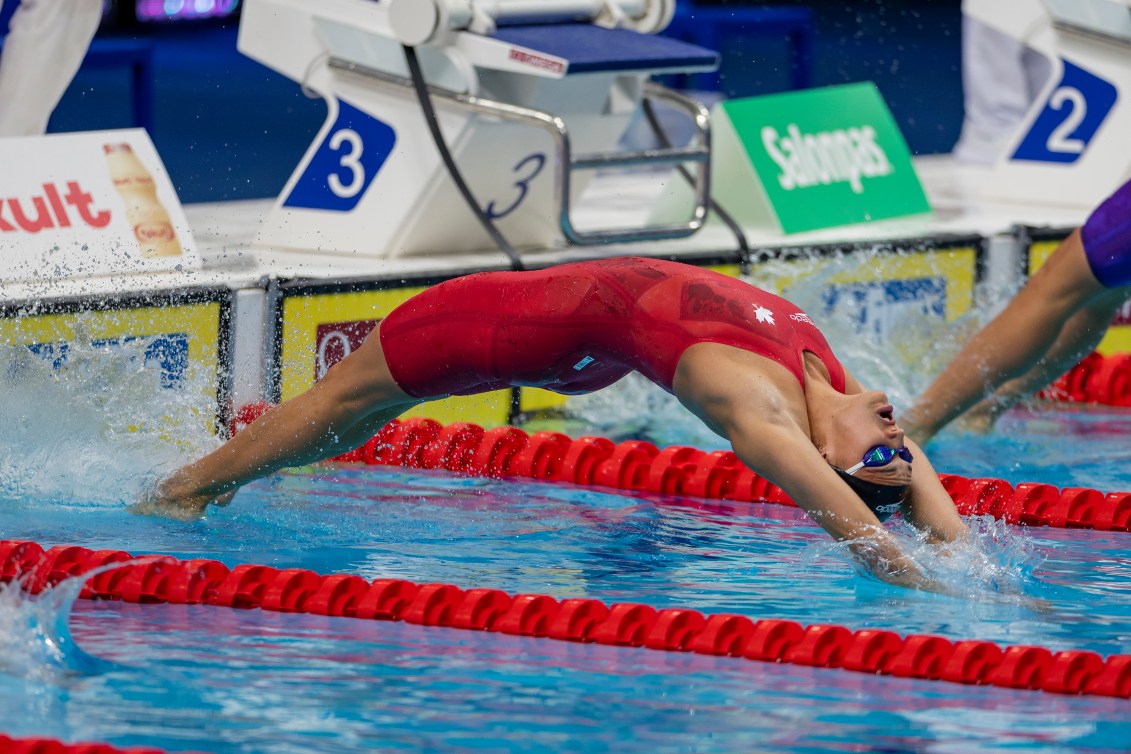 In 2017, Masse made history by being the first Canadian woman to win a world title in swimming, taking gold in the 100m backstroke while setting a world record at that time. She successfully defended her gold medal in 2019, making her the first Canadian swimmer to ever win back-to-back world titles.
Over her career, Masse has amassed four Olympic medals and eight world championship medals. She'll look to add to that collection in Fukuoka this summer.
Masse faces tough but friendly competition in her specialty stroke from young teammate Ingrid Wilm. The two swimmers traded wins at the Canadian Trials, with Masse taking victories in the 50m and 200m back while Wilm snagged the top spot in the 100m.
The ultimate veteran on the women's side, though, is Katerine Savard. In her 14th year as a member of the national team, the three-time Olympian is set to compete at her sixth World Aquatics Championships. She earned her first long course world championship medals in 2022 when she won silver and bronze in the women's freestyle relays.
Josh Liendo is on a roll
Fresh off of his first year in the NCAA, Joshua Liendo has had a streak of exciting performances. While competing for the University of Florida, he took home an NCAA title in the 100 free, silvers in the 50 free and 100 butterfly, and contributed to three NCAA relay records.
Liendo pivoted from short course yards to long course metres with some dominant performances at the Canadian Trials, breaking his own national record in the 100m butterfly twice in the same day.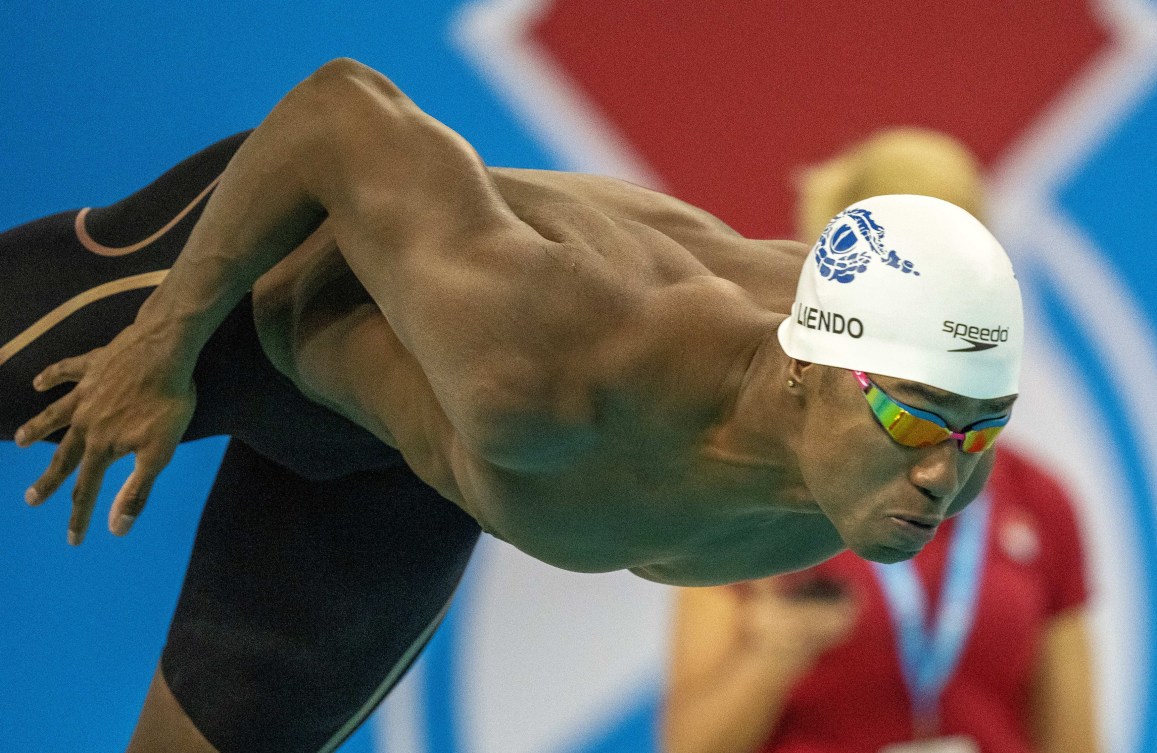 In Fukuoka, Liendo will look to continue his streak as a top contender among the Canadian men, building off not only a successful year of training, but strong performances at previous world championships. That includes the short course worlds in 2021 where he became the first Black Canadian swimmer to win a gold medal and/or an individual medal at a major international meet.
At last year's long course world championships in Budapest, Liendo secured bronze medals in the 100m butterfly and 100m freestyle. He went on to add four medals to his collection at the 2022 Commonwealth Games, including gold in the 100m butterfly.
Watch out for Liendo in the 50m free, 50m butterfly, 100m butterfly, and 100m free. In the latter, he is incredibly close to claiming Brent Hayden's Canadian record from 2009. He's also got some relay events in which the Canadian men are looking to make their mark.
Veteran men lead with experience
Though only 25-years-old, two-time Olympian Javier Acevedo brings a wealth of major meet experience to Fukuoka. Acevedo was a member of two bronze medal relay teams at the 2017 World Aquatics Championships. He took home a silver medal in the 4x100m medley relay at the 2019 Pan Am Games and another silver in the mixed 4x100m free relay at the 2022 World Aquatics Championships. Last summer, he was a four-time medallist at the Commonwealth Games, including an individual bronze in the 50m backstroke.
Acevedo had a strong showing at the Canadian Trials, rewriting his own national record in the 50m backstroke. .
It will be a busy trip to Fukuoka for another returning member of Team Canada. Eric Brown will compete in both pool swimming and open water swimming.
At the Canadian Trials in early April, the endurance specialist won both the 800m and 1500m freestyle events in the pool. A few weeks later, he won the men's 10km race at the Canadian Open Water Trials in the Cayman Islands, securing his spot on the open water squad for the second year in a row.
Brown is a teammate of Liendo's at the University of Florida, where they both finished successful freshman years.
"I'm excited to see what I can do this summer," Brown has said. "I'll try things out and do the double with pool and open water, and just have fun with it a week apart."
Joining Brown in the men's 10km event will be Eric Hedlin, who has twice stood on the world championship podium, winning silver in 2013 and bronze in 2019, both in the 5km open water event.
Rising stars look to make waves
The aforementioned Ingrid Wilm will be one to look out for in the backstroke events. In her first World Aquatics Championships in 2022, Wilm came fourth in the 50m back, just 0.03 of a second off the podium that Masse stood atop with a gold medal.
Wilm has shown strong momentum this season, not only duelling with Masse at the Canadian Trials, but winning six medals throughout the Mare Nostrum Swim Tour this spring.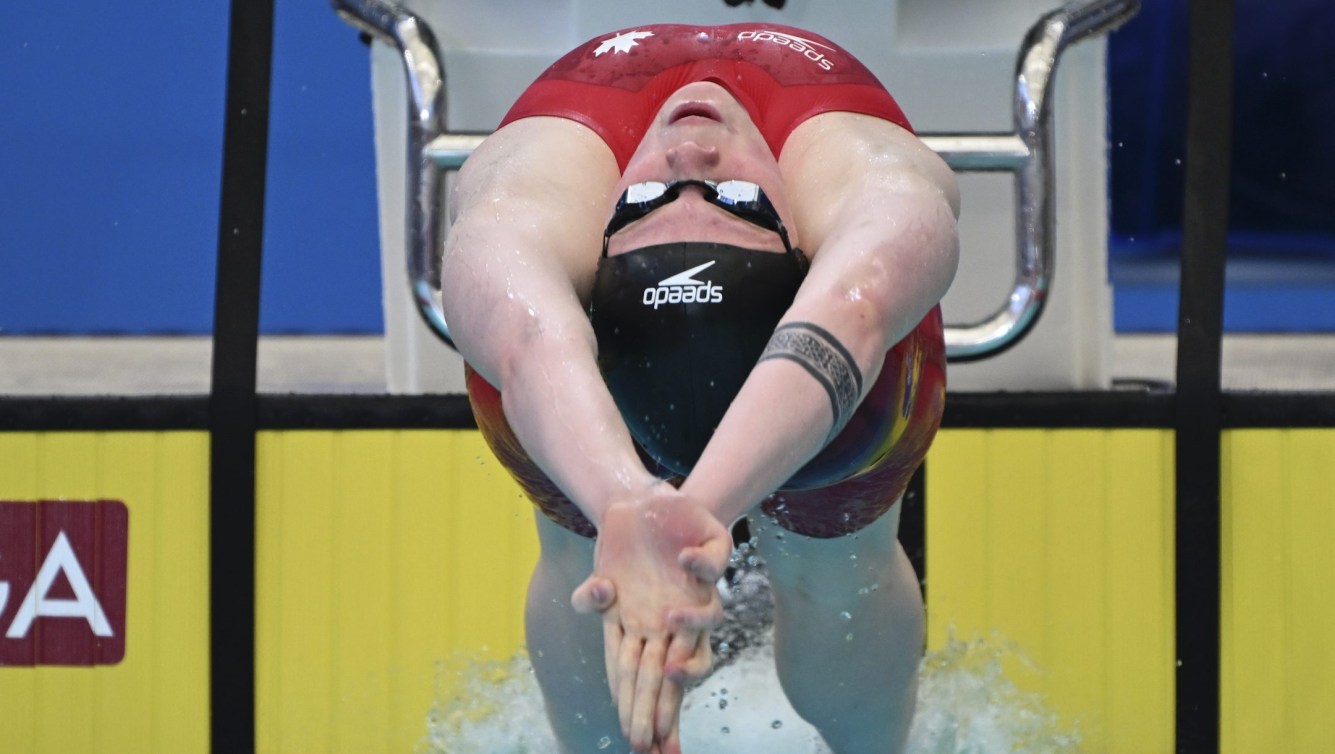 Olympian Finlay Knox is poised for a breakthrough, coming off two bronze medals at the short course world championships in 2022 in the 100m and 200m individual medleys. He showed that he's ready to compete at Worlds, having lowered his own long course Canadian record in the 200m individual medley at the Canadian Trials, with a time of 1:57.26.
Another rising star on the men's side is Ilya Kharun. At his debut short course world championships in 2022, Kharun won silver in the 100m butterfly. At the same event, he swam to Canadian records in the 200m, 100m and 50m butterfly events, with the latter two also qualifying as world junior records. He also owns the Canadian long course record in the 200m butterfly.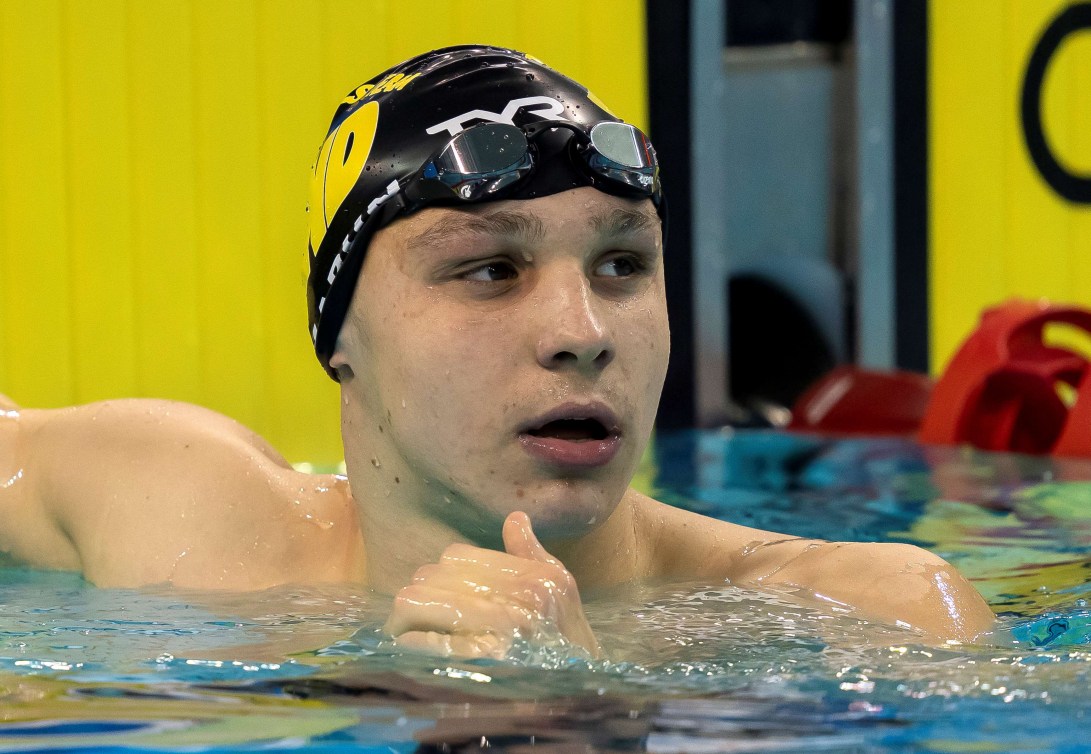 Kharun almost wore a different flag on his cap for international competitions. Though born in Montreal, the 18-year-old has spent the majority of his life in Las Vegas, as his parents worked as Cirque du Soleil performers. Kharun was on deck to compete for Team USA at the Junior Pan Pacific Championships when they realized an important fact — Kharun has a Canadian passport, not an American one.
"It happened really quick," Kharun said. "I was like, alright, I'm a Canadian now."
Team Canada has embraced Kharun with open arms.
"I feel right at home," Kharun says. And perhaps he'll feel right at home on the podium in Fukuoka as well.
Make sure to check out the action on CBCSports.ca.