Los Angeles 1984
Team Canada Medal Count
10
18
16
Games Summary
Games of the XXIII Olympiad
Los Angeles was the only bidder for the 1984 Olympic Games and for the first time the Games were run in entrepreneurial fashion, producing a profit of $223 million US. These were the first Games since 1896 to be staged without government funding, relying instead on existing facilities and corporate sponsors. Criticized at the time, this model was followed by future Olympic organizing committees.
Following the American-led boycott of the 1980 Olympic Games in Moscow, it wasn't too surprising when the Soviet Union organized a boycott of these Games. Viewed by many as a retaliatory move, Soviet officials cited concerns about the safety of their athletes in an anti-communist environment and were joined by 13 other nations in the boycott. Nevertheless, a record 140 countries competed, including the People's Republic of China for the first time since 1952.
Canada fielded its largest ever Olympic team, 273 men and 163 women, second in size only to the United States. The Canadian team won an unprecedented 44 medals, led by the swimmers who captured 10. Alex Baumann set two world records in winning gold in both the 200m and 400m individual medleys. Victor Davis won three medals, highlighted by 200m breaststroke gold in world record time. Anne Ottenbrite also earned three medals, including her own 200m breaststroke gold.
There was more success on the water, as Canada won six medals in each of canoe/kayak sprint and rowing to go with three medals in sailing as well as an historic gold medal in diving from Sylvie Bernier. The paddlers were led by gold medals from Larry Cain and the duo of Alwyn Morris and Hugh Fisher while the men's eight crew rowed its way to gold.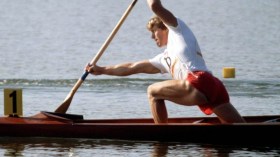 There was another push forward for women's sports with the debuts of rhythmic gymnastics and synchronized swimming. Canada reached the podium in both, with Lori Fung winning the first ever Olympic rhythmic gymnastics gold to go with a pair of silver medals for the synchro swimmers. Women were also finally able to compete in the marathon, 56 years after doctors had declared that women who ran 800 metres would "become old too soon".
Canada's first gold of the Games came from Linda Thom, who became the first female Canadian shooter to win an Olympic medal.
Canadian Medallists
| Event | Athlete | Finish | Sport |
| --- | --- | --- | --- |
| Springboard 3m - Women | Sylvie Bernier | Gold | Aquatics - Diving |
| Breaststroke 200m - Women | Anne Ottenbrite | Gold | Aquatics - Swimming |
| Breaststroke 200m - Men | Victor Davis | Gold | Aquatics - Swimming |
| Individual Medley 200m - Men | Alex Baumann | Gold | Aquatics - Swimming |
| Individual Medley 400m - Men | Alex Baumann | Gold | Aquatics - Swimming |
| Coxed Eight - Men | Dean Crawford, J. Michael Evans, Mark Evans, Blair Horn, Grant Main, Brian McMahon, Kevin Neufeld, Paul Steele, Pat Turner | Gold | Rowing |
| C-1 500m - Men | Larry Cain | Gold | Canoe-Kayak - Sprint |
| K-2 1,000m - Men | Hugh Fisher, Alwyn Morris | Gold | Canoe-Kayak - Sprint |
| Individual All-Around - Women | Lori Fung | Gold | Gymnastics - Rhythmic |
| Pistol 25m - Women | Linda Thom | Gold | Shooting |
| Breaststroke 100m - Men | Victor Davis | Silver | Aquatics - Swimming |
| Breaststroke 100m - Women | Anne Ottenbrite | Silver | Aquatics - Swimming |
| Medley Relay 4x100m - Men | Victor Davis, Sandy Goss, Tom Ponting, Mike West | Silver | Aquatics - Swimming |
| Duet - Women | Sharon Hambrook, Kelly Kryczka | Silver | Aquatics - Synchronized Swimming |
| Solo - Women | Carolyn Waldo | Silver | Aquatics - Synchronized Swimming |
| Relay 4x100m - Women | Angela Bailey, France Gareau, Angella Issajenko, Marita Wiggins | Silver | Athletics |
| Relay 4x400m - Women | Charmaine Crooks, Molly Killingbeck, Jillian Richardson-Briscoe, Marita Wiggins, Dana Wright | Silver | Athletics |
| Heavyweight - Men | Willie de Wit | Silver | Boxing |
| Welterweight - Men | Shawn O'Sullivan | Silver | Boxing |
| C-1 1,000m - Men | Larry Cain | Silver | Canoe-Kayak - Sprint |
| K-2 500m - Women | Alexandra Barré, Sue Holloway | Silver | Canoe-Kayak - Sprint |
| Individual Road Race - Men | Steve Bauer | Silver | Cycling - Road |
| Time Trial 1,000m - Men | Curt Harnett | Silver | Cycling - Track |
| Coxed Four - Women | Barbara Armbrust, Marilyn Brain, Angela Schneider, Lesley Thompson-Willie, Jane Tregunno | Silver | Rowing |
| Coxless Pair - Women | Elizabeth Craig, Tricia Smith | Silver | Rowing |
| Two-Person Centreboard Dinghy - Mixed | Evert Bastet, Terry McLaughlin | Silver | Sailing |
| 77kg - Men | Jacques Demers | Silver | Weightlifting |
| 120kg - Men | Bob Molle | Silver | Wrestling - Freestyle |
| Backstroke 100m - Men | Mike West | Bronze | Aquatics - Swimming |
| Backstroke 200m - Men | Cameron Henning | Bronze | Aquatics - Swimming |
| Medley Relay 4x100m - Women | Reema Abdo, Michelle MacPherson, Anne Ottenbrite, Pamela Rai | Bronze | Aquatics - Swimming |
| 100m - Men | Ben Johnson | Bronze | Athletics |
| 3,000m - Women | Lynn Williams | Bronze | Athletics |
| Relay 4x100m - Men | Sterling Hinds, Ben Johnson, Tony Sharpe, Desai Williams | Bronze | Athletics |
| Bantamweight - Men | Dale Walters | Bronze | Boxing |
| K-2 500m - Men | Hugh Fisher, Alwyn Morris | Bronze | Canoe-Kayak - Sprint |
| K-4 500m - Women | Alexandra Barré, Lucie Guay, Sue Holloway, Barbara Olmsted | Bronze | Canoe-Kayak - Sprint |
| Heavyweight - Men | Mark Berger | Bronze | Judo |
| Double Sculls - Women | Daniele Laumann, Silken Laumann | Bronze | Rowing |
| Quadruple Sculls - Men | Bruce Ford, Doug Hamilton, Michael Hughes, Philip Monckton | Bronze | Rowing |
| Single Sculls - Men | Robert Mills | Bronze | Rowing |
| One-Person Dinghy (Heavyweight) - Men | Terry Neilson | Bronze | Sailing |
| Three-Person Keelboat - Mixed | Stephen Calder, Hans Fogh, John Kerr | Bronze | Sailing |
| 74kg - Men | Chris Rinke | Bronze | Wrestling - Freestyle |
Teams