Vaughn Ridley/Diving Canada
Team Canada to have 10 divers at Tokyo 2020
Team Canada will have 10 divers competing in seven events at Tokyo 2020, a split of six women and four men.
Leading the way will be Jennifer Abel and Meaghan Benfeito who are both headed to their fourth Olympic Games.
They will be joined in their respective synchro events by two Olympic newcomers, Mélissa Citrini-Beaulieu and Caeli McKay.
Abel is looking to get back on the Olympic podium after finishing fourth in both the individual and synchro 3m springboard events at Rio 2016. Since making her Olympic debut as a 16-year-old at Beijing 2008, she has become Canada's most successful diver ever at the FINA World Championships, collecting 10 career medals. One of those was the silver she and Citrini-Beaulieu won in 2019. Earlier this year, they won silver at the FINA World Cup. Abel and Citrini-Beaulieu have been partners since 2017.
Abel will also compete individually in Tokyo in the 3m springboard, where she will be joined by Pamela Ware, back for her second straight Olympic appearance. Abel is twice a world medallist in the 3m springboard, winning bronze in 2011 and 2017. She came close to the podium again at the 2019 Worlds, finishing fourth.
Ware has had her own share of international success, winning bronze at the 2013 World Championships, silver at the 2015 Pan Am Games, and bronze at the 2018 FINA World Cup. She was seventh in her Olympic debut at Rio 2016.
Benfeito and McKay booked their ticket to Tokyo by winning the 10m synchro event at the FINA World Cup in May. They placed fourth together at both the 2017 and 2019 FINA World Championships.
Benfeito will also compete in the individual 10m platform. She has an impressive track record from her more than 15 years of representing Canada internationally, including bronze at Rio 2016, silver at the 2018 Commonwealth Games, gold at the 2019 Pan Am Games, and multiple podiums in FINA World Series events.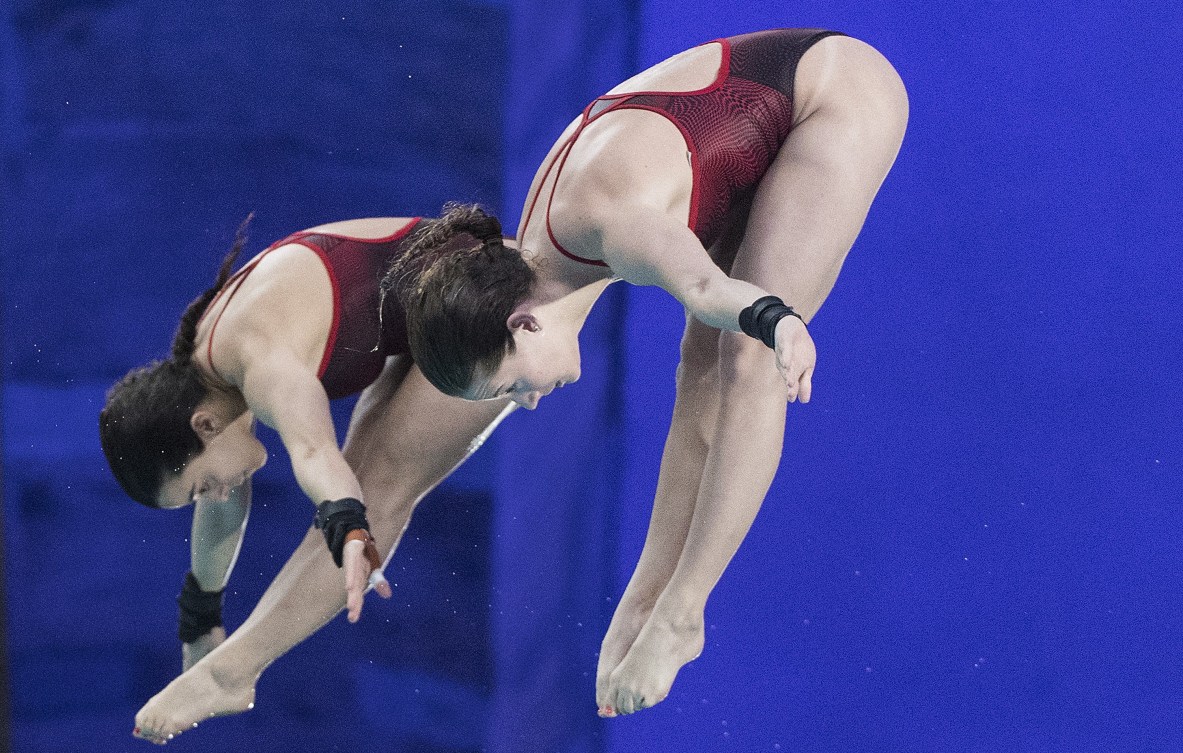 In late January, Benfeito lost all her possessions – including her three Olympic medals — when a fire destroyed her condo building. But she received replacements for the hardware that is symbolic of her years of hard work in a special ceremony in early June.
READ: Diver Meaghan Benfeito reunited with Olympic medals lost in fire
The other women's 10m spot went to Celina Toth, who won the platform event at the national trials on Canada Day. She'll take years of international experience with her to Tokyo, having competed on the FINA Grand Prix circuit since 2012. She also represented Canada at the 2018 Commonwealth Games and reached the 10m platform final at the FINA World Cup in 2016 and 2018.
McKay was unable to compete for an individual spot after suffering an ankle sprain during dryland training prior to the start of the trials.
On the men's side, Vincent Riendeau is headed to his second Olympic Games, this time in the 10m synchro event where he will compete alongside Nathan Zsombor-Murray. They earned that spot with their bronze medal at the 2021 FINA World Cup. They won silver together at the 2019 Pan Am Games.
Through Riendeau was a finalist in the individual 10m platform at the 2019 World Championships, which secured one Olympic spot for Canada in the event, he opted not to compete for an Olympic berth at the national trials, instead focusing on his training for the synchro event.
Zsombor-Murray did earn a start in a second Olympic event with his 10m platform victory at the trials and will be joined by runner-up Rylan Wiens.
Wiens had a breakout performance at the FINA World Cup in May where he won bronze, finishing two spots ahead of Zsombor-Murray, as Canada secured the second men's Olympic spot in the 10m platform. Wiens competed at his first FINA World Cup in 2018 not long after posting a top-eight finish at the Commonwealth Games. In 2018 he also finished fourth in the 16-18 age group at the FINA World Junior Championships. He competed in his first FINA World Series events in 2019.
Zsombor-Murray also had a fourth-place finish at the 2018 Junior Worlds in the 14-15 age group. He'd been third in the semifinal at the 2021 World Cup. Four years ago, Zsombor-Murray competed at his first senior FINA World Championships when he was just 14.
Canada will have one man competing on the 3m springboard. Cédric Fofana will make his Olympic debut at just 17 years old after winning the national trials. His career highlight thus far is a bronze medal at the 2018 World Junior Championships for the 14-15 age group. He competed in his first senior international events in 2019 as he competed on the FINA Grand Prix circuit.
Diving at Tokyo 2020 will take place at the Tokyo Aquatics Centre. The competition spans almost the entirety of the Games, with the three synchro events in which Canada is competing happening first on July 25 (women's 3m synchro), July 26 (men's 10m synchro), and July 27 (women's 10m synchro). The individual events begin on July 30 with the preliminary round of the women's 3m springboard and will continue through August 7 when the men's 10m platform medals will be awarded.
Canada has won 13 Olympic medals in diving since the first was won by Irene MacDonald at Melbourne 1956. Canadian divers have stood on the podium in at least one event at every Games dating back to Atlanta 1996. Included in that is the 3m synchro bronze Abel won at London 2012 with Émilie Heymans and the three medals Benfeito has been part of, her two 10m synchro bronzes with Roseline Filion at London 2012 and Rio 2016 as well as the individual bronze she won in Rio.
Team Canada Divers at Tokyo 2020:
Jennifer Abel (Laval, QC) – 3m, 3m Synchro
Meaghan Benfeito (Montreal, QC) – 10m, 10m Synchro
Mélissa Citrini-Beaulieu (Saint-Constant, QC) – 3m Synchro
Cédric Fofana (Montreal, QC) – 3m
Caeli McKay (Calgary, AB) – 10m Synchro
Vincent Riendeau (Pointe Claire, QC) – 10m Synchro
Celina Toth (London, ON) – 10m
Pamela Ware (Greenfield Park, QC) – 3m
Rylan Wiens (Saskatoon, SK) – 10m
Nathan Zsombor-Murray (Pointe Claire, QC) – 10m, 10m Synchro