AP Photo/Matt Slocum
Canada defeats Italy ahead of softball bronze medal game
Team Canada is heading into the Tokyo 2020 softball bronze medal game on a winning note.
The Canadians won their final game of the opening round Monday, defeating Italy 8-1 at Yokohama Stadium. Canada, who had already secured a spot in Tuesday's bronze medal game, finishes the opening round with a 3-2 record. They'll face the winner of the Mexico-Australia game for bronze.
Canada has never won an Olympic medal in softball, their best finish being fourth place at Beijing 2008. Four members of this year's squad – Danielle Lawrie, Kaleigh Rafter, Lauren Regula and Jenn Salling – were part of that 2008 team.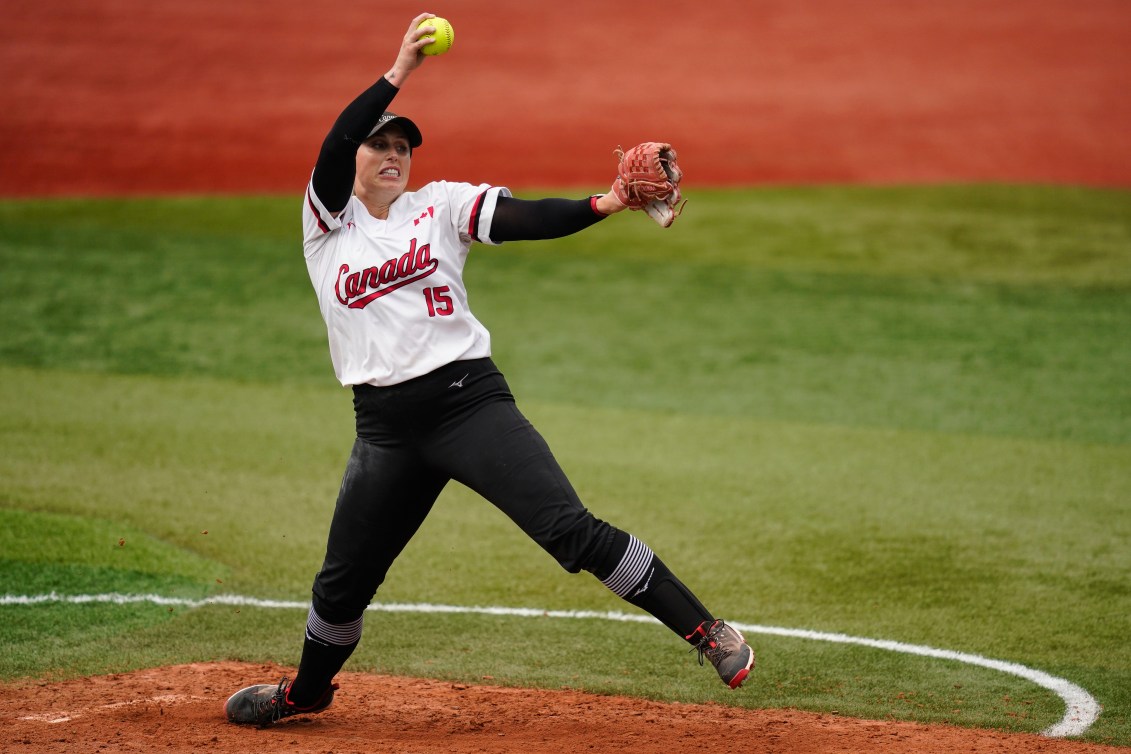 Canada outscored opponents 19-4 in the opening round. Along with Monday's victory over Italy, Canada defeated Mexico 4-0 and Australia 7-1. The team's two losses were both by 1-0 scores, falling to the the United States and Japan – the only two teams ranked above the No. 3 Canadians.
Pitchers Sara Groenewegen and Jenna Caira were given Monday's game off. Lawrie and Regula combined to allow no earned runs on four hits while registering eight strikeouts.
Jennifer Gilbert opened the scoring with a solo home run to centre field in the second inning. In the top of the third, a Larissa Franklin double scored Victoria Hayward from first to give Canada a 2-0 advantage.
Italy got on the board in the bottom of the third. With runners on the corners, Erika Piancastelli singled to score Italy's first run of Tokyo 2020.
Canada added three more runs in the fifth to take a 5-1 lead. The inning got rolling with a Franklin sacrifice fly that scored Joey Lye from third. A couple batters later, a Salling single scored Hayward and then an Erika Polidori hit was thrown away by Italy, allowing Canada to score another run on the error.
In the sixth, a Hayward hit to centre field scored two more Canadian runs. Hayward then scored on a sacrifice fly by Franklin, extending Canada's lead to 8-1. Italy was unable to score in the bottom of the sixth, ending the game early due to the seven-run mercy rule.
Italy finishes the tournament with an 0-5 record. The United States topped the standings, finishing 5-0. The Americans will play host Japan for gold.