Greg Kolz/Speed Skating Canada
Some of Team Canada's history-making and other memorable moments at Beijing 2022
Competing at the Olympic Games is a dream for any athlete, and turning in a notable performance makes it all the more special.
Now that we're at the end of the Beijing 2022 Olympic Winter Games, now's a great time to take stock of some outstanding efforts put in by members of Team Canada — particularly some that didn't result in a podium finish.
Hamelin joins Olympic royalty
It took until the final day of short track speed skating at Beijing 2022, but Charles Hamelin got his historic sixth Olympic medal. Skating with Steven Dubois, Pascal Dion and Jordan Pierre-Gilles, Hamelin and the Canadians won gold in the 5000m short track relay, executing a perfect race strategy.
By winning the sixth medal of his illustrious Olympic career, Hamelin ties long track speed skater Cindy Klassen as Canada's most decorated Winter Olympian. He also tied sprinter Andre De Grasse as Canada's most decorated male Olympian and is one behind swimmer Penny Oleksiak for the all-time lead.
By winning his career fourth gold medal, Hamelin ties hockey players Jayna Hefford, Hayley Wickenheiser, and Caroline Ouellette for the most gold medals ever won by a Canadian athlete. He also became the first male short track speed skater to win a medal at five different Olympic Winter Games and, at age 37, became the oldest ever Olympic medallist in short track speed skating.
Not bad for the "Locomotive de Sainte-Julie."
'Captain Clutch' does it again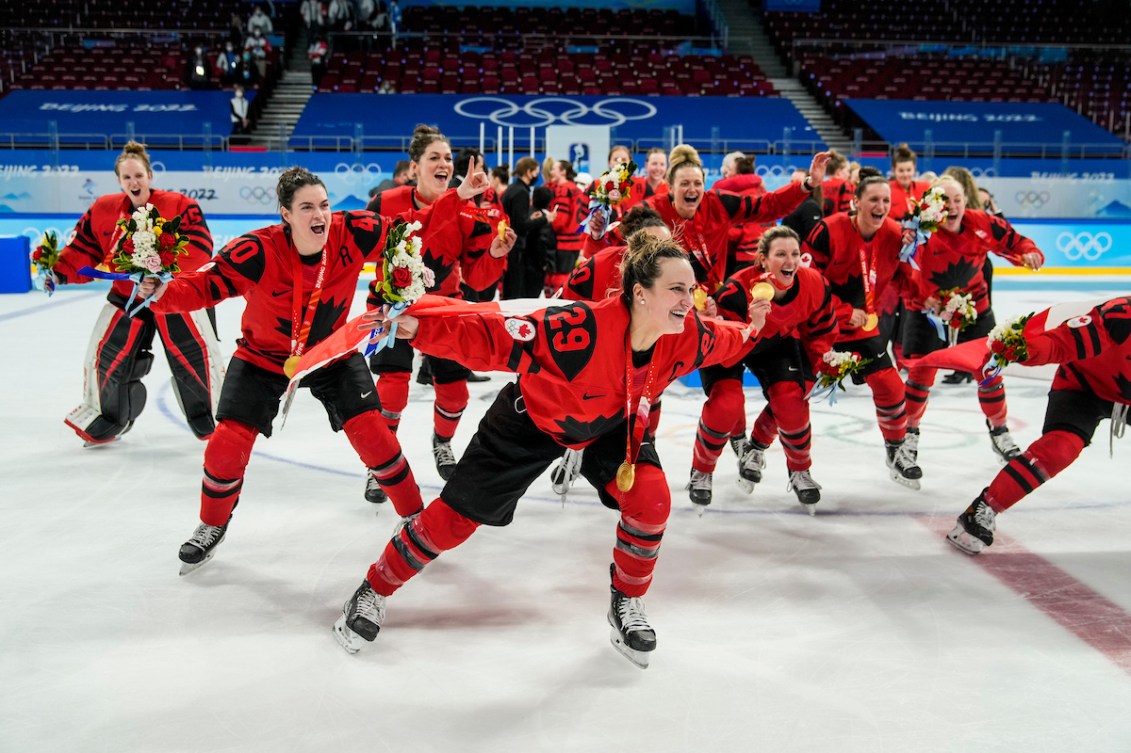 It's safe to say Marie-Philip Poulin has done enough to forever keep the nickname "Captain Clutch."
The captain of the Canadian women's hockey team scored twice to lift her squad to a 3-2 victory over the United States in the gold medal game. She became the first player – female or male – to score in four Olympic gold medal games and now has a remarkable seven goals in those matches.
Canada posted a 7-0 record in Beijing, outscoring opponents by a combined 57-10. Canada has participated in every women's hockey gold medal game since it was added to the Olympic program at Nagano 1998, winning five of the seven matches.
Sarah Nurse, meanwhile, finished the tournament with 18 points, breaking Hayley Wickenheiser's Olympic record of 17 set at Turin 2006. Brianne Jenner also had an impressive offensive showing, recording a Beijing-best nine goals to match the single Games record.
At the other end of the ice, some special kudos are due to goaltender Ann-Renée Desbiens. Her remarkable 51-save performance in a 4-2 win over the rival Team USA set a new record for most saves by a Canadian goalie in an Olympic game.
de Bruin wins inaugual monobob bronze
If the trivia question "who won the first Olympic bronze medal in women's monobob?" ever comes up, the answer is Canada's Christine de Bruin.
de Bruin won Canada's fifth Olympic medal all time in a women's bobsleigh event by finishing her four runs with a total time of 4:21.03, putting her only behind two American sleds.
"It means a lot," said de Bruin of her medal-winning performance. "It's sweet, it's insane, I don't even know what to say right now. It's so surreal at the moment."
A century in the making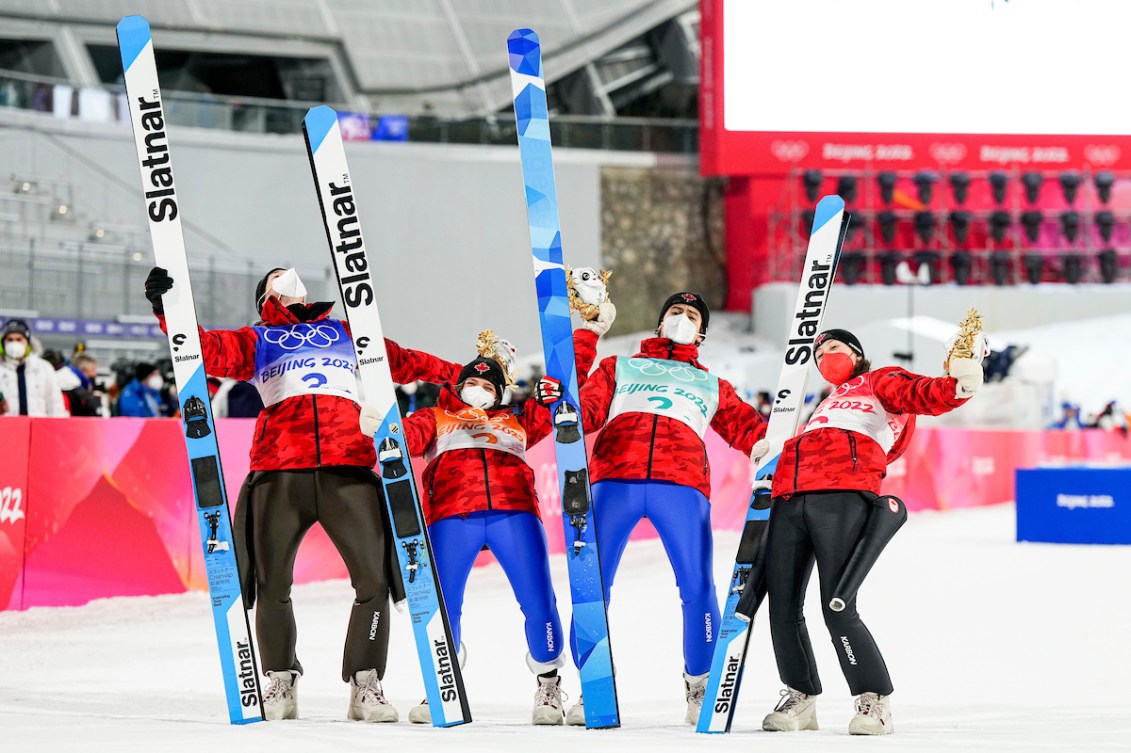 There's no other way to say it: Team Canada's bronze medal in mixed team ski jumping was a shocker.
The sport has been part of the Olympic program since Chamonix 1924, but Canada had never reached the podium. That all changed when Abigail Strate, Matthew Soukup, Alexandria Loutitt and Mackenzie Boyd-Clowes put up a third-place finish in the mixed team event, which was contested for the first time at the Olympic Games. It was the first Olympic podium by any North American ski jumper since 1924.
It was Boyd-Clowes, the veteran competing in his fourth Olympic Games, who clinched the historic podium finish. But it could be youngsters like Strate, 20, and Loutitt, 18, who help carry Canada's newfound momentum forward.
Mixing things up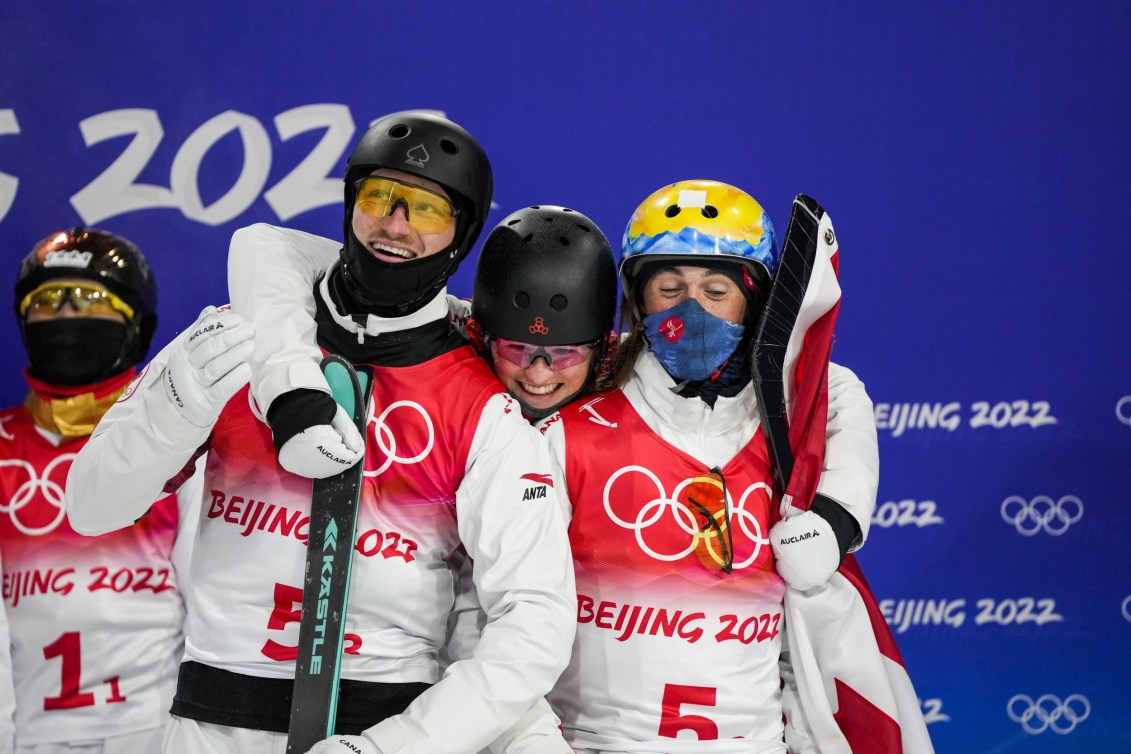 Speaking of mixed team events on the slopes: the mixed team aerials event is new to the Olympic program — and it has its first-ever trio of bronze medallists.
Marion Thénault, Miha Fontaine and Lewis Irving joined forces to deliver Canada its first Olympic medal in an aerials event in two decades. And it was an especially gratifying result for Irving, who tore his MCL at the start of the season and hadn't jumped since: "I feel great and I don't think I could ask for anything else at this moment."
Cracking the top five
And since we're on the subject of firsts: Scott Gow produced Canada's first-ever top-10 finish in the men's 20km individual biathlon, finishing fifth. The 31-year-old finished a near-perfect 19-for-20 in shooting to improve on his 14th-place showing from PyeongChang 2018.
The fifth-place showing also ties Gow for the best result by a Canadian man in any Olympic biathlon event, alongside Jean-Philippe Le Guellec (fifth in the 10km sprint at Sochi 2014). Canada has three Olympic medals all time in biathlon, all won by Myriam Bédard.
Before the Games were done, Gow had joined with his brother Christian as well as Adam Runnalls and Jules Burnotte for a sixth-place finish in the 4×7.5km relay, a Canadian best-ever Olympic result in the event.
Call it a double double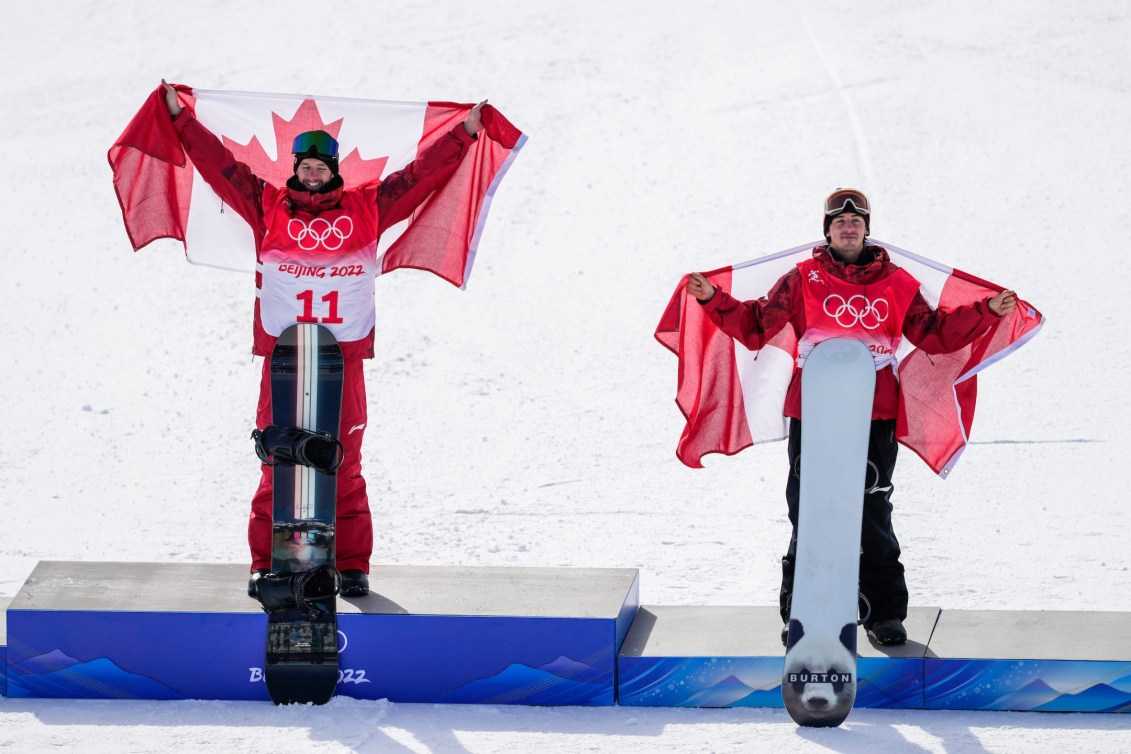 Canada was always a favourite to pick up some hardware in the men's snowboard slopestyle event, with Max Parrot, Mark McMorris and Sébastien Toutant all competing in the final.
Just like at PyeongChang 2018, it was the pairing of Parrot and McMorris who will head home with medals. This time out, Parrot upgraded from silver to gold, while McMorris's Olympic bronze was the third of his legendary career. He is the first athlete to win three straight bronze medals in the same Winter Olympic event.
One more change from four years ago: Parrot can now count himself as a cancer survivor, in addition to being an Olympic champion.
From disappointment to delight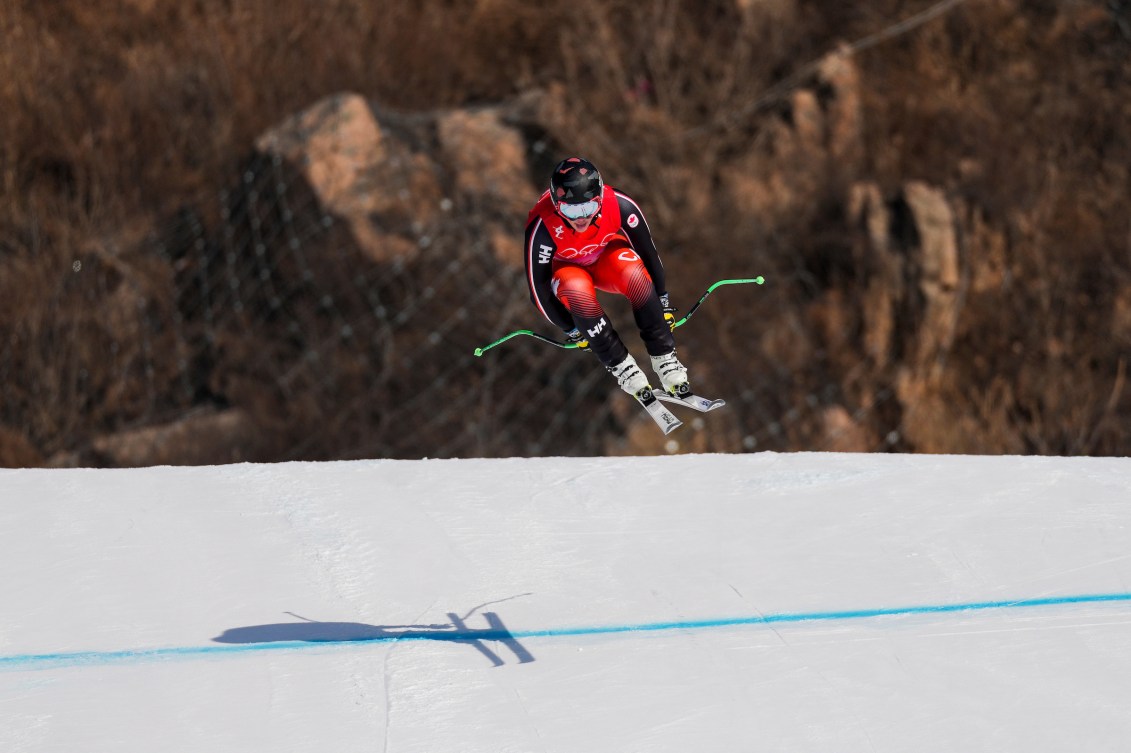 A lot can change in a few days, as Jack Crawford can happily attest.
Just two days after missing the podium in the men's downhill event by a mere 0.07 seconds, Crawford rebounded to earn a bronze medal in the alpine combined. He is the first Canadian to ever reach the podium in a combined event at the Olympic Winter Games.
All hail the Kingsbury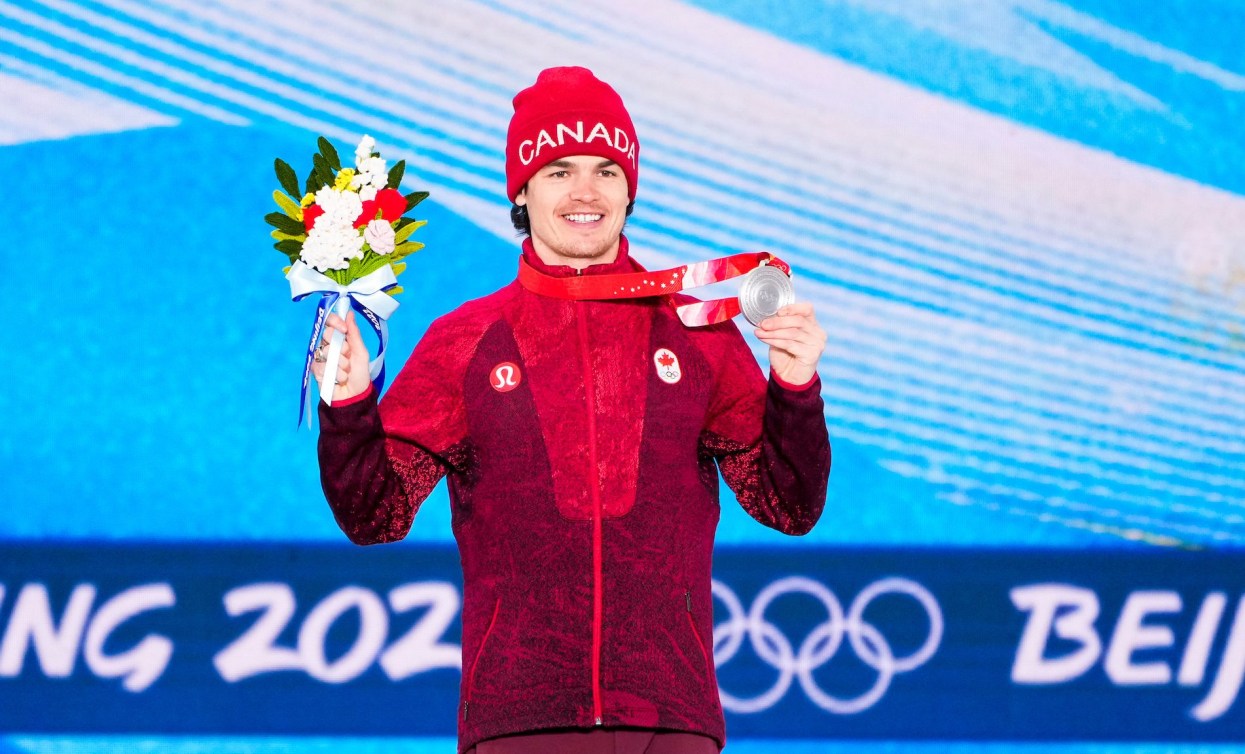 It should not come as any sort of surprise that Mikaël Kingsbury is good at moguls. Like, really good. The best to ever do it, in fact.
With his silver medal in Beijing, Kingsbury added a few more feathers in his cap: he's the first male freestyle skier to ever win three straight Olympic medals, and he is Canada's most decorated freestyle skier in Olympic competition.
Blondin wins Canada's first mass start medal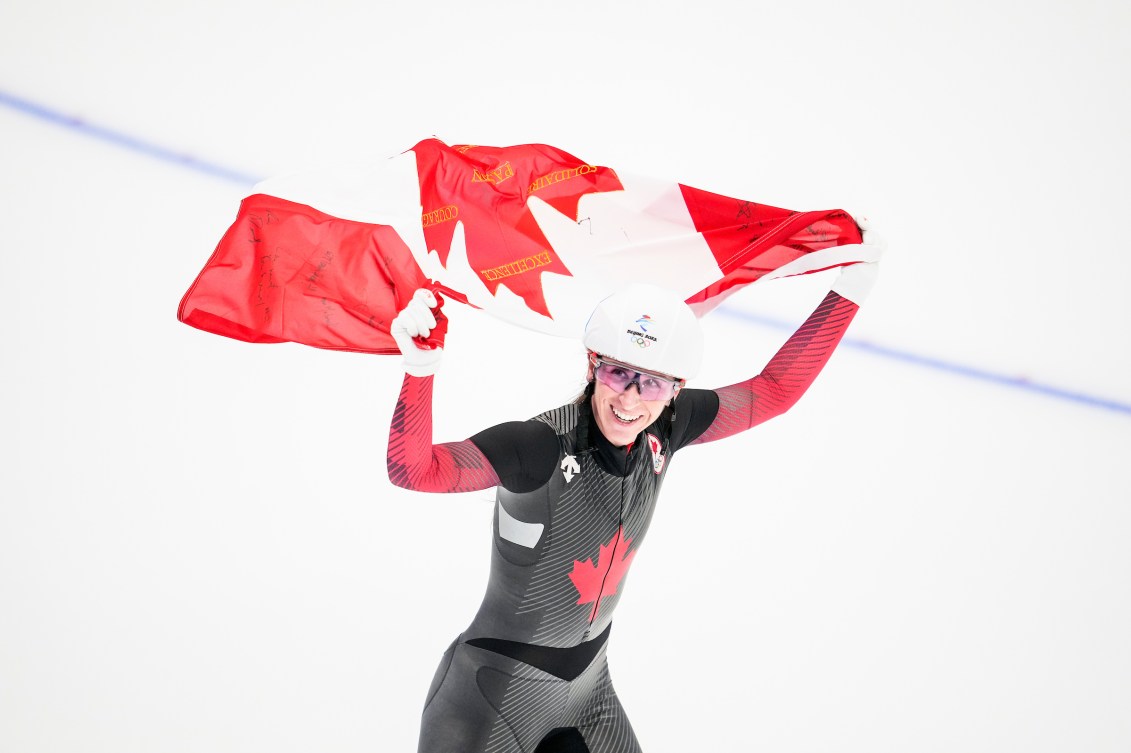 Added to the Olympic program four years ago, Canada earned its first medal in the long track speed skating mass start when Ivanie Blondin earned silver. Blondin had already won a gold medal the team pursuit alongside Isabelle Weidemann and Valérie Maltais.
Beijing 2022 was the third Olympic Games for the 31-year-old. This is the first time she'll be returning home with a medal after coming close to the podium on a few occasions.
"I'm really happy, getting on the podium is an honour for me," said Blondin. "It is nice to finally get an individual medal. It has been a long and winding road for me and I am just really happy at this point to bring a medal back for my country."