AP Photo/Fernando Vergara
Team Canada at Tokyo 2020: Day 10
Team Canada earned a historic victory in a soccer semifinal showdown with cross-border rival Team USA and Sarah Pavan and Melissa Humana-Paredes take the next step towards their podium goals.
We also start to see some new sports on the schedule for Team Canada as we head fully into week two of Tokyo 2020.
You can check out the official schedule of Canadians who competed today at the bottom of this page and read on for the details of what happened in each sport.
Tokyo 2020 Olympic Competition Schedule and Results
GET THE TEAM CANADA APP
Soccer
Canada will play for gold in women's soccer for the first time in history, following a dramatic 1-0 win over the United States in the semifinal. It was a tense, evenly matched affair between the cross-border rivals until everything changed late in the second half. The referee used video review to decide Deanne Rose had been fouled in the American penalty area, and Jessie Fleming scored on the ensuing penalty kick. The gold-medal final will see Canada up against Sweden on Thursday (10 p.m. ET).
READ: Team Canada to play for soccer gold after upset win over top-ranked USA
READ: Canada looks to exorcise ghosts of London 2012 vs USA
Athletics
The morning session got started with the first round heats of the women's 1500m, featuring sisters Gabriela DeBues-Stafford and Lucia Stafford as well as Natalia Hawthorn. The top six in each of the three heats plus the next six fastest will advance to the semifinals. DeBues-Stafford got it started by winning heat 1 in a time of 4:03.70 while Stafford did one better, stopping the clock at 4:03.52 for a new personal best in her Olympic debut. The duo will enter the semifinals with the seventh and eighth fastest qualifying times. Hawthorn finished tenth in the second heat and will not advance.
Crystal Emmanuel kept the momentum going in the heats of the women's 200m, winning her heat and advancing with a season best 22.74 seconds. The Canadian record-holder then finished sixth in her semifinal heat with a time of 23.05, but will not advance to the final.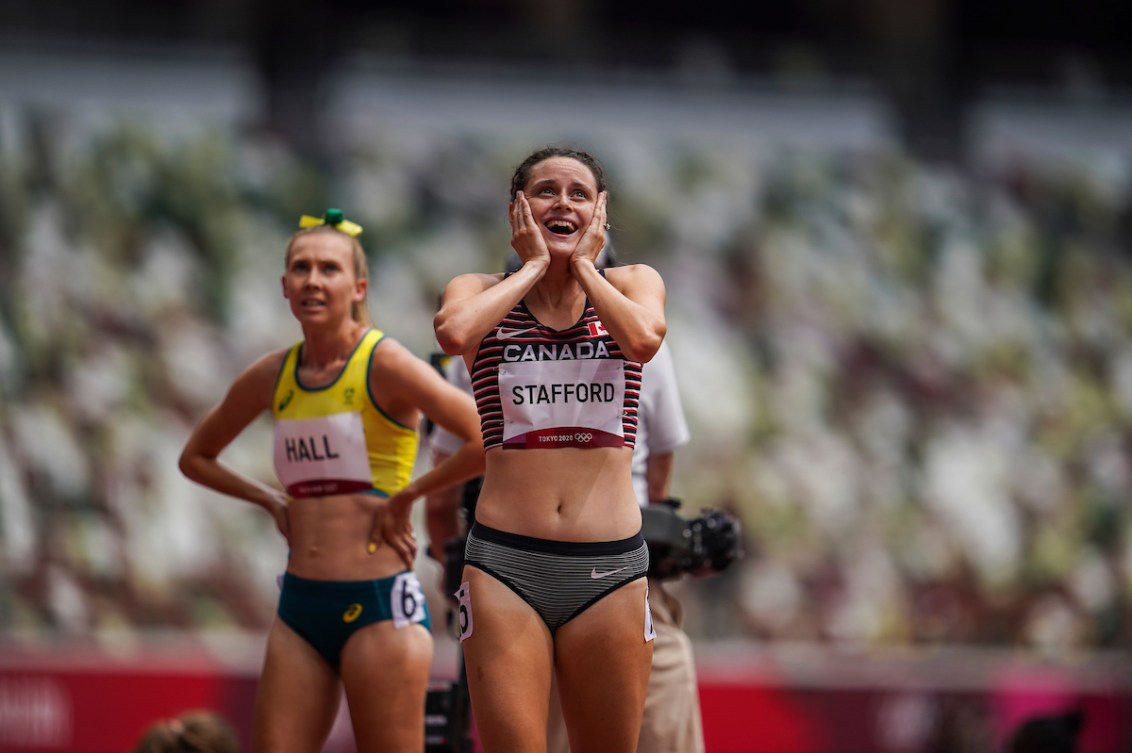 In the qualification round of women's pole vault, Alysha Newman was unable to clear 4.25m and will not advance on while Anicka Newell, before weather delayed the competition, cleared 4.40m on her first attempt.
Sage Watson battled the rain in the women's 400m hurdles semifinals, bettering her 55.54 qualifying time with a time of 55.51 but will not advance onto the final.
Matt Hughes and John Gay held their own in the men's 3000m steeplechase final. Hughes made a late charge with 400m to go, finishing in sixth with a time of 8:16.03 for Canada's best ever result in the event, while Gay's 8:35.41 put him 15th overall at his first Olympic Games. In the women's 5000m final, Andrea Seccafien finished 15th in 15:12.09.
Beach Volleyball
Sarah Pavan and Melissa Humana-Paredes secured a spot in the quarterfinals with a strong 2-0 (21-13, 21-13) win over Spain's Liliana Fernandez Steiner and Elsa Baquerizo McMillan. The duo will face Australia's Mariafe Artacho del Solar and Taliqua Clancy in the quarters.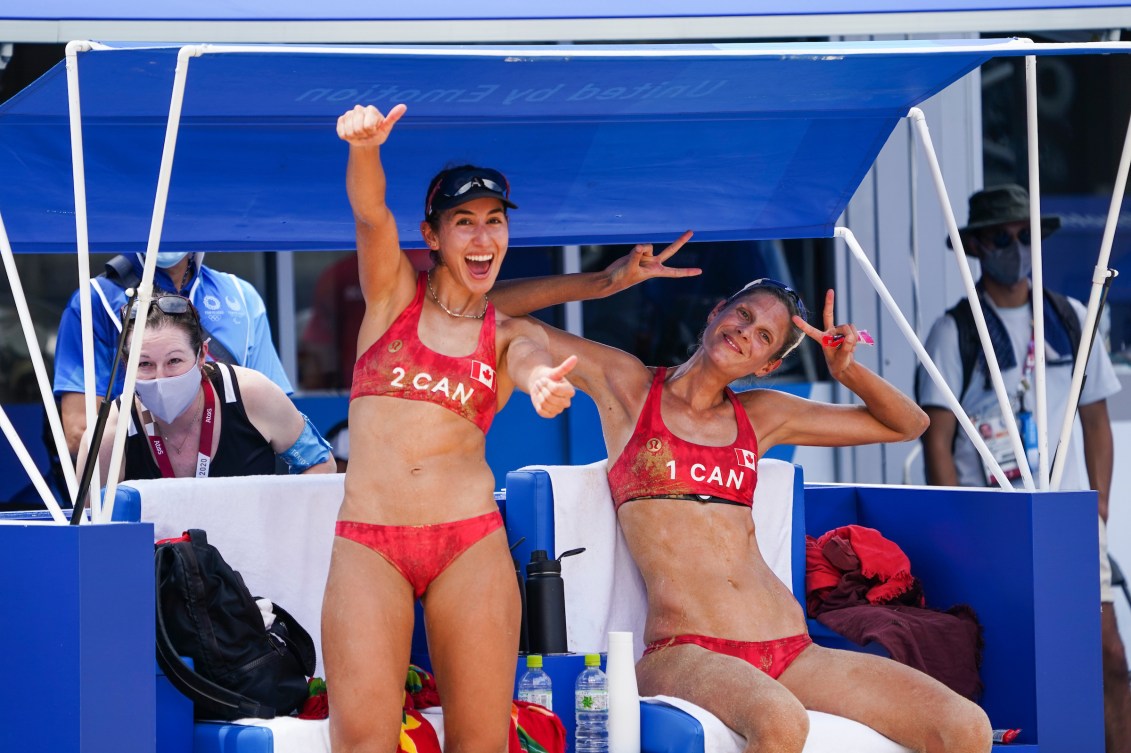 Fellow Canadians Heather Bansley and Brandie Wilkerson won their Round of 16 match a day prior and will now take on Latvia's Tina Graudina and Anastasija Kravcenoka. The two Canadian teams are on the same side of the bracket, setting up a potential semifinal showdown a few days from now.
Wrestling
After rupturing a hamstring in the warmup for her first Olympic match five years ago, Danielle Lappage was looking for a different outcome as she returned to the Olympic mat in the 68kg weight class. But it was not her day, as she was defeated 7-0 by Khanum Velieva of ROC in the 1/8 final. Less than a year ago, Lappage underwent an ACL reconstruction, so just making it to Tokyo was a victory in its own way.
Canoe/Kayak Sprint
The canoe/kayak sprint regatta got underway with four events. In the women's K-1 200m, Andreanne Langlois and Michelle Russell earned their way into the semifinals. Langlois won her quarterfinal while Russell was second in hers. Roland Varga and Connor Fitzpatrick also paddled their way to the semifinals of the men's C-2 1000m, finishing third in their quarterfinal. Simon McTavish will not move on to the next round after finishing fourth in his men's K-1 1000m quarterfinal. Alanna Bray-Lougheed and Madeline Schmidt are also done in the women's K-2 500m after finishing fifth in their quarterfinal.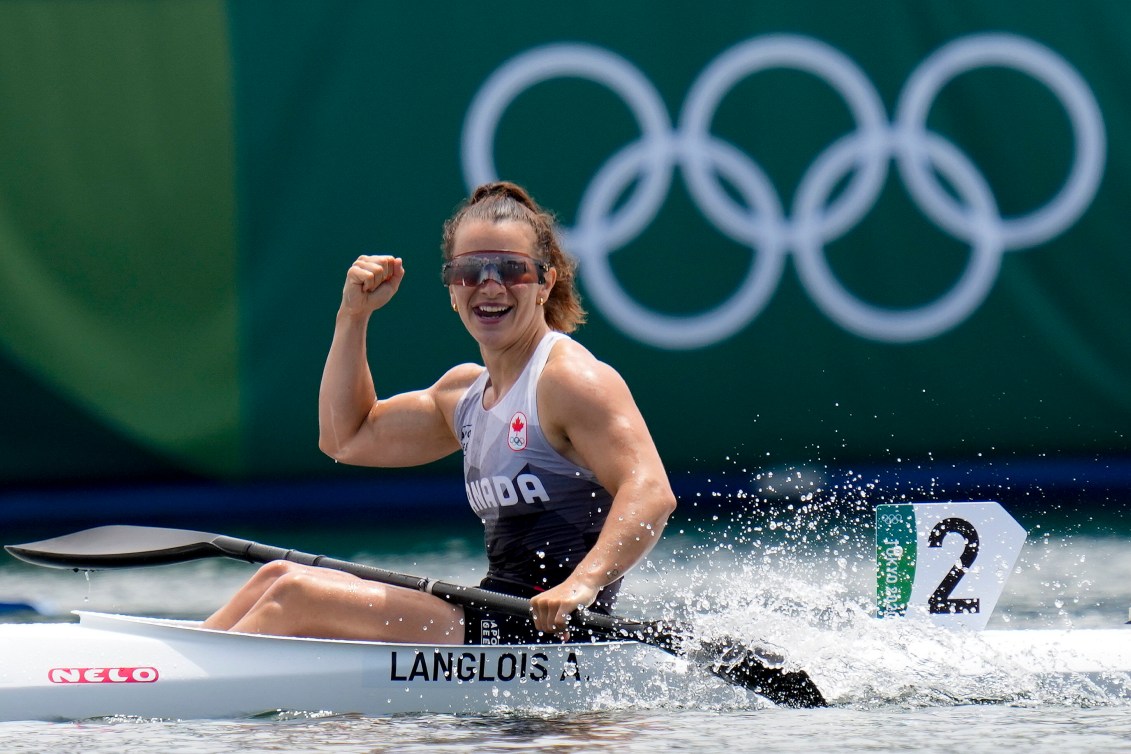 Track Cycling
On the first day of track cycling at the Izu Velodrome, Canada's women's and men's team pursuits took to the track. The women finished with the eighth-best time in qualifying while the men were sixth. Both will compete in first round head-to-head showdowns on Day 11 to keep their medal hopes alive.
Equestrian
It was the last day of competition for Colleen Loach and Qorry Blue D'Argouges as eventing concluded with the jumping final. They finished 28th overall.
Artistic Swimming
Artistic swimming began with Jacqueline Simoneau and Claudia Holzner competing in the duet free preliminary. This is the first of three phases in the duet event. They are currently in fifth place after scoring 91.2333 points.
Diving
Cedric Fofana competed in the preliminary round of the men's 3m springboard. In his Olympic debut, the 17-year-old finished 29th and will not advance to the semifinals.