Figure Skating
Team Canada Medal Count
6
11
12
Sport Overview
Figure Skating at Beijing 2022
Venue: Capital Indoor Stadium
Competition Dates: February 4, 6-8, 10-11, 13, 15, 17-20 (Days 0, 2-4, 6-7, 9, 11, 13-16
Events: 5 (1 men, 1 women, 3 mixed)
Trivia: Test your knowledge!
There are four figure skating disciplines: men's singles, women's singles, pairs, and ice dance. In each one, the skaters perform two routines, a short program/rhythm dance and a free skate/free dance.
Both singles short programs are two minutes and 40 seconds in length (plus or minus 10 seconds) and include seven elements: three jumping passes (including one combination), three spins and one step sequence.
The men's and women's free skates are four minutes in length (plus or minus 10 seconds) and feature 12 elements: seven jumping passes (including three combinations), three spins, one step sequence and one choreographic sequence.
At the Olympic Games, only the top 24 skaters from the 30 who compete in the short program advance to the free skate.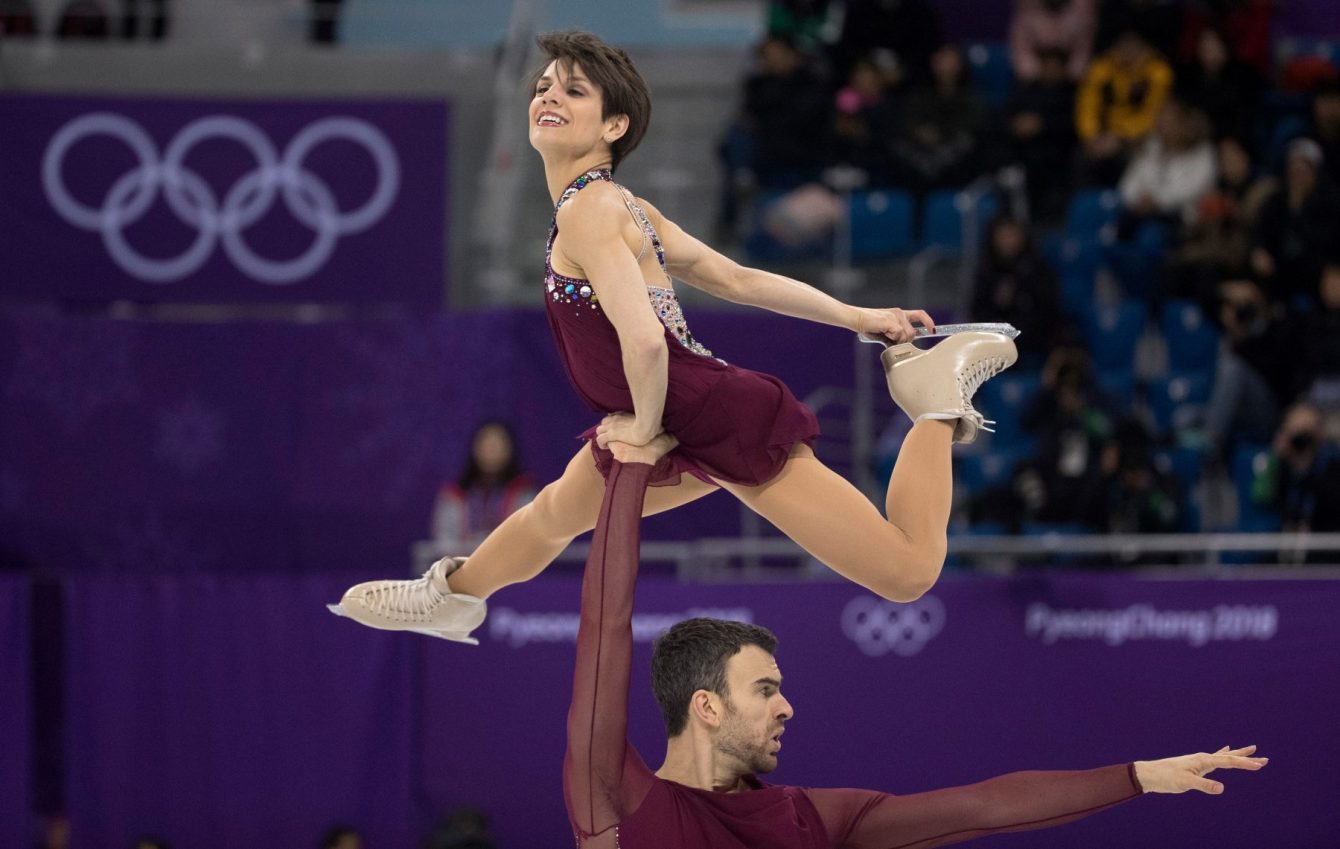 The pairs' short program is also two minutes and 40 seconds (plus or minus ten seconds) and includes seven elements: one lift, one twist lift, one throw, one solo jump, one solo spin, one death spiral and one step sequence. Only the top 16 pairs from the 20 who compete in the short program advance to the free skate, which is four minutes (plus or minus 10 seconds) and includes 11 elements: three lifts, one twist lift, two throws, one solo jump, one solo jump combination, one pair spin, one death spiral and one choreographic sequence.
In ice dance, the rhythm dance is based around a compulsory pattern. For the 2021-22 season that will be the Midnight Blues. Music selections must include at least two different rhythms from among street dance rhythms (ex: hip hop, disco, swing, krump, etc), jazz reggae (reggaeton), and blues. The two minute and 50 second (plus or minus 10 seconds) program must include one twizzle sequence, two step sequences, and one lift, in addition to the compulsory pattern.
Only the top 20 couples from the 24 who compete in the short dance advance to the free dance, which is four minutes (plus or minus 10 seconds). It features a mix of elements judged for difficulty and execution (twizzle sequence, two or three dance lifts, dance spin, two step sequences) as well some choreographic elements evaluated solely for style (step sequence plus two of spin, slide, twizzle or lift).
For each program, skaters receive two sets of scores, the Technical Elements Score (TES) and the Program Components Score (PCS). The TES is based on each element performed (jumps, spins, footwork, lifts, etc.) having a set point value which can increase or decrease depending on how it is executed. The PCS evaluates the program as a whole and is divided into five areas (skating skills, transitions, performance, composition, interpretation of the music) with each scored on a scale of 0.25 to 10. The TES and PCS are calculated by discarding the highest and lowest scores from the nine judges for each element/component and averaging the rest. Added together, the TES and PCS produce the Total Segment Score (TSS) for a program. The sum of the TSS for the short program and free skate determines the final results.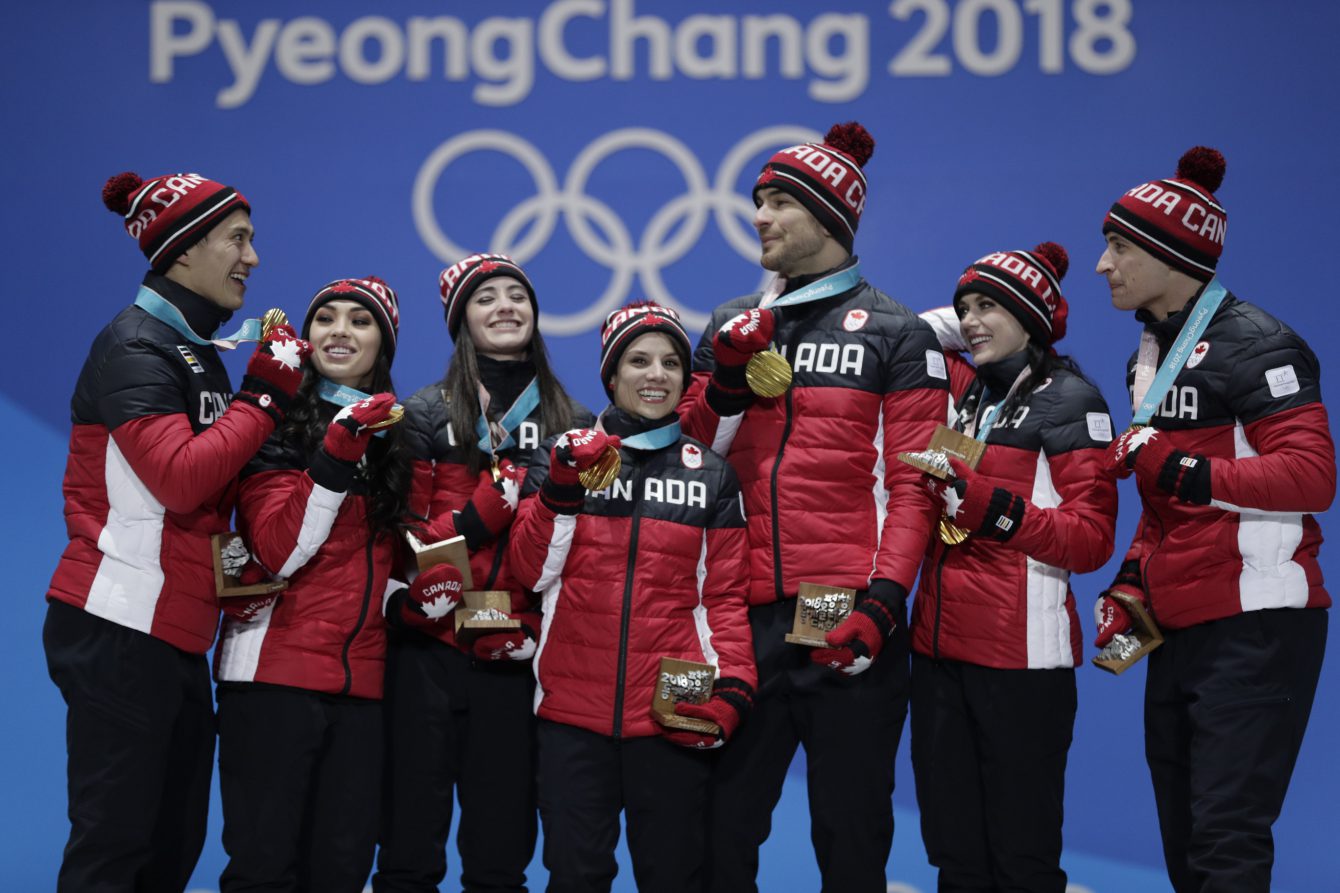 The team event includes 10 countries, each comprised of one man, one woman, one pair and one ice dance couple. The top five teams after the short programs advance to the free skates. Team standings are decided on aggregate placement points for each skater/couple, ie: first place earns 10 points, second place earns nine points down to tenth place earning one point.
Canadian History (pre-Beijing 2022)
With 29 Olympic medals, Canada is one of the global powerhouses in figure skating along with the United States and Russia.
There were four medals won at PyeongChang 2018, highlighted by a gold medal in the team event by Patrick Chan, Kaetlyn Osmond, Gabrielle Daleman, Meagan Duhamel & Eric Radford, and Tessa Virtue & Scott Moir. Virtue and Moir also won gold in the ice dance event, giving them five Olympic medals in their careers to become the most decorated figure skaters in Olympic history. Duhamel and Radford added bronze in the pairs event while Osmond won bronze in the women's event.
Three medals had been won at Sochi 2014 where Canada captured silver in the inaugural Olympic team event. Silver medals were also won by Chan in the men's event and ice dancers Virtue and Moir. Four years earlier at Vancouver 2010, that duo had won gold, the first Canadian ice dancers to become Olympic champions. It was also in Vancouver that Joannie Rochette won bronze in front of a supportive home crowd just days after the tragic passing of her mother.
The home Games at Calgary 1988 were also great for Canadian figure skating. In the "Battle of the Brians" against American Brian Boitano, Brian Orser won his second straight Olympic silver medal. Elizabeth Manley surprised with a silver in the women's event while Tracy Wilson and Rob McCall became Canada's first Olympic ice dance medallists with their bronze.
The first Canadian figure skater to win Olympic gold was Barbara Ann Scott at St. Moritz 1948. She was followed by two pairs teams, Barbara Wagner and Robert Paul at Squaw Valley 1960 and Jamie Sale and David Pelletier at Salt Lake City 2002.
Other Canadian multi-medallists include Elvis Stojko, who won back-to-back silver medals at Lillehammer 1994 and Nagano 1998, and Isabelle Brasseur and Lloyd Eisler who were on the pairs' podium at Albertville 1992 and Lillehammer 1994.
Canadian Medallists
| Event | Athlete | Finish | Games |
| --- | --- | --- | --- |
| Women | Barbara Ann Scott | Gold | St. Moritz 1948 |
| Pairs | Barbara Wagner, Robert Paul | Gold | Squaw Valley 1960 |
| Pairs | Jamie Salé, David Pelletier | Gold | Salt Lake City 2002 |
| Ice Dance | Tessa Virtue, Scott Moir | Gold | Vancouver 2010 |
| Team | Patrick Chan, Gabrielle Daleman, Kaetlyn Osmond, Meagan Duhamel, Eric Radford, Tessa Virtue, Scott Moir | Gold | PyeongChang 2018 |
| Ice Dance | Tessa Virtue, Scott Moir | Gold | PyeongChang 2018 |
| Pairs | Frances Dafoe , Norris Bowden | Silver | Cortina d'Ampezzo 1956 |
| Pairs | Debbi Wilkes, Guy Revell | Silver | Innsbruck 1964 |
| Women | Karen Magnussen | Silver | Sapporo 1972 |
| Men | Brian Orser | Silver | Sarajevo 1984 |
| Men | Brian Orser | Silver | Calgary 1988 |
| Women | Elizabeth Manley | Silver | Calgary 1988 |
| Men | Elvis Stojko | Silver | Lillehammer 1994 |
| Men | Elvis Stojko | Silver | Nagano 1998 |
| Team | Patrick Chan, Kevin Reynolds, Kaetlyn Osmond, Tessa Virtue, Scott Moir, Kirsten Moore-Towers, Dylan Moscovitch, Meagan Duhamel, Eric Radford | Silver | Sochi 2014 |
| Men | Patrick Chan | Silver | Sochi 2014 |
| Ice Dance | Tessa Virtue, Scott Moir | Silver | Sochi 2014 |
| Men | Montgomery Wilson | Bronze | Lake Placid 1932 |
| Pairs | Suzanne Morrow, Wallace Diestelmeyer | Bronze | St. Moritz 1948 |
| Men | Donald Jackson | Bronze | Squaw Valley 1960 |
| Women | Petra Burka | Bronze | Innsbruck 1964 |
| Men | Toller Cranston | Bronze | Innsbruck 1976 |
| Ice Dance | Tracy Wilson, Rob McCall | Bronze | Calgary 1988 |
| Pairs | Isabelle Brasseur, Lloyd Eisler | Bronze | Albertville 1992 |
| Pairs | Isabelle Brasseur, Lloyd Eisler | Bronze | Lillehammer 1994 |
| Men | Jeffrey Buttle | Bronze | Turin 2006 |
| Women | Joannie Rochette | Bronze | Vancouver 2010 |
| Pairs | Meagan Duhamel, Eric Radford | Bronze | PyeongChang 2018 |
| Women | Kaetlyn Osmond | Bronze | PyeongChang 2018 |
Teams