Team Canada at Tokyo 2020: Day 4
Four medals on Day 4 as Maude Charron becomes Canada's second ever Olympic champion in weightlifting, Kylie Masse wins backstroke silver, Team Canada claims its first ever Olympic medal in softball, and Catherine Beauchemin-Pinard breaks through for judo bronze.
You can check out the official schedule of Canadians who competed today at the bottom of this page and read on for the details about what happened in each sport.
Tokyo 2020 Olympic Competition Schedule and Results
GET THE TEAM CANADA APP
Weightlifting
Maude Charron won gold in the 64kg weight class, lifting a total of 236kg with her snatch and clean and jerk. She becomes just the second Canadian woman to win an Olympic weightlifting medal and the second Canadian Olympic gold medallist in the sport.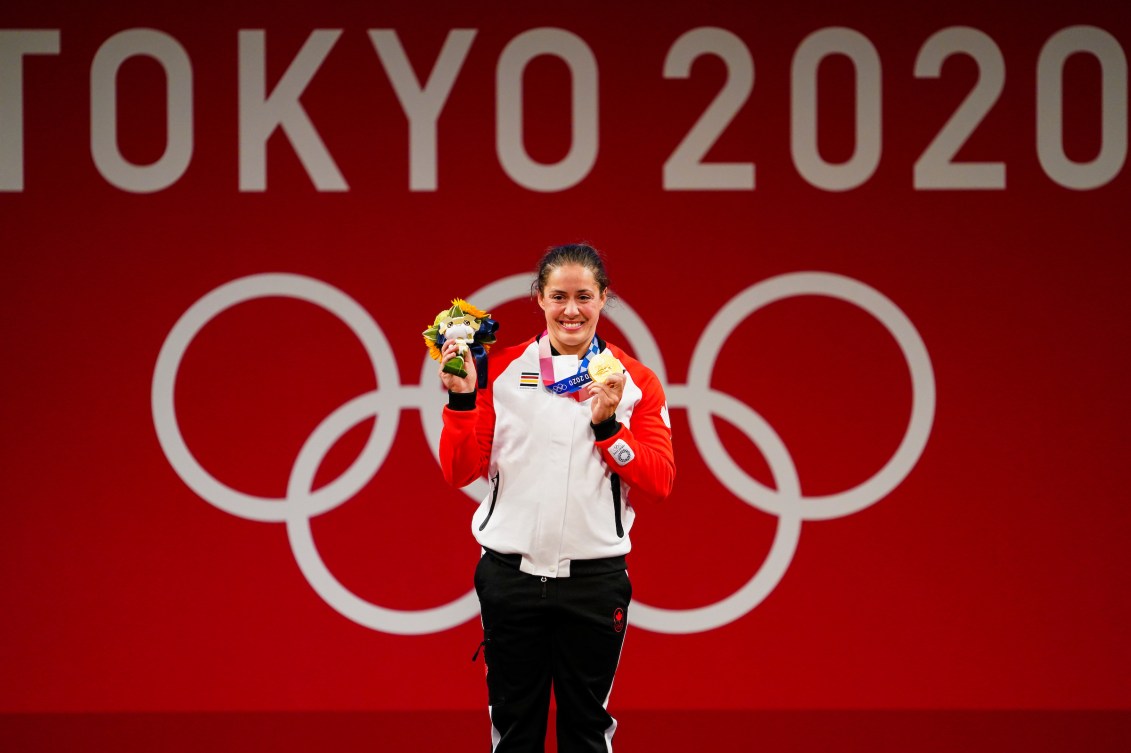 READ: Charron wins Canada's second ever weightlifting gold at Tokyo 2020
Tali Darsigny finished ninth in the women's 59kg event.
Swimming
In one of the most anticipated finals of the Tokyo 2020 swimming competition, Kylie Masse won silver in the 100m backstroke behind Australian Kaylee McKeown, who set an Olympic record in winning gold. That is Canada's third swimming medal of Tokyo 2020 as Masse adds to the bronze she won at Rio 2016.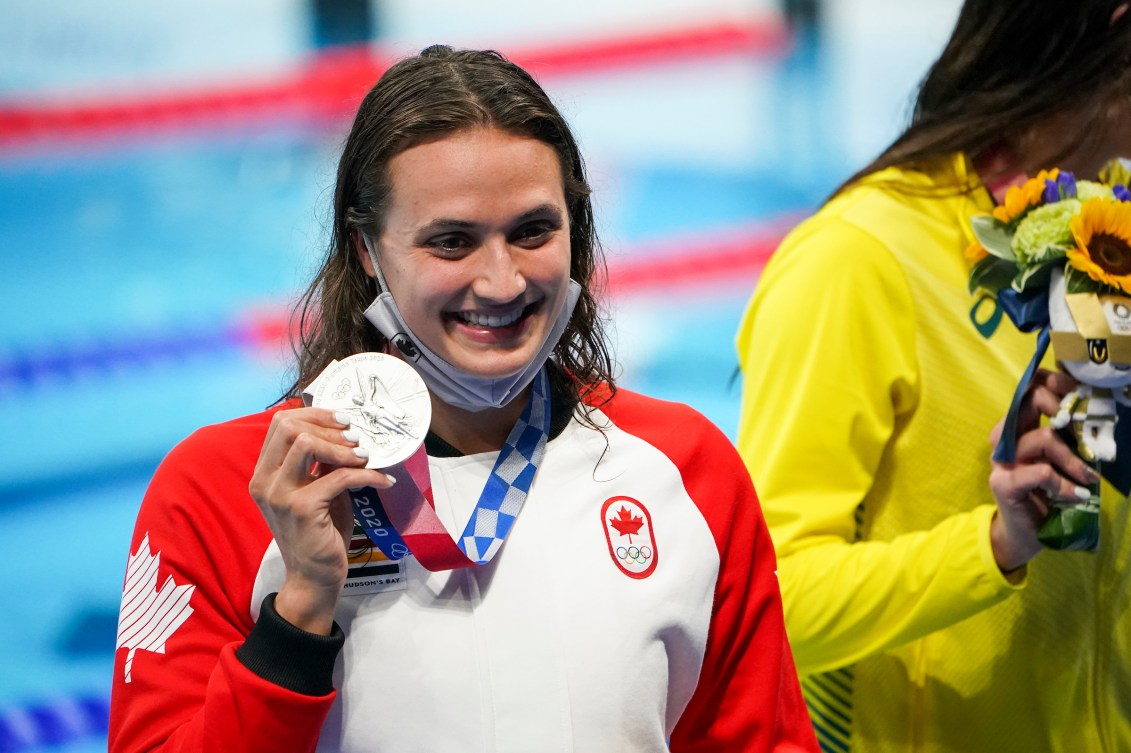 READ: Masse wins 100m backstroke silver at Tokyo 2020
The morning session also featured Penny Oleksiak and Summer McIntosh in the women's 200m freestyle semifinals. Oleksiak ranked sixth overall to advance to the final, while McIntosh came up just one spot shy of the eight-woman final. Sydney Pickrem raced in the semifinals of the women's 200m IM, the event in which she is the reigning world bronze medallist, and finished sixth overall to advance to the final.
The nighttime session had just one event that included Canadians. Yuri Kisil and Joshua Liendo finished 10th and 14th, respectively in the overall standings of the men's 100m freestyle heats to advance to the semifinals.
Softball
Team Canada won softball bronze with a hard fought 3-2 victory over Mexico. It's Canada's first medal in the sport at an Olympic Games, which was making its return after a 13-year absence. A Kelsey Harshman sacrifice fly in the bottom of the fifth allowed Janet Leung to tag up and score from third — a run that proved to be the game winner. Danielle Lawrie, one of four Canadians who were on the team that finished fourth at Beijing 2008, struck out the final two Mexican batters in the seventh to clinch the win and the bronze.
READ: Team Canada wins softball bronze at Tokyo 2020
Judo
Catherine Beauchemin-Pinard has won a bronze medal of her own. Executing a flip to earn a waza-ari three minutes into Golden Score, Beauchemin-Pinard's bronze medal in the women's 63kg event is the second medal in as many days, carrying the momentum started by Jessica Klimkait's historic bronze medal win on Day 3. Antoine Valois-Fortier was looking to win his second career Olympic medal, but lost by waza-ari in the men's 81kg Round of 16 to Alan Khubetsov of the ROC.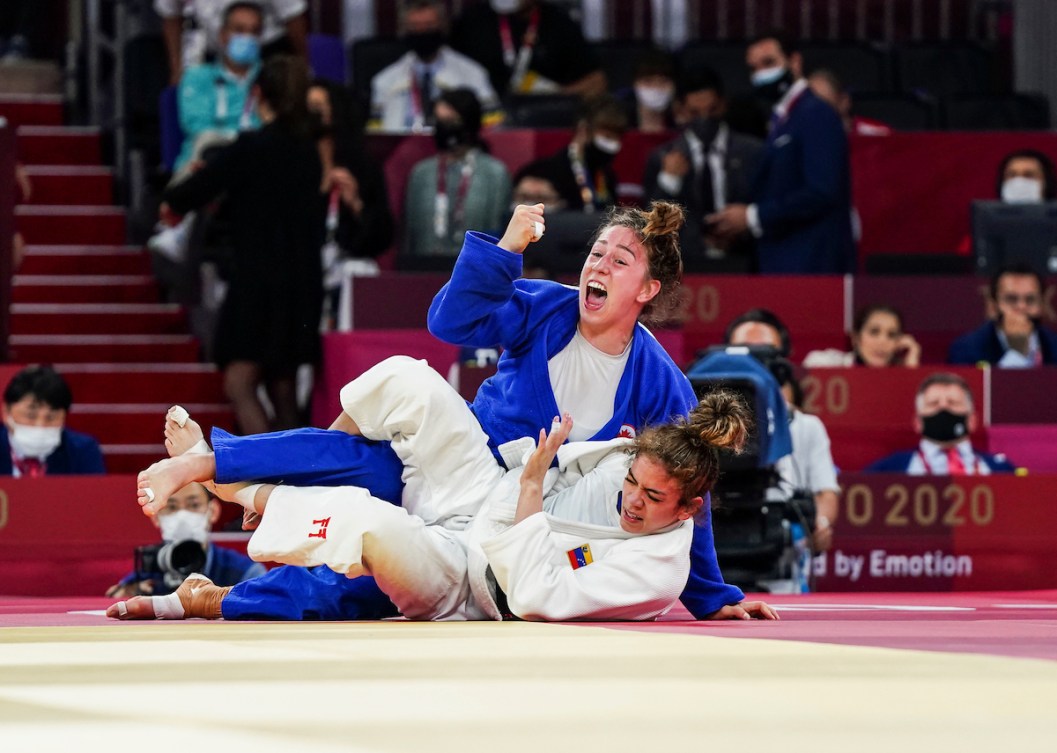 Diving
Meaghan Benfeito and Caeli McKay hoped to win Canada's second diving medal of the Games as they competed in the women's 10m synchro event. They were sitting in second place until a miss on their fourth dive dropped them into fifth place. They ended up just 0.54 points off the podium in fourth place.
Triathlon
Amélie Kretz finished a Canadian Olympic best ever 15th in the women's triathlon on a rainy, windy morning in Tokyo, crossing the finish line in 2:00:33. Joanna Brown had a tougher day and was lapped during the race.
Mountain Bike
Catharine Pendrel and Haley Smith competed in the 24.4km women's cross-country race. Pendrel finished 18th while Smith came in 29th.
Canoe/Kayak Slalom
Florence Maheu hit the whitewater for the semifinals of the women's K-1 and ended her first Olympic Games in 23rd place.
Soccer
Canada is heading into the quarterfinals undefeated, following a 1-1 draw with Great Britain in their final group-stage match. With captain Christine Sinclair getting some well deserved rest, Adriana Leon stepped up and scored. Great Britain scored a late equalizer off a tricky deflection and finished first in Group E, while Canada finished second. The quarterfinal match-up between Canada and Brazil (Friday, 4 a.m. ET) is a rematch of the bronze-medal match from Rio 2016, which Canada won.
Beach Volleyball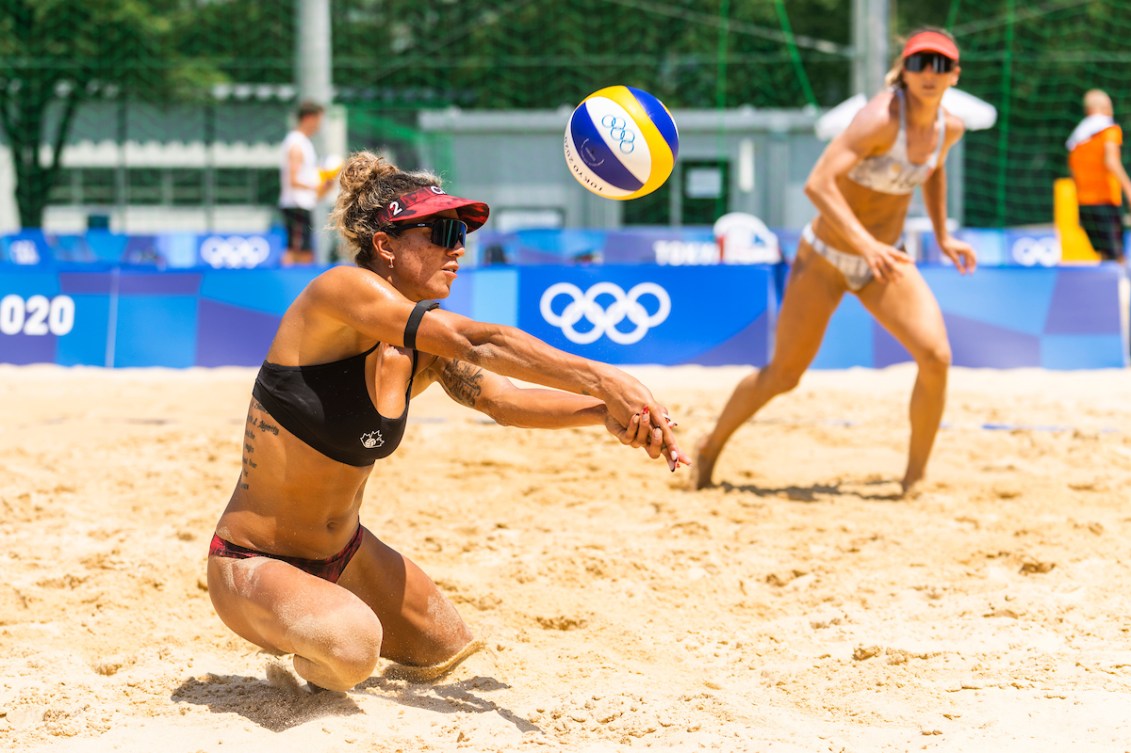 Heather Bansley and Brandie Wilkerson bounced back following their loss against China in women's preliminary beach volleyball, earning an impressive a 2-0 win (22-20, 21-12) against Ana Gallay and Fernanda Pereyra of Argentina. The Canadian duo now sit atop the Pool C standings with three points and will face Brazil on Thursday.
Sailing
After six races of the women's Laser Radial Sarah Douglas is in 11th place overall in the fleet. Tom Ramshaw got on the water for the first time at Tokyo 2020 with two races in the men's Finn class. He also sits in 11th place overall.
Both Canadian skiffs also started their competitions. Ali ten Hove and Mariah Millen had three women's 49er FX races on the schedule and are in 14th place overall while William Jones and Evan DePaul are 19th after one race of the men's 49er.
Table Tennis
Mo Zhang had a tough opponent waiting for her in the women's singles Round of 16 — world number one Cheng Meng of China. Zhang lost 4-1 (11-7, 11-6, 11-9, 9-11, 11-5) but by reaching the last 16, Zhang had already matched Canada's best ever Olympic result in the women's singles table tennis event.
Boxing
Myriam da Silva stepped into the ring for the Round of 16 of the women's welterweight 69kg event against Maria Altagracia Moronta Hernandez of the Dominican Republic, but was eliminated 5-0.
Archery
Stephanie Barrett and Crispin Duenas competed in the elimination rounds of the women's and men's individual events. Barrett lost 6-2 in the Round of 32 to Yasemin Anagoz of Turkey. Duenas won his 1/32 match 6-0 against Dan Olaru of Moldova and followed up with a 6-4 win against Md Ruman Shana in the 1/16 eliminations. He'll have a quarterfinal match on Day 8.
Badminton
Brian Yang finally saw his first action in men's singles group play against Felix Burestedt of Sweden, losing 2-0. Rachel Honderich and Kristen Tsai were back on court in women's doubles against Egypt and won 2-0 while Jason Ho-Shue and Nyl Yakura were up against Malaysia in men's doubles and lost 2-0.
Field Hockey
Team Canada had a strong defensive showing in a 4-2 loss to the Netherlands. After falling behind 2-0 early, Jamie Wallace scored to get Canada back within one – and within one is how much of the game was spent. After going down 3-1 in the fourth quarter, Canada's Mark Pearson scored quickly to make it 3-2. The Netherlands added an empty net goal in the final minute to make it a 4-2 final. Canada, 0-3, will face Belgium on Day 6.
Rugby
The Canadian men's rugby team took to the pitch on Day 4 ready for business. Veteran Connor Braid led the way, scoring three of Canada's six tries en route to dominant 36-12 victory over the host nation, Japan. Their first Olympic victory set them up for a quarterfinal matchup against New Zealand, where they lost 21-10 with tries from Pat Kay and Harry Jones.