Artistic Swimming at Tokyo 2020
Venue: Olympic Aquatics Centre
Competition Dates: August 2-4, 6-7, 2021 (Days 10-12, 14-15)
Events: 2 (2 women)
National Federation: Canada Artistic Swimming 
International Federation: Fédération Internationale de Natation (FINA)
Formerly known as synchronized swimming, artistic swimming is one of three sports (along with rhythmic gymnastics and softball) that are contested only by women at the Olympic Games.
There are two events on the program: duet and team.
Both events feature two types of routines: technical and free. As their names indicate, technical routines include required elements which must be performed in a specific order while free routines may consist of any figures and strokes. Both routines exhibit the defining aspect of artistic swimming – unified movement in time to music.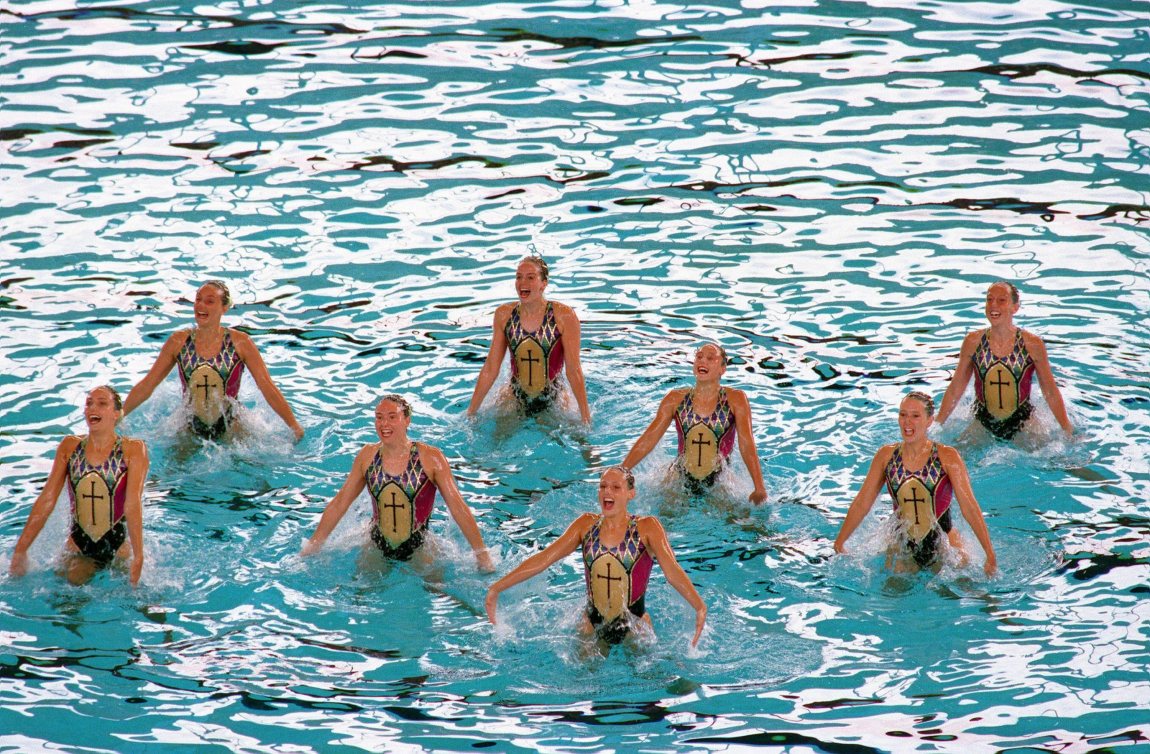 Each routine is evaluated by three panels of five judges. In technical routines, these panels separately score the execution (including synchronization), the impression (including difficulty, choreography, and music interpretation), and the elements (including execution and synchronization). In free routines, the panels separately evaluate the execution (including synchronization), the artistic impression (including choreography and music interpretation), and the difficulty of all movements. Each judge awards points from 0 to 10 using tenths of a point. For example, a routine deemed to be perfect would score a 10. A good routine will fall in the 7.0 to 7.9 range. A very weak routine would be scored from 2.0 to 2.9.
In the duet competition, the scores from a preliminary free routine and the technical routine are added together to determine the top 12 pairs to advance to the final. They perform a final free routine with those scores added to the technical routine scores to determine the final results. Duet technical routines are two minutes 20 seconds while duet free routines are three minutes (plus or minus 15 seconds).
The team competition includes a technical routine and a free routine, with final results based on the combined scores from both. Team technical routines are two minutes 50 seconds while team free routines are four minutes (plus or minus 15 seconds). All routine times include 10 seconds for deck movement prior to the swimmers diving into the water.
Canada's Olympic History (Pre-Tokyo 2020)
Canada has won eight Olympic medals in artistic swimming. In the sport's debut at Los Angeles 1984, Carolyn Waldo won silver in the solo event while Sharon Hambrook and Kelly Kryczka added a silver in the duet. Four years later, Waldo was Canada's only double medallist at Seoul 1988, winning gold in the solo and in the duet with partner Michelle Cameron. Canada won two more medals at Barcelona 1992, highlighted by Sylvie Fréchette's solo gold. Initially awarded silver due to a judge mistakenly entering an erroneous score, Fréchette received her gold medal in late 1993. Twins Vicky and Penny Vilagos added a silver in the duet, Canada was also on the podium at the first two Games to include the team event, winning silver at Atlanta 1996 and bronze at Sydney 2000.
Stats:
| Event | Athlete | Finish | Games |
| --- | --- | --- | --- |
| Solo - Women | Carolyn Waldo | Gold | Seoul 1988 |
| Duet - Women | Carolyn Waldo, Michelle Cameron | Gold | Seoul 1988 |
| Solo - Women | Sylvie Fréchette | Gold | Barcelona 1992 |
| Duet - Women | Kelly Kryczka, Sharon Hambrook | Silver | Los Angeles 1984 |
| Solo - Women | Carolyn Waldo | Silver | Los Angeles 1984 |
| Duet - Women | Penny Vilagos, Vicky Vilagos | Silver | Barcelona 1992 |
| Team - Women | Cari Read, Christine Larsen, Erin Woodley, Janice Bremner, Karen Clark, Karen Fonteyne, Kasia Kulesza, Lisa Alexander, Sylvie Fréchette, Valerie Hould-Marchand | Silver | Atlanta 1996 |
| Team - Women | Catherine Garceau, Claire Carver-Dias, Erin Chan, Fanny Létourneau, Jacinthe Taillon, Jessica Chase, Kirstin Normand, Lyne Beaumont, Reidun Tatham | Bronze | Sydney 2000 |
TEAMS:
Quiz: