Diving at Tokyo 2020
Venue: Tokyo Aquatics Centre
Competition Dates: July 25-28, 30-7, 2021 (Days 2-5, 7-15)
Events: 8 (4 men, 4 women)
National Federation: Diving Plongeon Canada
International Federation: Fédération International de Natation (FINA)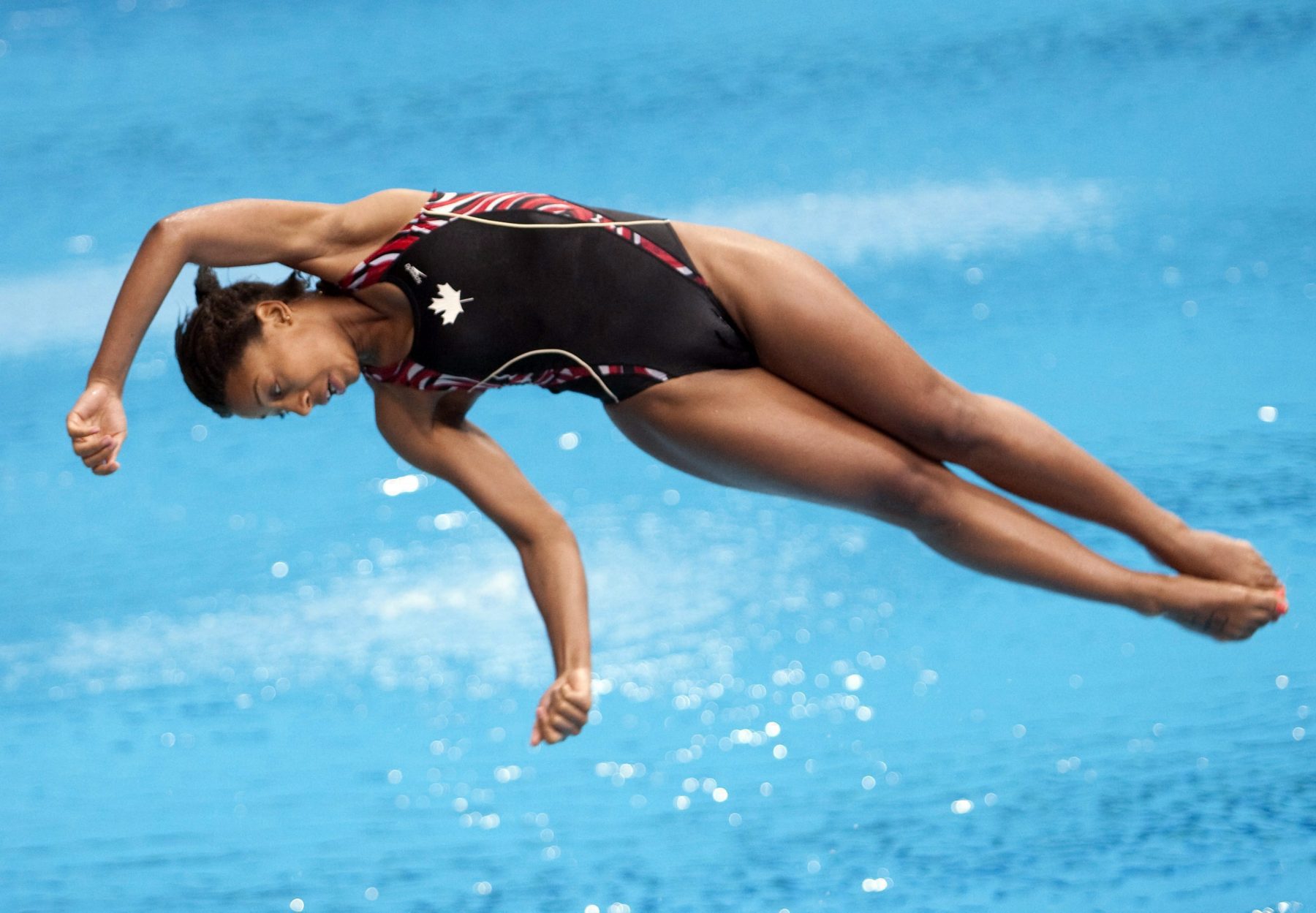 Olympic diving uses two types of boards: 3m springboard and 10m platform. There are individual and synchronized events for both genders on each board.
The individual 3m springboard and 10m platform events include three rounds of competition (preliminary, semifinal, final). Men's events are comprised of six dives per round while the women perform five dives per round.
The synchronized 3m springboard and 10m platform events consist of just one final round. Again, the men perform six dives while the women do five.
In both the individual and synchronized events, divers must show variety, selecting from the five categories of dives:
1. Forward
2. Backward
3. Reverse
4. Inward
5. Twisting
A sixth category, armstand, is used only in platform diving.
There are four positions divers can take in the air:
A. Straight
B. Pike
C. Tuck
D. Free
The combination of the dive category, air position, number of somersaults, and number of twists is used to assign a degree of difficulty for the dive, which is then multiplied by the score given by the judges in evaluating the technique and execution, including similarity of height and coordinated movement in the synchronized events. Judges scores are awarded on a scale of 0 to 10 in half or whole points.
Canada's Olympic History (Pre-Tokyo 2020)
The first Canadian diver to stand on an Olympic podium was Irene MacDonald who captured bronze in the 3m springboard at Melbourne 1956. It would be 28 years before Canada added to the total when Sylvie Bernier made history of her own by becoming the first Canadian diver to win Olympic gold with her 3m springboard victory at Los Angeles 1984. Annie Pelletier followed with a bronze medal in the 3m springboard at Atlanta 1996.
It has been in the 21st century that Canadian divers have enjoyed their greatest Olympic success, coinciding with the debuts of the synchronized events at Sydney 2000. It was at those Games that Anne Montminy won bronze in the 10m platform and captured silver in the 10m synchro event with Émilie Heymans.
That was the first of four straight Games at which Heymans stood on the Olympic podium, a first for a Canadian athlete and for any female diver in the world. Included in that string was a 10m synchro bronze with Blythe Hartley at Athens 2004, an individual 10m platform silver at Beijing 2008 and a 3m synchro bronze with Jennifer Abel at London 2012.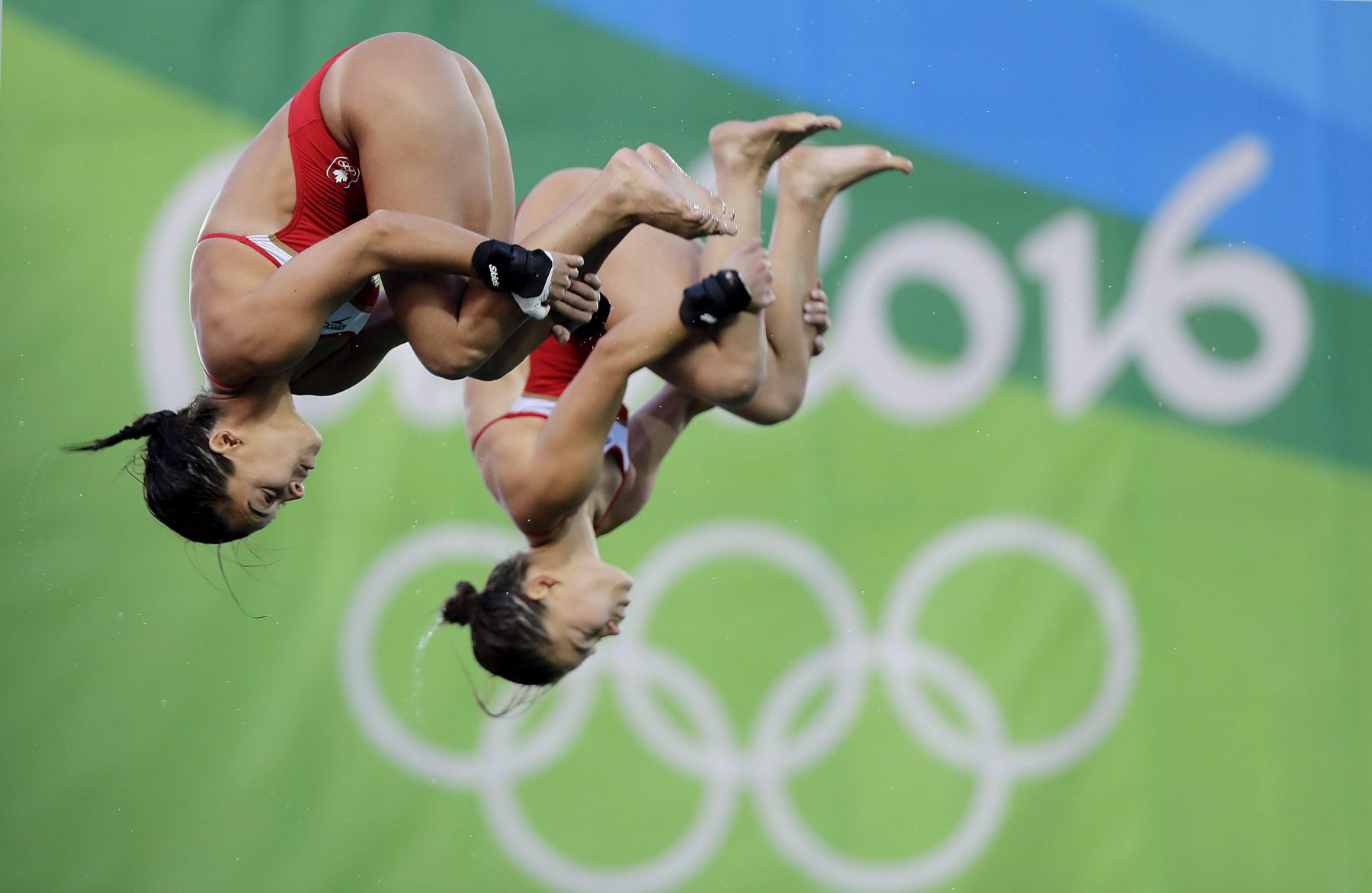 Meaghan Benfeito and Roseline Filion made it a bronze sweep in the women's synchro events with their 10m performance. At Rio 2016, Benfeito and Filion teamed up again to earn their second straight bronze medal in the 10m synchro. Benfeito went on to win a second bronze medal in Rio in the individual 10m platform.
Only one Canadian man has ever won an Olympic diving medal. That would be Alexandre Despatie who won back-to-back silver medals in the 3m springboard at Athens 2004 and Beijing 2008.
Stats:
| Event | Athlete | Finish | Games |
| --- | --- | --- | --- |
| Springboard 3m - Women | Sylvie Bernier | Gold | 1984 Los Angeles |
| Synchronized Platform 10m - Women | Anne Montminy, Émilie Heymans | Silver | 2000 Sydney |
| Springboard 3m - Men | Alexandre Despatie | Silver | 2004 Athens |
| Springboard 3m - Men | Alexandre Despatie | Silver | 2008 Beijing |
| Platform 10m - Women | Émilie Heymans | Silver | 2008 Beijing |
| Springboard 3m - Women | Irene MacDonald | Bronze | 1956 Melbourne |
| Springboard 3m - Women | Annie Pelletier | Bronze | 1996 Atlanta |
| Platform 10m - Women | Anne Montminy | Bronze | 2000 Sydney |
| Synchronized Platform 10m - Women | Blythe Hartley, Émilie Heymans | Bronze | 2004 Athens |
| Synchronized Springboard 3m - Women | Jennifer Abel, Émilie Heymans | Bronze | 2012 London |
| Synchronized Platform 10m - Women | Meaghan Benfeito, Roseline Filion | Bronze | 2012 London |
| Synchronized Platform 10m - Women | Meaghan Benfeito Roseline Filion | Bronze | 2016 Rio |
| Platform 10m - Women | Meaghan Benfeito | Bronze | 2016 Rio |
TEAMS:
Quiz: