Freestyle Skiing
Team Canada Medal Count
12
12
6
Sport Overview
Freestyle Skiing at Beijing 2022
Venues: Zhangjiakou Genting Snow Park, Big Air Shougang
Competition Dates: February 3, 5-10, 13-19 (Days -1, 1-6, 9-15)
Events: 13 (6 men, 6 women, 1 mixed)
Trivia: Test your knowledge!
Freestyle skiing is divided into six disciplines, five of which include a judged component as skiers are evaluated on their technical skills.
In moguls, skiers travel down a course of snow bumps, performing two aerial tricks as they go. The quality of the turns through those bumps is most important, scored by five judges and accounting for 60% of the final score. Two more judges mark the quality of the two aerial tricks and their technical difficulty for 20% of the score. The time it takes for a skier to get down the course makes up the final 20%. Competition begins with a qualification round, from which skiers advance to a three-stage final that cuts the field from 20 to 12 and finally the six skiers who compete for the medals.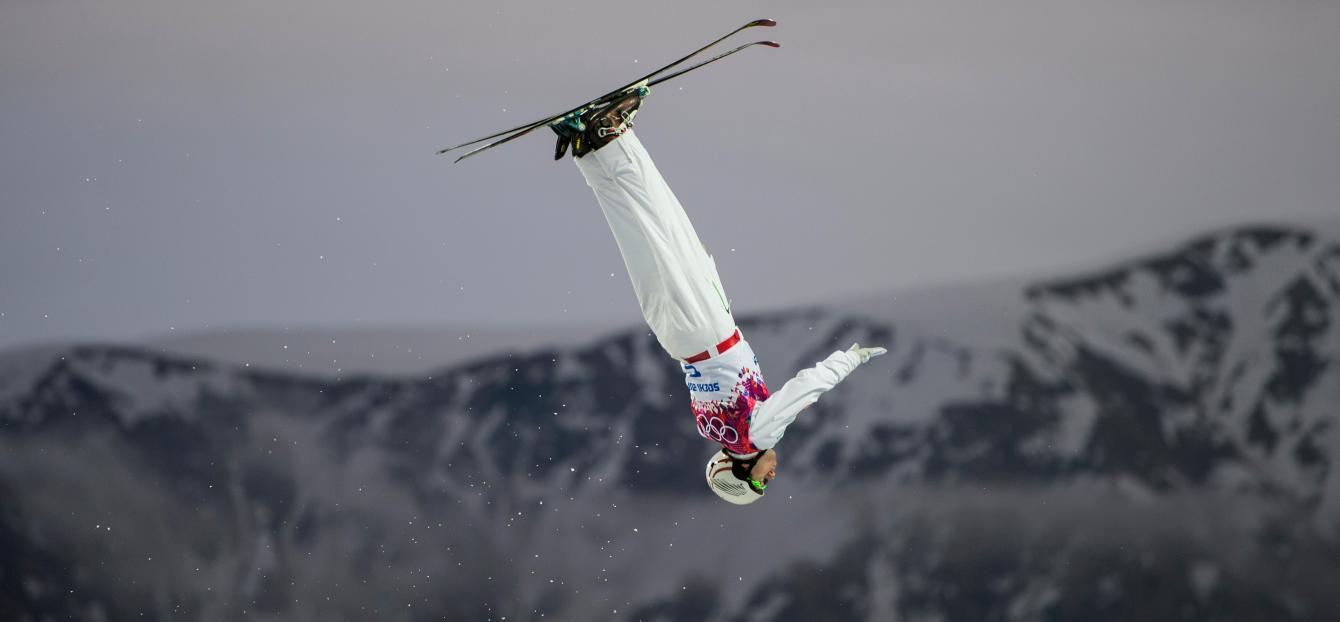 In aerials, skiers perform some of the most difficult acrobatic maneuvers in any sport, with up to five twists and three flips while in the air for just three seconds. Five judges evaluate each jump. The air (which includes the takeoff, height and distance) is worth 20%. The form of the skier in the air is worth 50% while the landing of the jump makes up the last 30% of the score, which is then multiplied by the jump's degree of difficulty. Competition begins with a two-jump qualification round, from which 12 skiers advance to the finals. After two rounds of jumping in the finals, the top six skiers based on their best single jump score compete for the medals in a one-jump Super Final.
An aerials mixed team event will debut at Beijing 2022. Each team will consist of three athletes, a combination of two men and one woman or vice versa, with their scores added together. From the qualification round, eight teams advance to the finals with the top four moving on to the Super Final.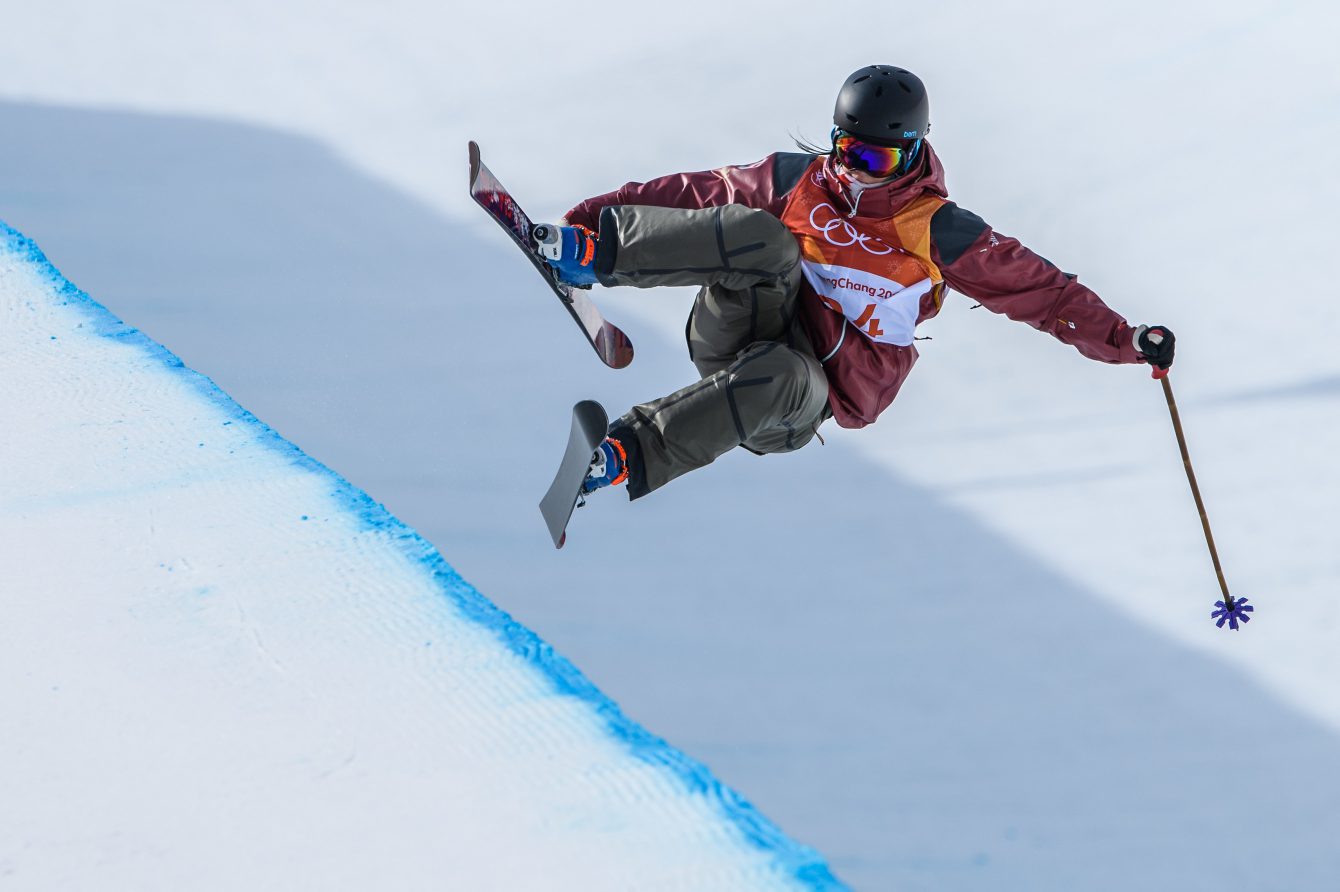 In halfpipe, which takes place in a 6.7 metre-wide sloped channel of snow, a panel of judges scores each run out of 100 on its overall impression, taking into account the amplitude and style as well as the diversity, difficulty and execution of the tricks. The judges' scores are then averaged.
In slopestyle, which sees skiers go down and over a series of rail and jump features, some judges will score each run on the overall impression while others focus on the tricks performed in particular sections. With the scoring again out of 100, the tricks judges will account for 60% of the total score with the overall impression judges accounting for 40%.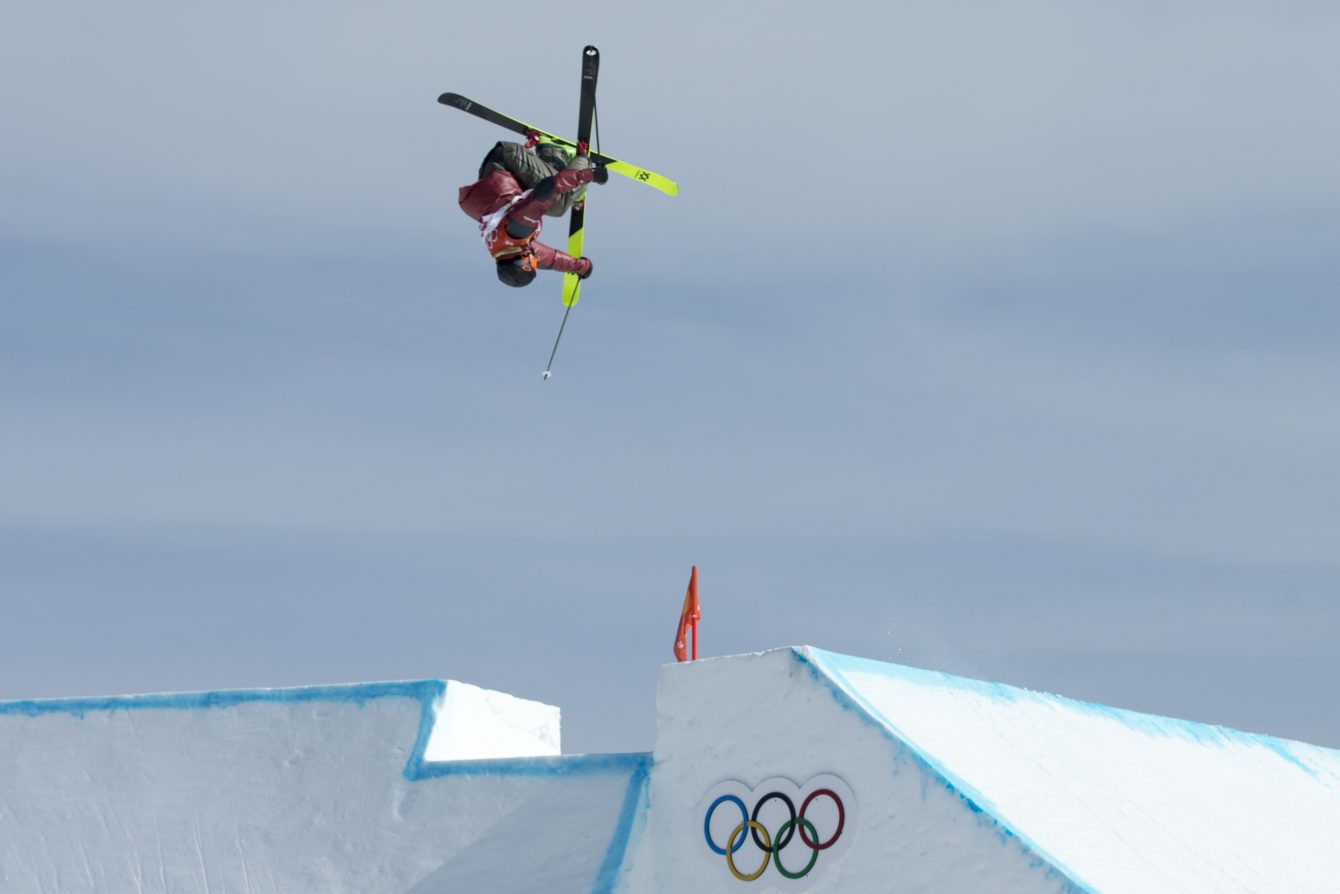 In big air, which will be new at Beijing 2022, each skier performs a single trick off a kicker after travelling down a long ramp. Again, each trick is scored out of 100 by the judges who have their scores averaged.
Competition in halfpipe, slopestyle and big air begins with a best-of-two-run qualification round, from which the top 10 skiers advance to the best-of-three-run final.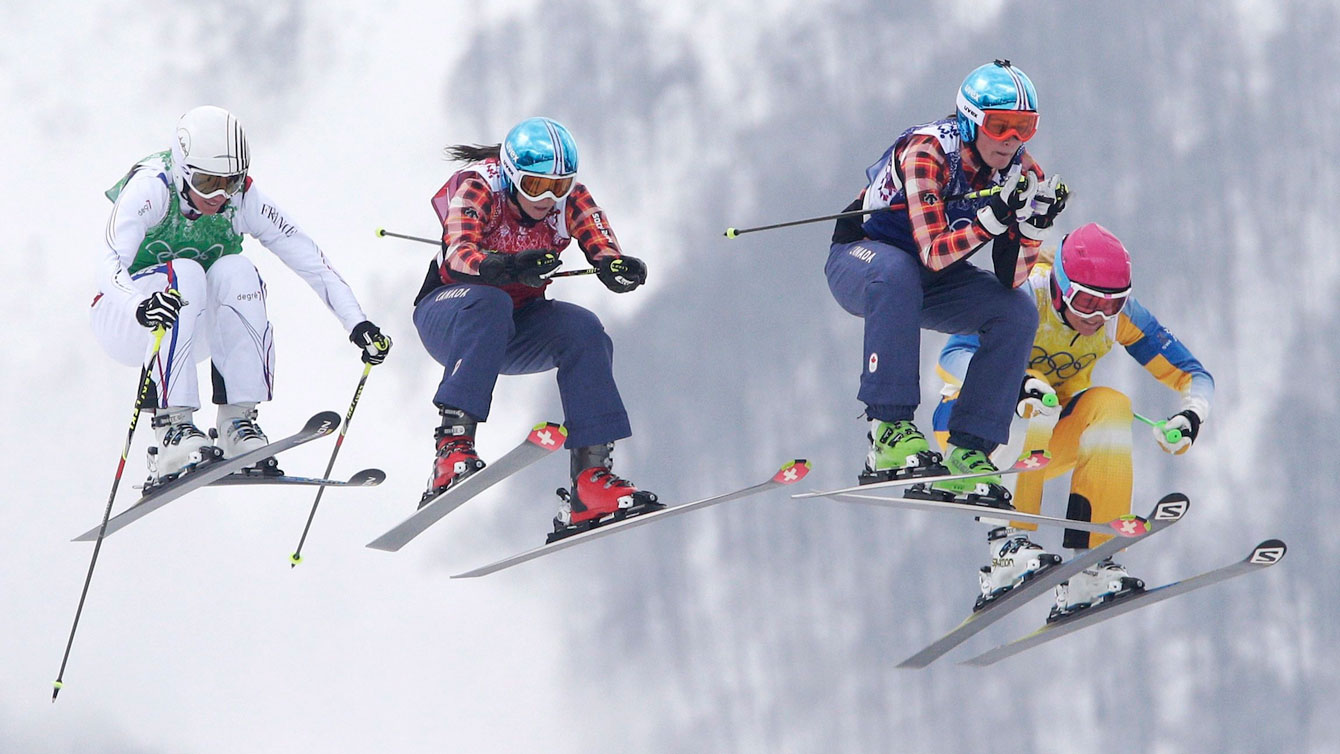 Ski cross is the lone freestyle event without a judged component. It is all about speed as skiers race four at a time down a course comprised of various features such as banks, jumps, rollers and turns. Competition begins with a timed qualification run to seed the competitors into single elimination heats. The top two in each heat advance to the next round, until just four competitors remain to race in the Big Final for the medals.
Canadian History (pre-Beijing 2022)
Canada has a long history of excelling in freestyle skiing, with 25 Olympic medals won since the sport's official debut at Albertville 1992.
Nine of those came at Sochi 2014, the most of any country. In moguls, Alex Bilodeau won his second straight gold medal, edging out teammate Mikaël Kingsbury. There was also a gold-silver finish in the women's event where Justine Dufour-Lapointe shared the podium with older sister Chloé. That was matched in women's ski cross where Marielle Thompson won gold ahead of teammate Kelsey Serwa. Another double podium came in women's slopestyle, with Dara Howell winning gold while Kim Lamarre claimed bronze. Rounding out the medals in Sochi was Mike Riddle with his halfpipe silver.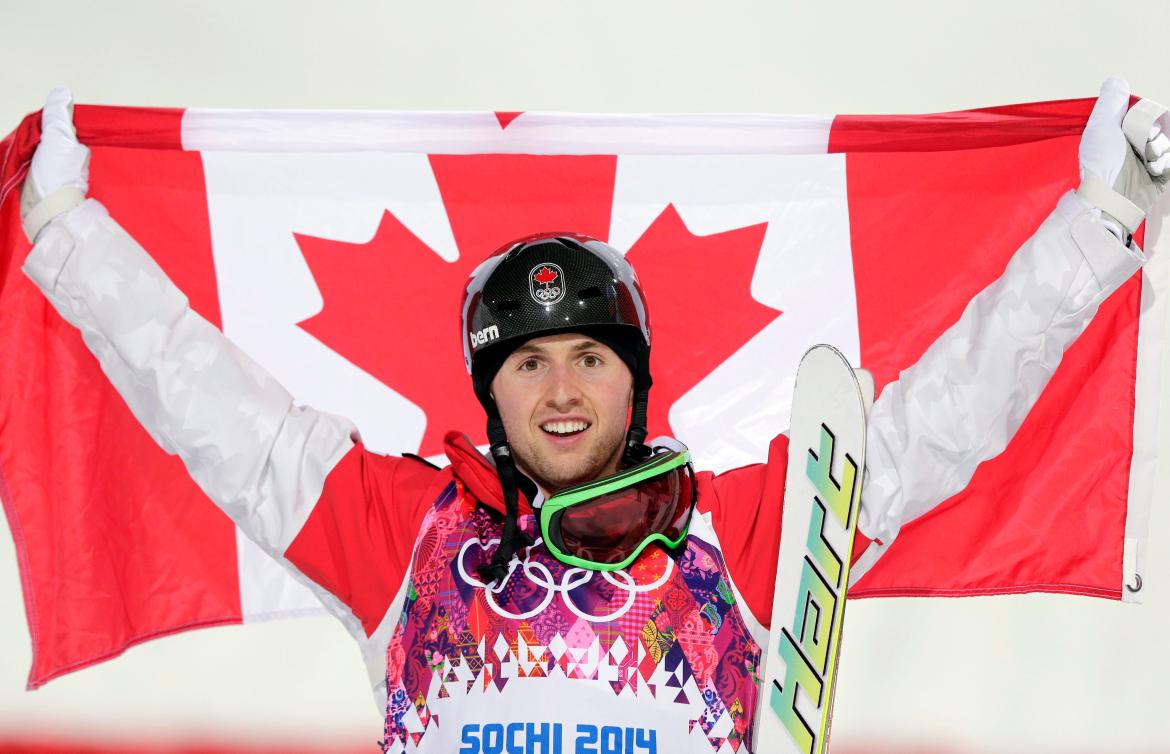 Another seven were won at PyeongChang 2018. Kingsbury, viewed by many as the greatest moguls skier of all-time, cemented his status with an Olympic gold medal. Justine Dufour-Lapointe claimed moguls silver for her second straight Olympic medal. Canada boasted another 1-2 finish in women's ski cross as Serwa took the gold with teammate Brittany Phelan winning silver. Brady Leman earned the top spot in men's ski cross. Cassie Sharpe dominated the women's halfpipe to win gold while Alex Beaulieu-Marchand grabbed the bronze in men's slopestyle.
Canada's first Olympic freestyle skiing medals were won at Lillehammer 1994 where Jean-Luc Brassard won moguls gold while Philippe LaRoche and Lloyd Langlois captured aerials silver and bronze. Another shared podium followed at Salt Lake City 2002 where Veronica Brenner and Deidra Dionne also won aerials silver and bronze.
At Turin 2006, the star was Jennifer Heil with her moguls gold. Four years later she won silver at Vancouver 2010, where Ashleigh McIvor won the first ever Olympic gold in ski cross.
Canadian Medallists
| Event | Athlete | Finish | Games |
| --- | --- | --- | --- |
| Men's Moguls | Jean-Luc Brassard | Gold | Lillehammer 1994 |
| Women's Moguls | Jennifer Heil | Gold | Turin 2006 |
| Men's Moguls | Alex Bilodeau | Gold | Vancouver 2010 |
| Women's Ski Cross | Ashleigh McIvor | Gold | Vancouver 2010 |
| Women's Moguls | Justine Dufour-Lapointe | Gold | Sochi 2014 |
| Men's Moguls | Alex Bilodeau | Gold | Sochi 2014 |
| Women's Slopestyle | Dara Howell | Gold | Sochi 2014 |
| Women's Ski Cross | Marielle Thompson | Gold | Sochi 2014 |
| Men's Mogul | Mikael Kingsbury | Gold | PyeongChang 2018 |
| Women's Ski Halfpipe | Cassie Sharpe | Gold | PyeongChang 2018 |
| Men's Ski Cross | Brady Leman | Gold | PyeongChang 2018 |
| Women's Ski Cross | Kelsey Serwa | Gold | PyeongChang 2018 |
| Men's Aerials | Philippe LaRoche | Silver | Lillehammer 1994 |
| Women's Aerials | Veronica Brenner | Silver | Salt Lake City 2002 |
| Women's Moguls | Jennifer Heil | Silver | Vancouver 2010 |
| Women's Moguls | Chloé Dufour-Lapointe | Silver | Sochi 2014 |
| Men's Moguls | Mikaël Kingsbury | Silver | Sochi 2014 |
| Men's Halfpipe | Mike Riddle | Silver | Sochi 2014 |
| Women's Ski Cross | Kelsey Serwa | Silver | Sochi 2014 |
| Women's Mogul | Justine Dufour-Lapointe | Silver | PyeongChang2018 |
| Women's Ski Cross | Brittany Phelan | Silver | PyeongChang 2018 |
| Men's Moguls | Mikaël Kingsbury | Silver | Beijing 2022 |
| Women's Ski Cross | Marielle Thompson | Silver | Beijing 2022 |
| Women's Halfpipe | Cassie Sharpe | Silver | Beijing 2022 |
| Men's Aerials | Lloyd Langlois | Bronze | Lillehammer 1994 |
| Women's Aerials | Deidra Dionne | Bronze | Salt Lake City 2002 |
| Women's Slopestyle | Kim Lamarre | Bronze | Sochi 2014 |
| Men's Slopestyle | Alex Beaulieu-Marchand | Bronze | PyeongChang 2018 |
| Mixed Team Aerials | Marion Thénault, Miha Fontaine, Lewis Irving | Bronze | Beijing 2022 |
| Women's Halfpipe | Rachael Karker | Bronze | Beijing 2022 |
Teams