Fencing at Tokyo 2020
Venue: Makuhari Messe Hall B
Competition Dates: July 24-August 1 (Days 1-9)
Events: 12 (6 men, 6 women)
National Federation: Canadian Fencing Federation
International Federation: International Fencing Federation (FIE) 
Fencing is an exercise based on speed and skill. This classic sport brings a certain artistic approach of precision and movement with a rich history dating back to medieval times.
There are 12 events on the Olympic program, with men's and women's individual and team events for each of the three weapons.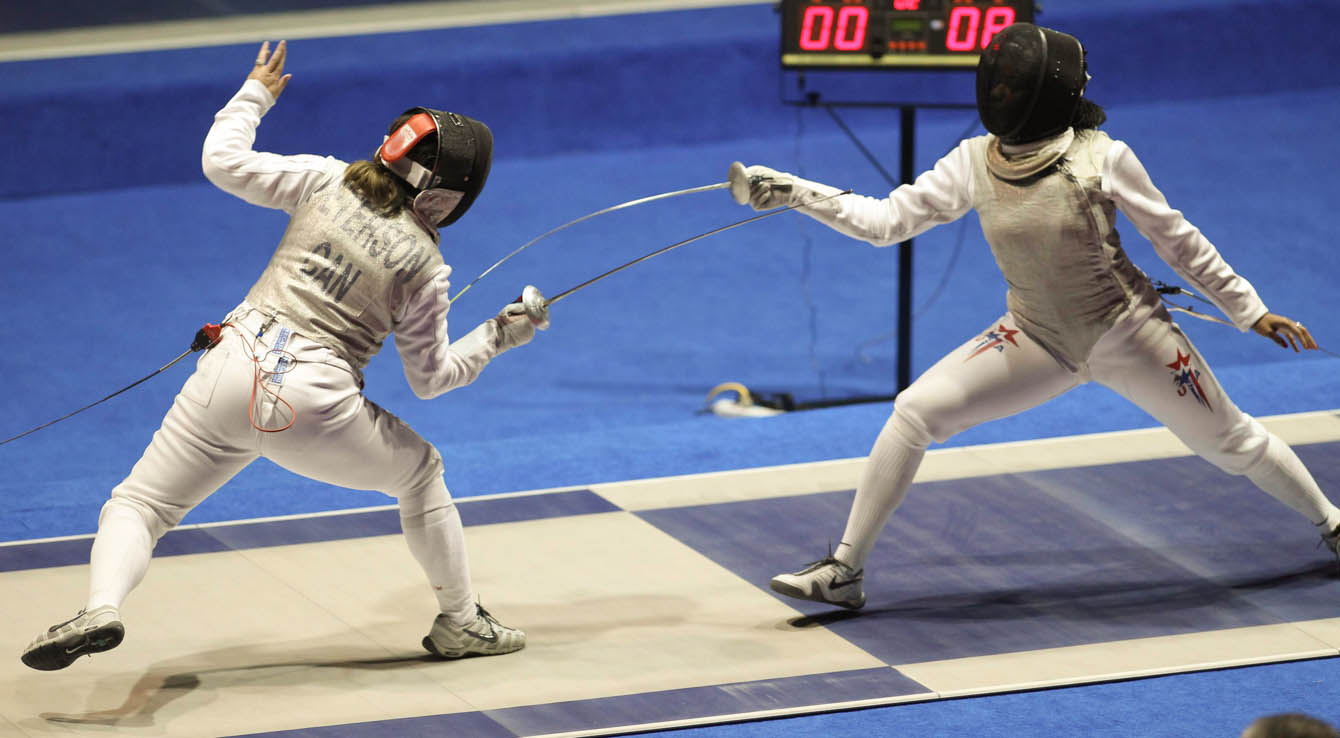 Foil: The foil is a light, thrusting sword. Points are scored by landing the tip of the flexible rectangular blade within the torso area of the opponent's body (shoulders to groin, front and back). The arms, neck, head and legs are not part of the target area.
Épée: The épée is a dueling sword that is slightly heavier and more tapered than the foil. Points are scored only by the tip of the triangular sword. With the largest target area of all the fencing events, points can be scored by placing the tip anywhere on an opponent's body, including the head and feet.
Sabre: The sabre was originally a military sword intended for thrusting and cutting. Points can be scored with the blade's front edge, the last one-third of its back edge, or the tip. The target area is from the bend of the hips (front and back) to the top of the head.
All fencing events are held in direct-elimination format.
In the individual events, the objective of a bout is to score 15 points (one point for every touch) on an opponent before they score 15 points. Bouts are nine minutes long, divided into three 3-minute segments, with a one-minute break between any two segments.
Each team match consists of nine bouts as each of the three fencers on one team faces each of the three fencers on the other team once. The first team to reach 45 points is declared the winner. Each of the nine bouts lasts a maximum of three minutes.
Canada's Olympic History (Pre-Tokyo 2020)
Canada has finished fourth in fencing events on two separate occasions – once in the men's team épée at Los Angeles 1984 and again in the women's team épée at Athens 2004.
Canada's best individual result was achieved by Eleanor Harvey at Rio 2016, where she placed seventh in the women's foil. She had advanced to the quarterfinals by defeating top seed and defending Olympic silver medallist Arianna Errigo of Italy in the round of 16.
TEAMS: