Team Canada at Tokyo 2020: Day 11
Andre De Grasse breaks a national record as he runs towards a second sprint podium in Tokyo, Camryn Rogers comes close to ending a 100+ year medal drought in hammer throw, and Ellie Black comes back from injury to deliver a Canadian best ever performance.
You can check out the official schedule of Canadians who competed today at the bottom of this page and read on for the details of what happened in each sport.
Tokyo 2020 Olympic Competition Schedule and Results
GET THE TEAM CANADA APP
Athletics
Andre De Grasse was blazing on the track of the men's 200m, breaking his own Canadian record by running 19.73 seconds in the semifinals to advance into the final. Canadian athletics co-captain Aaron Brown is also through to the 200m final after winning his semifinal with a season-best time of 19.99 seconds. Brendon Rodney capped off the trio in the morning heats, but his time of 20.60 was not fast enough to advance into the semifinal.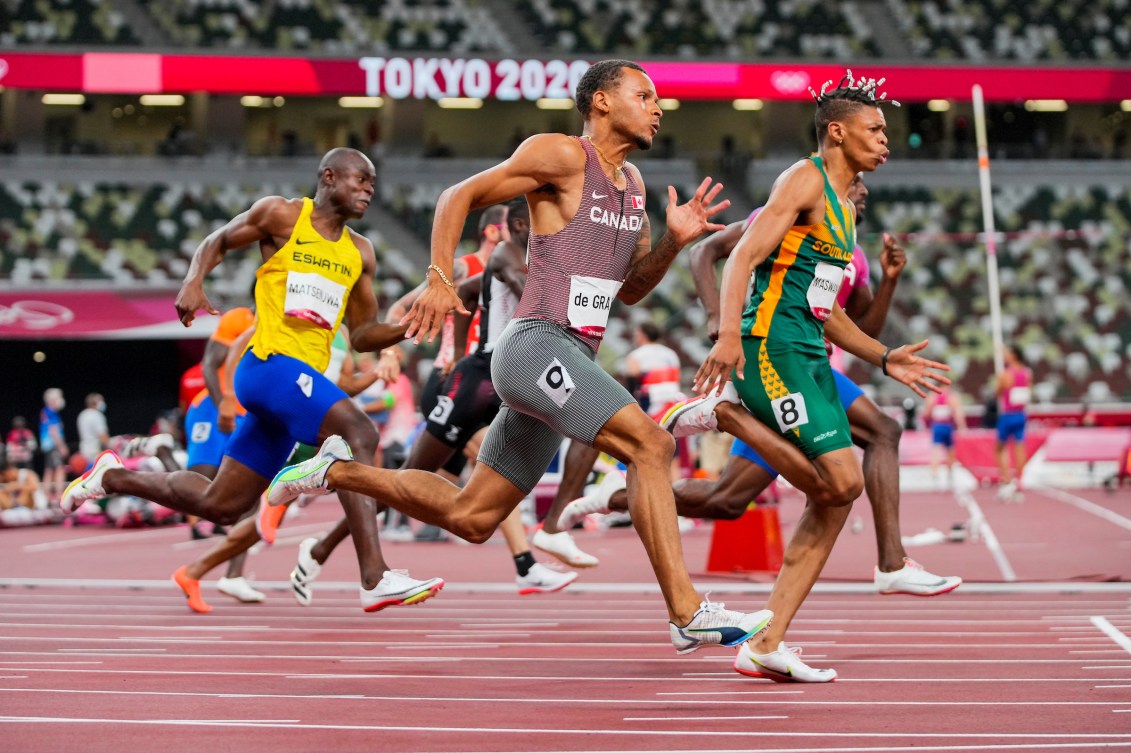 Camryn Rogers put on a show in the women's hammer throw, hitting a mark of 74.35m to finish in fifth place in her first Olympic Games. She is the first Canadian woman to ever compete in an Olympic hammer throw final. No Canadian has won an Olympic hammer throw medal since 1912.
READ: Rogers 'excited' for the future after fifth in women's hammer; De Grasse sets Canadian record
Another highlight in the night session was the men's 5000m first round heats with Mohammed Ahmed as he looked to take his first step towards the podium in that event. The reigning world bronze medallist showed why he's third-fastest in the world this year, finishing second in heat one with a time of 13:38.96. Justyn Knight will join Ahmed in the final, finishing third in his heat with a time of 13:30.22 while Luc Bruchet's time of 13:44.08 will not advance.
The morning session also kicked off with 10-time Canadian champion Liz Gleadle getting her third Olympic Games started in round 1 of the women's javelin, finishing with a throw of 58.19m for 11th place in Group A. On the track, the duo of Kyra Constantine and Natassha McDonald made their Olympic debuts in the women's 400m, racing to times of 51.69 and 53.54, respectively. For Constantine, that was quick enough to get her into the semifinals. Tim Nedow took the field in the men's shot put qualification, throwing 19.42 metres and won't advance.
Track Cycling
After finishing eighth-fastest in qualifying, Canada faced off with France in the first round of the women's team pursuit and set a Canadian record time of 4:09.249 to move on to the bronze medal race. They went head-to-head against the United States, but came up just short of winning a third straight Olympic medal in the event as they finished fourth.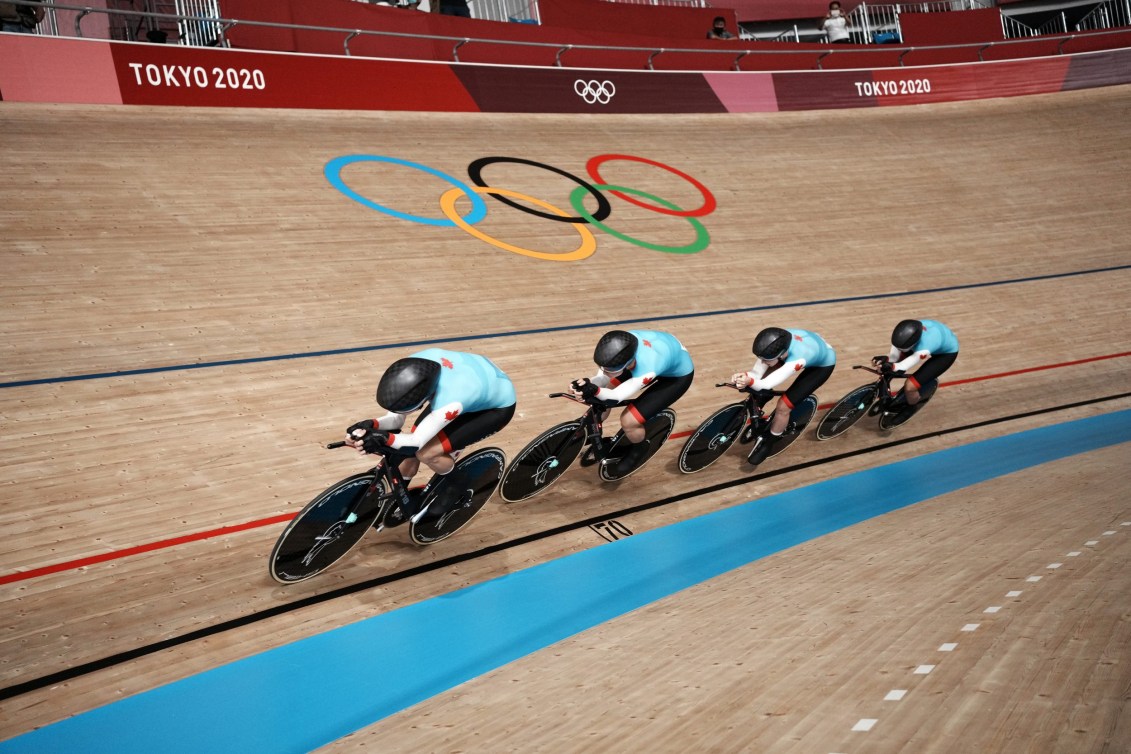 The men's team pursuit also set a Canadian record in their first round race, finishing in 3:46.769. They'll race off for places 5-6 on Day 12.
Beach Volleyball
Both Canadian teams dropped their quarterfinal matchups. The duo of Sarah Pavan and Melissa Humana-Paredes fell 2-1 (15-21, 21-19, 12-15) to Australia's Mariafe Artacho del Solar and Taliqua Clancy while Heather Bansley and Brandie Wilkerson dropped a 2-1 (13-21, 21-18, 11-15) decision to Latvia's Tina Graudina and Anastasija Kravcenoka.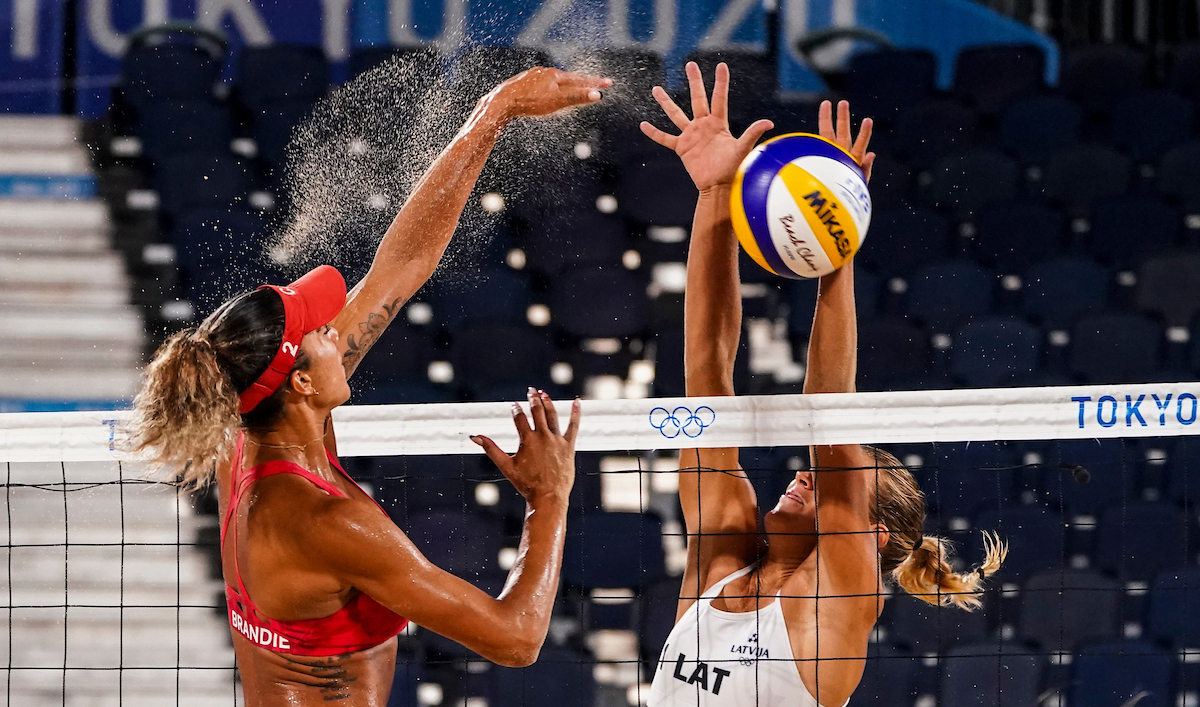 READ: Team Canada duos fall in Tokyo 2020 beach volleyball quarterfinals
Volleyball
Canada were the underdogs in their quarterfinal match and put up a good fight against the hard-hitting side from the ROC. But despite a gritty performance, the Canadians fell in straight sets (21-25, 28-30, 22-25) and will leave Tokyo with a fifth-place finish, the same result as five years ago in Rio.
READ: Team Canada fights hard but bows out in men's volleyball
Water Polo
Team Canada's medal hopes came to an end with a 16-5 quarterfinal loss to the United States. Shae La Roche recorded two goals for the Canadians while Axelle Crevier, Emma Wright and Hayley McKelvey also scored. Canada now moves into the classification round where they will try and match their best ever finish at an Olympic Games – fifth-place at Sydney 2000.
READ: Team Canada looking to match best ever Olympic water polo result
Artistic Gymnastics
After opting out of the individual all-around final because of a sprained ankle, Ellie Black confirmed she would compete in the eight-woman beam final. She finished just off the podium in fourth place, a Canadian best ever Olympic result in women's artistic gymnastics.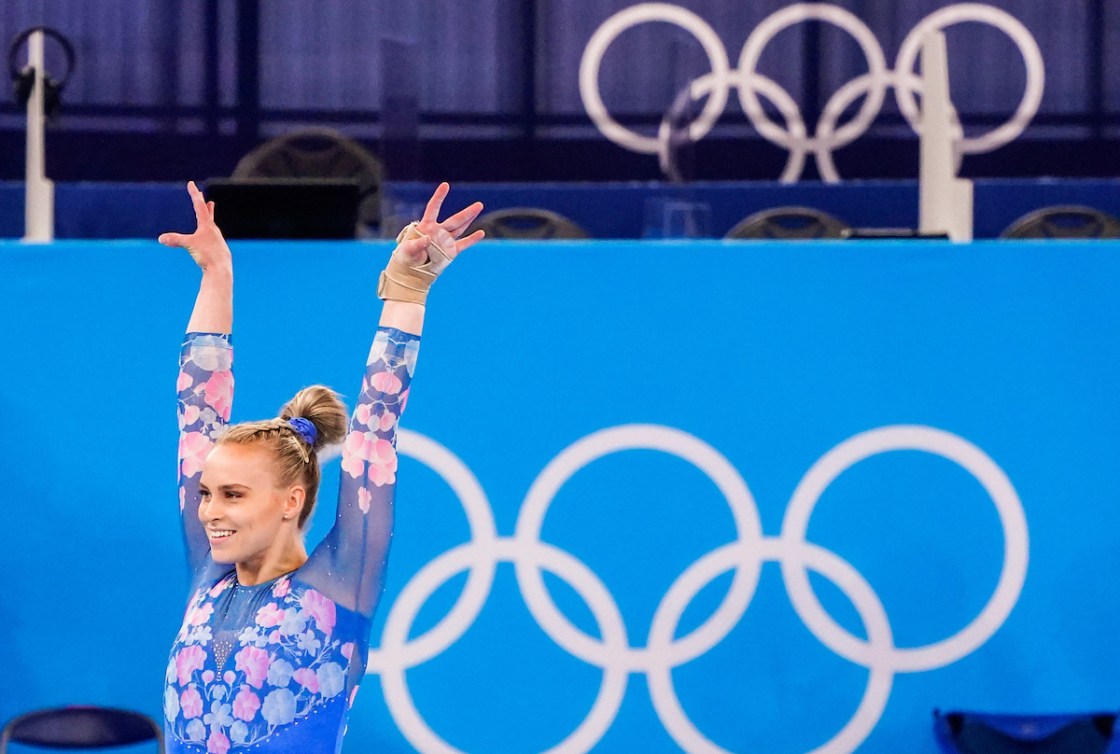 READ: Black proud of best-ever Canadian finish at Tokyo 2020
Sailing
After climbing into the top 10 during the last day of racing in the opening series, Tom Ramshaw compete in the Medal Race of the Finn event. He finished seventh in the race and 10th overall. Jacob Saunders and Oliver Bone also finished off their 10-race series in the men's 470 a day late, after a lack of wind caused a postponement. They ended up 17th overall.
Sport Climbing
Sean McColl competed in the qualification round for speed, bouldering, and lead as sport climbing made its Olympic debut. He finished 17th overall and will not advance to the final as part of the top eight in the combined rankings.
READ: Sean McColl tells first time fans what to watch for in Olympic sport climbing
Artistic Swimming
Jacqueline Simoneau and Claudia Holzner competed in the Duet Technical Routine a day after finishing fifth in the Free Routine Preliminary. They were also fifth in the technical to rank fifth overall among the top 12 duets advancing to the Free Routine Final.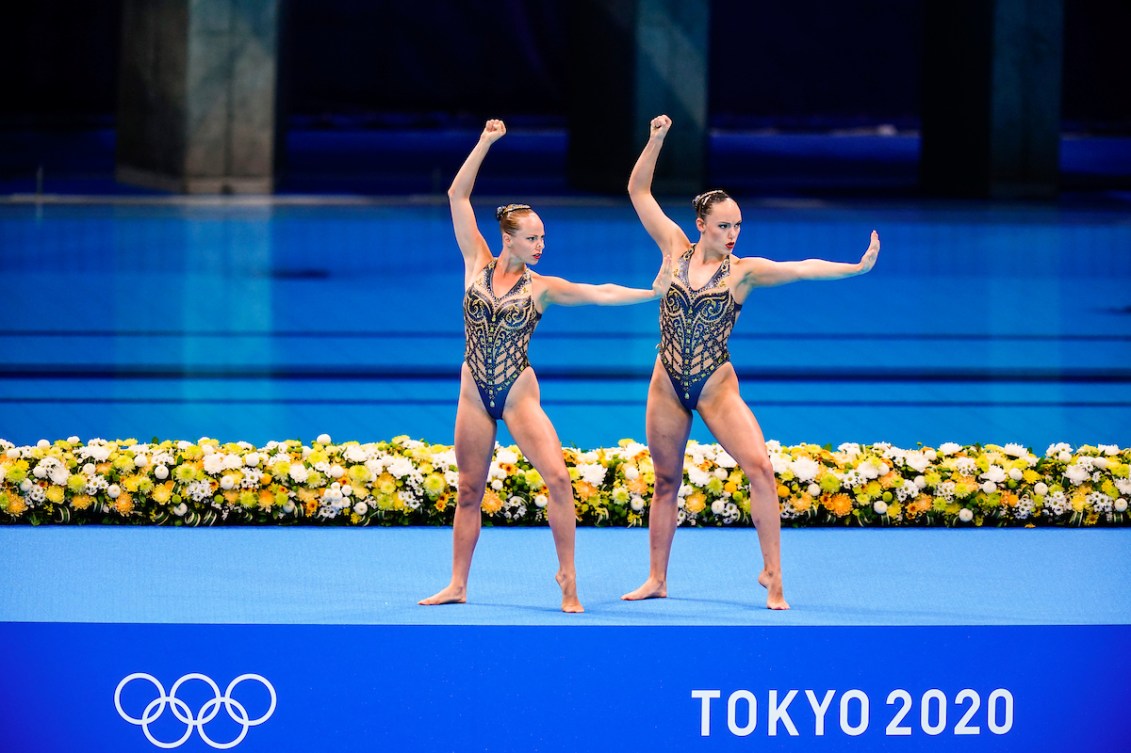 Canoe/Kayak Sprint
Canada had three boats on the water. Andréanne Langlois advanced from the semifinals of the women's K-1 200m and recorded a Canadian best ever result in the event by finishing ninth in the A final. Michelle Russell also raced in the semifinal but ended up the B final where she placed fourth to finish in a tie for 13th overall. Roland Varga and Connor Fitzpatrick advanced from the semifinals of the men's C-2 1000m to become the first Canadian boat to reach the A final of the event since Beijing 2008. They finished sixth overall.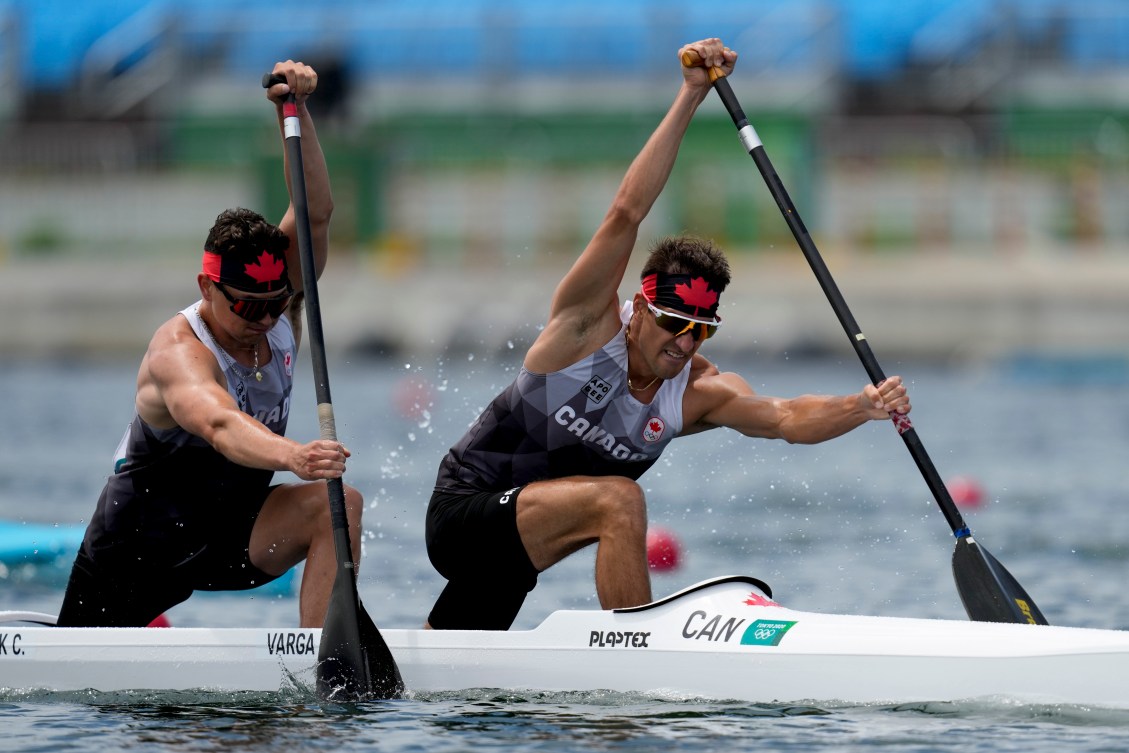 Equestrian
Mario Deslauriers returned to Olympic competition for the first time in 33 years to compete in the jumping individual qualifier with Bardolina 2. They finished with a clean round to advance to the jumping individual final.