Swimming
Team Canada Medal Count
9
18
28
Sport Overview
Swimming at Tokyo 2020
Venue: Olympic Aquatics Centre (pool events), Odaiba Marine Park (open water events)
Competition Dates: Pool events – July 24-August 1, 2021 (Days 1-9), Open water events – August 4-5, 2021 (Days 12-13)
Events: 37 (18 men, 18 women, 1 mixed)
Trivia: Test your knowledge!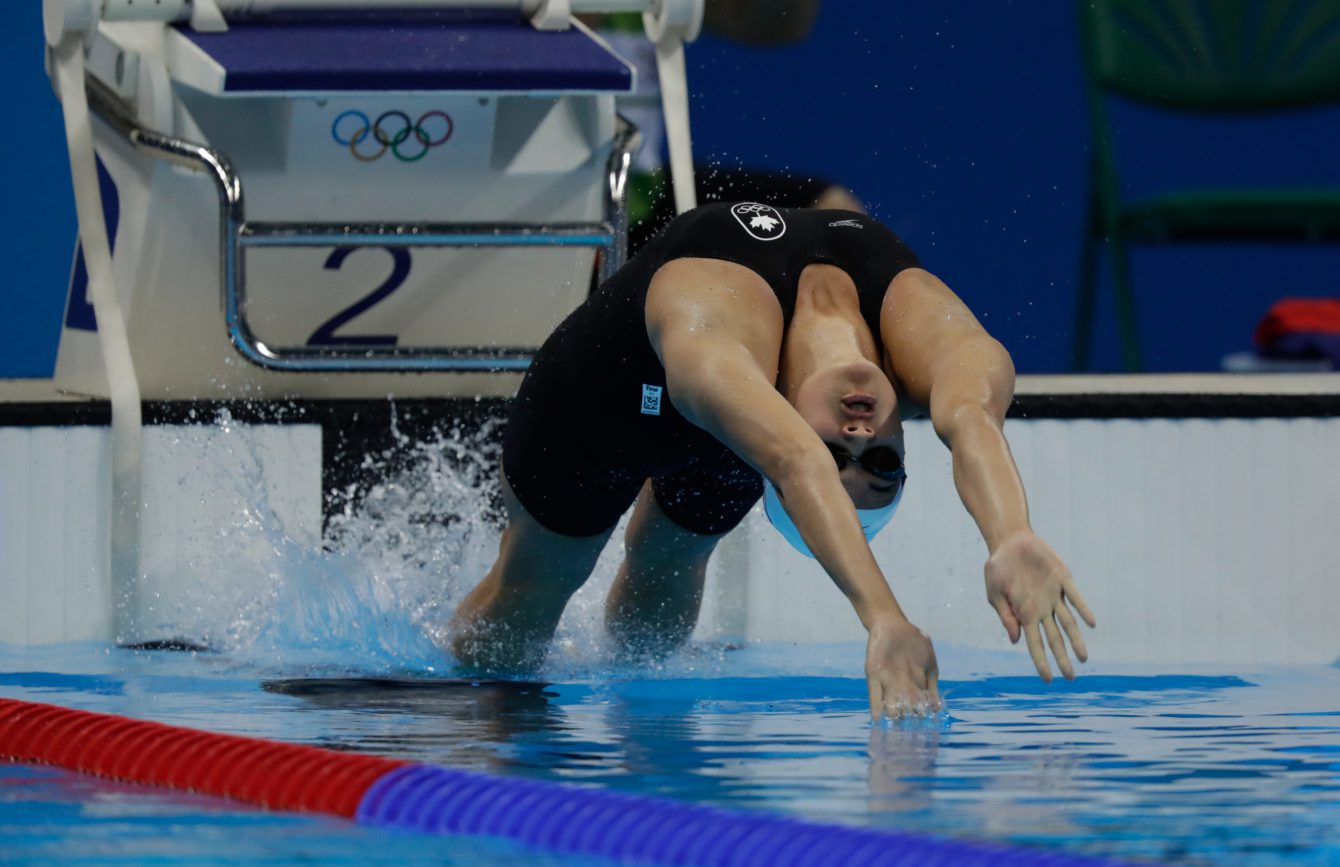 Swimming's 37 medal events, second only to athletics, include both individual and relay events as well as pool and open water events.
There are four swimming styles: freestyle, backstroke, breaststroke, and butterfly. There are also medley events that incorporate all four strokes, with one stroke per each leg of equal distance. In freestyle events, competitors are permitted to use any stroke, although the crawl is generally used because it is the fastest.
In the pool, there are men's and women's 100m and 200m events for each stroke. Freestyle has additional men's and women's events over distances of 50m, 400m, 800m, and 1500m. The individual medley events are 200m and 400m for men and women. There are also 4x100m and 4x200m freestyle relay events as well as a 4x100m medley relay for each gender. New at Tokyo 2020 will be the 4x100m mixed medley relay which will feature teams of two men and two women. The men's and women's open water events are 10km marathons.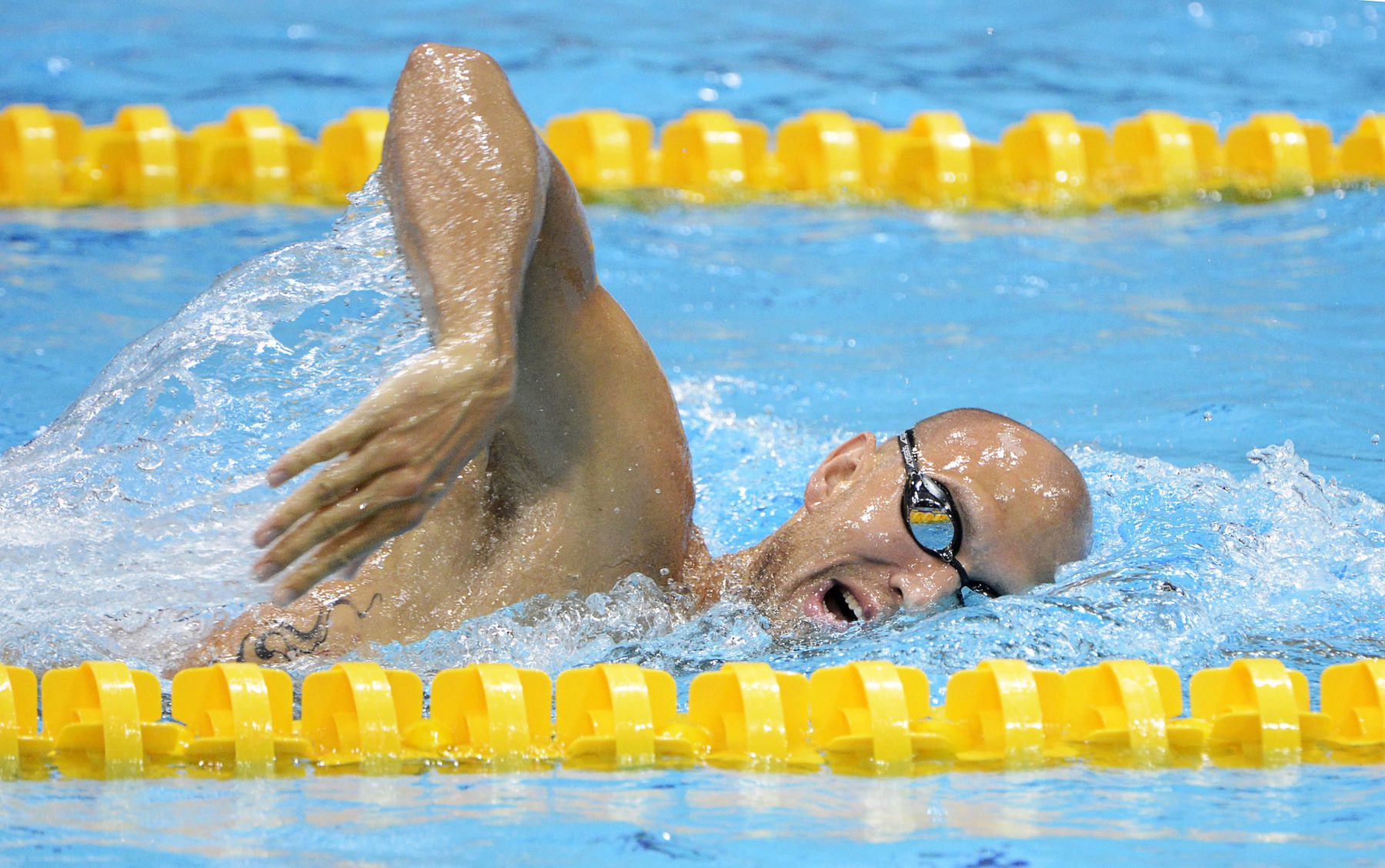 All pool events begin with preliminary heats. In 50m, 100m, and 200m events, the 16 fastest swimmers advance to the semifinals, from which the eight fastest swimmers advance to the final. In events of 400m and longer there are no semifinals, so the eight fastest swimmers (or relay teams) advance directly to the final. Swimmers are seeded according to their qualifying times so that the fastest swimmers are in the centre lanes of the pool.
Open water swimmers are allowed to use any stroke. Races begin with a mass start from a dock or pontoon and swimmers will make multiple laps of a course delineated by buoys. Swimmers can receive hydration from coaches on a feeding station pontoon during the approximately two-hour race. There is much physical contact, particularly at the start and around the turn buoys, as swimmers seek and try to maintain good race position. After swimming in packs to draft off one another, the leaders will thin out as the last lap becomes a sprint to the finish, where they must hit one of six touch pads above the water.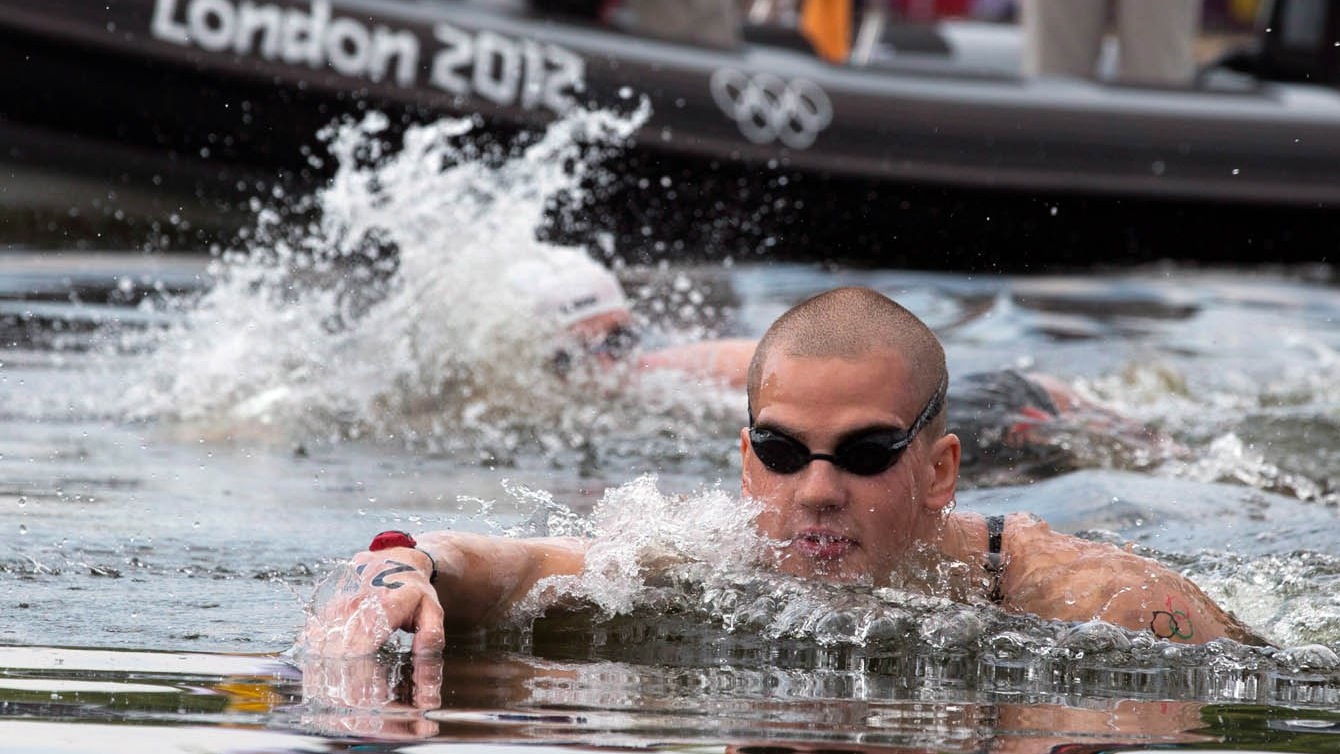 Canada's Olympic History (Pre-Tokyo 2020)
Canada has an impressive 49 Olympic medals in swimming, second-most among summer sports.
Six of those came at Rio 2016, Canada's third-best total all-time behind the 10 at the boycotted Los Angeles 1984 and the eight in home water at Montreal 1976. Penny Oleksiak made history on numerous fronts. In winning four medals, she became Canada's most decorated athlete ever at one summer Games. She also tied the great Victor Davis as Canada's most successful Olympic swimmer all-time. By winning gold in the 100m freestyle at just 16 years and 59 days, Oleksiak became Canada's youngest ever Olympic champion.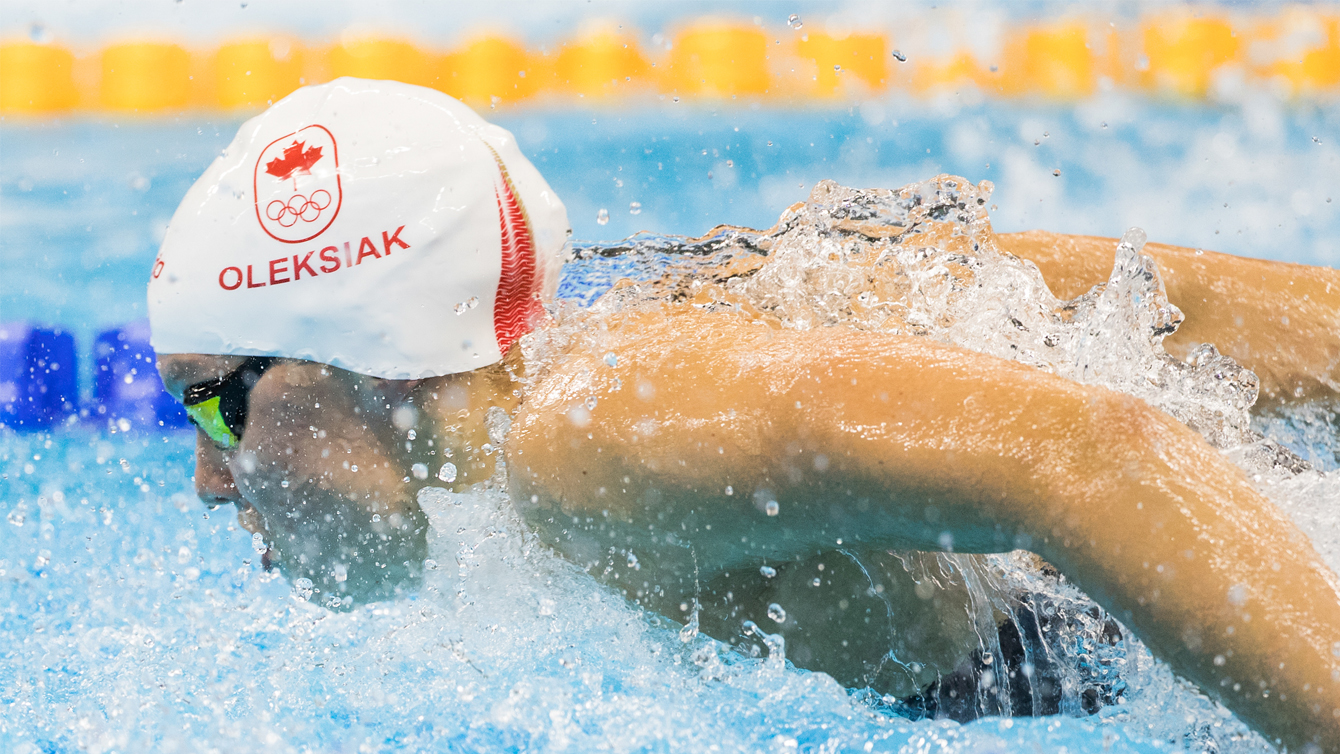 Oleksiak anchored both the 4x100m and 4x200m freestyle relays to bronze and also won silver in the 100m butterfly. With relay teammate Taylor Ruck, they became the first ever Olympic medallists born in the 21st century. Kylie Masse and Hilary Caldwell added bronze medals in the backstroke events.
George Hodgson won Canada's first two medals in swimming, gold in the 400m and 1500m freestyle at Stockholm 1912. While Canada continued to do well in swimming, another gold medal wouldn't be won until Los Angeles 1984. Alex Baumann won both the 200m and 400m individual medley events by setting a pair of world records while Victor Davis and Anne Ottenbrite swept the 200m breaststroke events. Canada's last Olympic swimming champion prior to Oleksiak was Mark Tewksbury, who won the 100m backstroke at Barcelona 1992.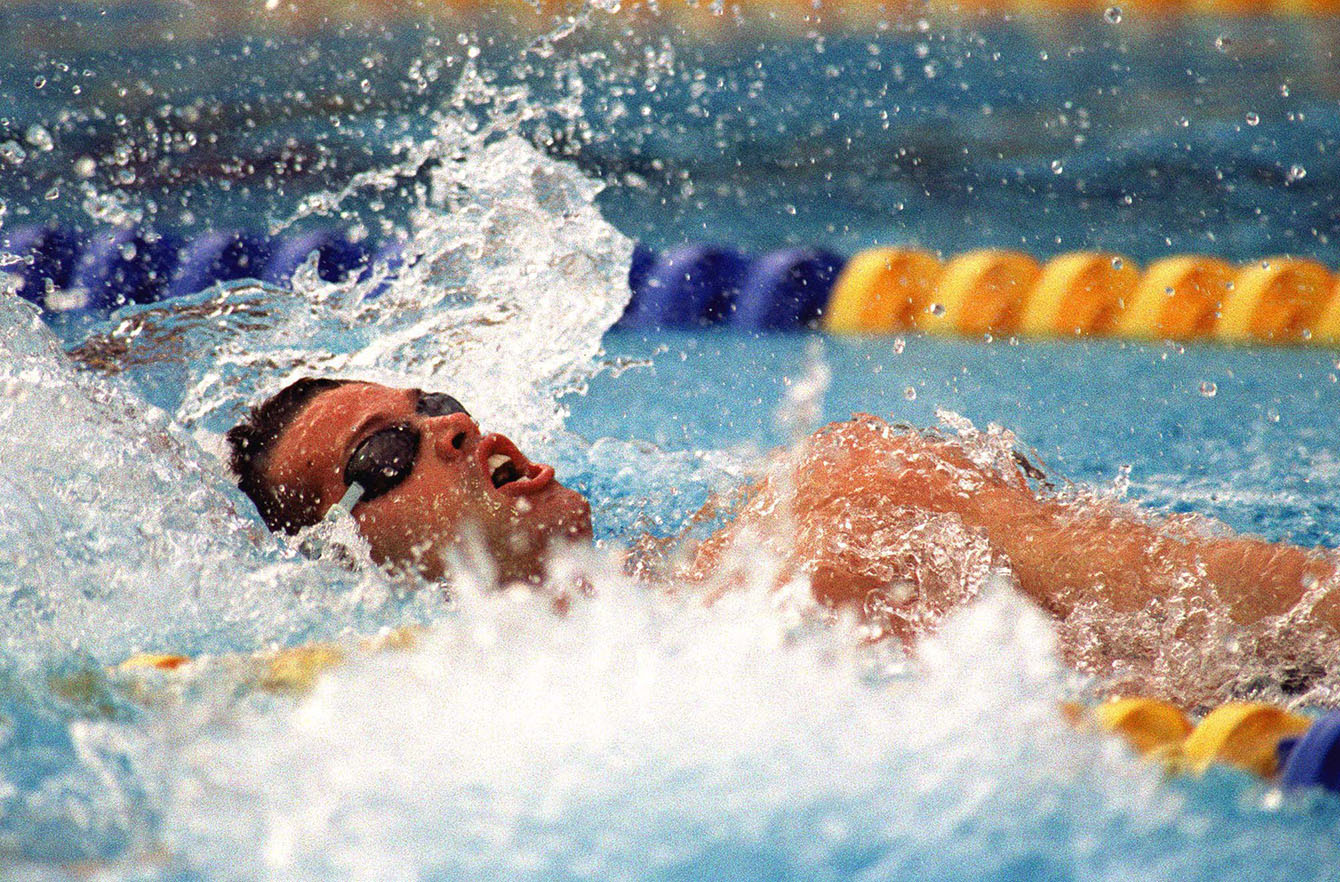 Davis's record-setting four career medals were won at Los Angeles 1984 and Seoul 1988. Tom Ponting, a butterfly specialist and medley relay stalwart, is the only Canadian swimmer to win medals in three different Olympic Games (Los Angeles 1984, Seoul 1988, Barcelona 1992).
After women began competing in swimming at Stockholm 1912, Elaine Tanner became Canada's first female swimming medallist at Mexico City 1968, winning silvers in the 100m and 200m backstroke and bronze in the 4x100m freestyle relay.
Robin Corsiglia became Canada's youngest Olympic medallist (13 years, 341 days) when the women's 4x100m medley relay won bronze in Montreal 1976. Eight of Canada's 11 medals at those home Games were won in the pool, including a pair of backstroke bronzes by Nancy Garapick and Cheryl Gibson and Becky Smith sharing the podium in the 400m individual medley.
Canada won three swimming medals at London 2012. Ryan Cochrane followed up his Beijing 2008 1500m freestyle bronze with a silver in the same event, while Brent Hayden won bronze for Canada's first ever Olympic medal in the 100m freestyle. Richard Weinberger added Canada's first Olympic open water medal, winning bronze in the 10km marathon.
Canadian Medallists
| Event | Athlete | Finish | Games |
| --- | --- | --- | --- |
| Freestyle 1500m - Men | George Hodgson | Gold | 1912 Stockholm |
| Freestyle 400m - Men | George Hodgson | Gold | 1912 Stockholm |
| Breaststroke 200m - Men | Victor Davis | Gold | 1984 Los Angeles |
| Breaststroke 200m - Women | Anne Ottenbrite | Gold | 1984 Los Angeles |
| Individual Medley 200m - Men | Alex Baumann | Gold | 1984 Los Angeles |
| Individual Medley 400m - Men | Alex Baumann | Gold | 1984 Los Angeles |
| Backstroke 100m - Men | Mark Tewksbury | Gold | 1992 Barcelona |
| Freestyle 100m - Women | Penny Oleksiak | Gold | 2016 Rio |
| Butterfly 100m - Women | Margaret Mac Neil | Gold | 2020 Tokyo |
| Freestyle 1500m - Men | George Vernot | Silver | 1920 Antwerp |
| Backstroke 100m - Women | Elaine Tanner | Silver | 1968 Mexico City |
| Backstroke 200m - Women | Elaine Tanner | Silver | 1968 Mexico City |
| Freestyle 400m - Men | Ralph Hutton | Silver | 1968 Mexico City |
| Butterfly 100m - Men | Bruce Robertson | Silver | 1972 Munich |
| Individual Medley 400m - Women | Leslie Cliff | Silver | 1972 Munich |
| Individual Medley 400m - Women | Cheryl Gibson | Silver | 1976 Montreal |
| Medley Relay 4x100m - Men | Clayton Evans, Gary MacDonald, Graham Smith, Stephen Pickell, Bruce Robertson | Silver | 1976 Montreal |
| Breaststroke 100m - Men | Victor Davis | Silver | 1984 Los Angeles |
| Breaststroke 100m - Women | Anne Ottenbrite | Silver | 1984 Los Angeles |
| Medley Relay 4x100m - Men | Sandy Goss, Mike West, Tom Ponting, Victor Davis | Silver | 1984 Los Angeles |
| Medley Relay 4x100m - Men | Sandy Goss, Mark Tewksbury, Tom Ponting, Victor Davis | Silver | 1988 Seoul |
| Individual Medley 200m - Women | Marianne Limpert | Silver | 1996 Atlanta |
| Freestyle 1500m - Men | Ryan Cochrane | Silver | 2012 London |
| Butterfly 100m - Women | Penny Oleksiak | Silver | 2016 Rio |
| Freestyle Relay 4x100m - Women | Margaret Mac Neil, Penny Oleksiak, Kayla Sanchez, Rebecca Smith, Taylor Ruck | Silver | 2020 Tokyo |
| Backstroke 100m - Women | Kylie Masse | Silver | 2020 Tokyo |
| Backstroke 200m - Women | Kylie Masse | Silver | 2020 Tokyo |
| Freestyle 400m - Men | George Vernot | Bronze | 1920 Antwerp |
| Freestyle Relay 4x200m - Men | F. Munroe Bourne, Garnet Ault, James Thompson, Walter Spence | Bronze | 1928 Amsterdam |
| Freestyle Relay 4x100m - Women | Angela Coughlin, Elaine Tanner, Marilyn Corson, Marion Lay | Bronze | 1968 Mexico City |
| Backstroke 200m - Women | Donna-Marie Gurr | Bronze | 1972 Munich |
| Medley Relay 4x100m - Men | Bruce Robertson, Erik Fish, Robert Kasting, William Mahony, William Kennedy | Bronze | 1972 Munich |
| Backstroke 100m - Women | Nancy Garapick | Bronze | 1976 Montreal |
| Backstroke 200m - Women | Nancy Garapick | Bronze | 1976 Montreal |
| Freestyle 400m - Women | Shannon Smith | Bronze | 1976 Montreal |
| Individual Medley 400m - Women | Becky Smith | Bronze | 1976 Montreal |
| Freestyle Relay 4x100m - Women | Anne Jardin, Barbara Clark, Becky Smith, Gail Amundrud, Debbie Clarke | Bronze | 1976 Montreal |
| Medley Relay 4x100m - Women | Anne Jardin, Robin Corsiglia, Susan Sloan, Wendy Hogg, Debbie Clarke | Bronze | 1976 Montreal |
| Backstroke 100m - Men | Mike West | Bronze | 1984 Los Angeles |
| Backstroke 200m - Men | Cameron Henning | Bronze | 1984 Los Angeles |
| Medley Relay 4x100m - Women | Anne Ottenbrite, Michelle MacPherson, Pamela Rai, Reema Abdo | Bronze | 1984 Los Angeles |
| Medley Relay 4x100m - Women | Allison Higson, Andrea Nugent, Jane Kerr, Keltie Duggan, Lori Melien, Patricia Noall | Bronze | 1988 Seoul |
| Medley Relay 4x100m - Men | Jon Cleveland, Marcel Gery, Mark Tewksbury, Stephen Clarke, Tom Ponting | Bronze | 1992 Barcelona |
| Individual Medley 200m - Men | Curtis Myden | Bronze | 1996 Atlanta |
| Individual Medley 400m - Men | Curtis Myden | Bronze | 1996 Atlanta |
| Individual Medley 400m - Men | Curtis Myden | Bronze | 2000 Sydney |
| Freestyle 1500m - Men | Ryan Cochrane | Bronze | 2008 Beijing |
| Freestyle 100m - Men | Brent Hayden | Bronze | 2012 London |
| Marathon 10km - Men | Richard Weinberger | Bronze | 2012 London |
| Backstroke 200m - Women | Hilary Caldwell | Bronze | 2016 Rio |
| Freestyle Relay 4x200m - Women | Penny Oleksiak, Emily Overholt, Taylor Ruck, Katerine Savard, Brittany MacLean, Kennedy Goss | Bronze | 2016 Rio |
| Backstroke 100m - Women | Kylie Masse | Bronze | 2016 Rio |
| Freestyle Relay 4x100m - Women | Penny Oleksiak, Chantal van Landeghem, Taylor Ruck, Sandrine Mainville, Michelle Williams | Bronze | 2016 Rio |
| Freestyle 200m - Women | Penny Oleksiak | Bronze | 2020 Tokyo |
| Medley Relay 4x100m - Women | Kylie Masse, Sydney Pickrem, Margaret Mac Neil, Penny Oleksiak, Taylor Ruck, Kayla Sanchez | Bronze | 2020 Tokyo |
Teams